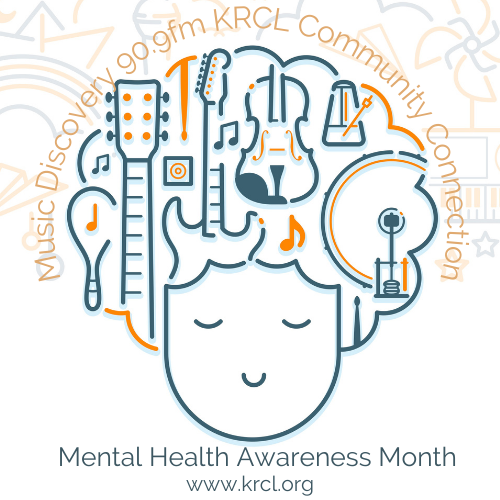 May is Mental Health Awareness Month and all month long KRCL brings you tips and resources from local experts to help you though the day.
• Experiencing a mental health crisis? Call the Utah Crisis Line: 1-800-273-8255
• National Suicide Prevention Hotline: 1-800-273-TALK (8255)
• Emotional Health Relief Hotline: 833-442-2211
• National Alliance on Mental Health Utah: Utah's voice on mental illness. "Our mission is to ensure the dignity and improve the lives of those who live with mental illness and their families through support, education and advocacy." www.namiut.org
• SafeUT Crisis Chat and Tip Line: A mobile app for both iPhone and Android. A statewide service that provides real-time crisis intervention to youth through live chat and a confidential tip program from your smartphone.
For immediate mental health crisis help, please use the chat feature or call 833-372-3388 (833-3SAFEUT). Licensed clinicians in the 24/7 CrisisLine call center respond to all incoming chats and calls by providing supportive or crisis counseling, suicide prevention, and referral services.
• To find a therapist in Utah click here (Psychology Today) for a full listing of people who can help.
• John Cottrell, Yoga Therapist and Yoga Instructor as well as Personal Training, & Nutrition Coaching: www.Mbody.org
• Melanie Davis, Licensed Clinical Mental Health Counselor with Planted Healing in Salt Lake City, Utah.
How to how to self-identify if you may be struggling with your mental health:
If you notice that you are experiencing any of the following…
- Excessive worrying or fear
- Feeling excessively sad or low
- Confused thinking or problems concentrating and learning
- Extreme mood changes, including uncontrollable "highs" or feelings of euphoria
- Prolonged or strong feelings of irritability or anger
- Avoiding friends and social activities
- Difficulties understanding or relating to other people
- Changes in sleeping habits or feeling tired and low energy
- Changes in eating habits such as increased hunger or lack of appetite
These would-be important symptoms to pay attention to and consider reaching to a mental health provider or your primary doctor for support.