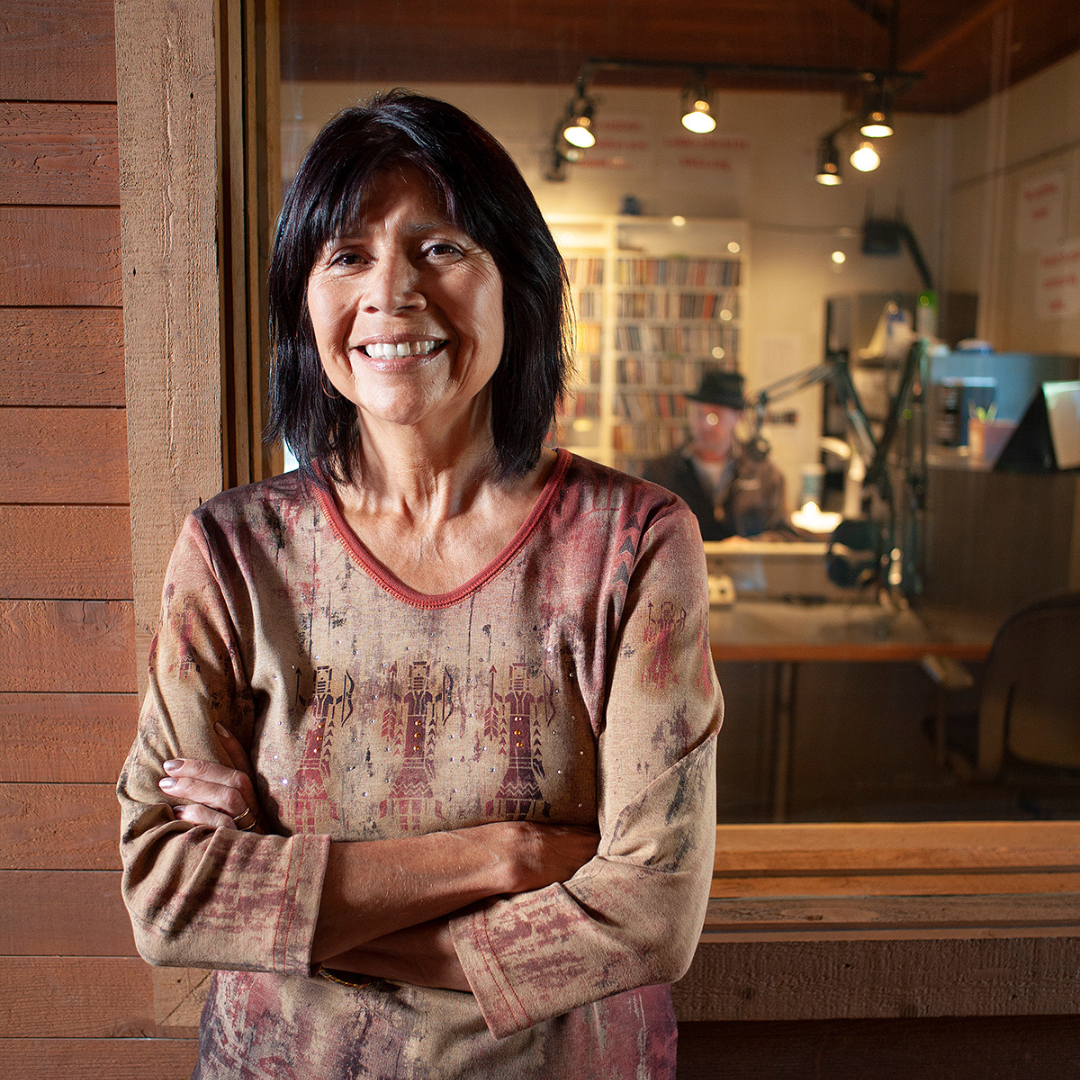 All of us here at KRCL are heartbroken to share the news of the passing of a beloved member of our radio family, Donna Land Maldonado.
Donna Land Maldonado was a pioneer of community radio. She was one of the the first people hired by KRCL founder Stephen Holbrook in July 1979 before the station had even signed on air. Originally, she was brought in by Holbrook to create a show amplifying the voices of Native Americans. She rose through the ranks, eventually serving as Program Director before becoming General Manager in 1998, a role she held until her retirement in 2009. Listeners may remember hearing her on Wednesdays as host of Le Cafe Folk or filling in on Sunday's Living the Circle of Life show. Donna was a larger than life figure with a strong commitment to the environment, social justice, creativity and the greater community the station serves.
Without Donna, the KRCL that we all know and love would not exist. Her tireless work and 30 year commitment to KRCL will always be remembered. We miss her. Our deepest sympathies go out to her husband, children and to all who loved her.
Rest Well Donna Land Maldonado
(April 26, 1944-September 25, 2022)
Listen to a special RadioActive below (air date Thurs, Sept 29) to hear from KRCL founder Stephen Holbrook and others. And A Celebration of Life Special 1-hour special with Le Cafe Folk from 1987, also posted below.
Celebration of Life is scheduled for Tuesday, October 25 from 2:30-4:30pm at the Natural History Museum of Utah, upstairs at the Swaner Forum.
Read the story in the Salt Lake Tribune here.
Read the obituary here.
Listen to Radioactive below.
RadioActive · September 29, 2022
Listen to Donna's Le Cafe Folk from 1987: A Celebration of Life special with messages, interviews, music and Donna Land Maldonado in her own words. Special thanks to Barb Guy for recording Le Cafe Folk in '87 and finding the cassette tape to share with us today.
Photo credit: Adam Finkle Salt Lake Magazine