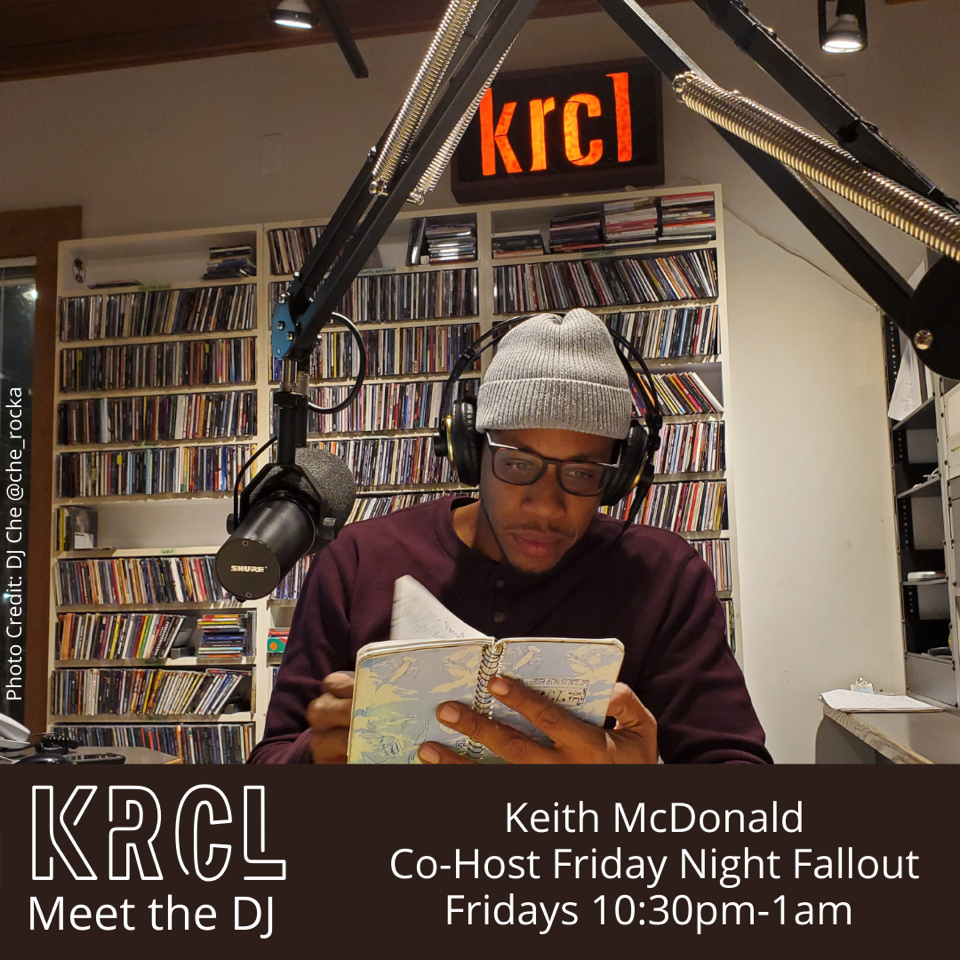 Meet the DJ: Keith McDonald, co-host of Friday Night Fall Out, Utah's longest-running Hip Hop show, Friday nights at 10:30 on KRCL.
Keith is one-half of the hosting team behind FNFO on KRCL. Since taking it on with Nate Chacon about three years ago, their love of hip hop and rap shines through, from their early shows tracing the evolution of the genre from coast to coast to their support of rising local artists:
"One of the biggest divides in hip hop is that age divide. The old school and the new school. It used to be the East Coast and the West Coast. And I fear that commercialization of the genre often leads to these binaries that don't help the community. So, I think it's also our job to kind of bridge the gap between these different factions and show our commonalities and the things that we all love about the genre so that it brings us back to where we're at at KRCL, which is bringing the community together and amplifying community."
Originally from Chicago, Keith is also a dad and a military veteran:
"The number one thing that I draw on is being a father and being able to see the potential in young people like I see the potential in my daughter, and thinking to myself, 'what would I want somebody to say to my daughter in these situations,' with their art, with their hard work and their projects. So, I think that being a dad and being a veteran has a big impact on me as far as the show because I can't separate myself from those experiences when I get on the mic. They're always with me wherever I'm at."
He also has several community projects in the works:
Back-to-School Drive for the Boys & Girls Club. Drop off lightly used laptops, phones, flash drives, notebooks, pens, book bags, paper and essential art supplies at UpRok, 1594 S. State St., SLC, by Aug. 20th.
Park Jam, featuring B-Boy battles, cyphers, skate contest, graff walls and more from noon until dark on Sunday, Aug. 22, at Jordan Skate Park, 900 S. 900 W., SLC.
Tiny libraries on SLC's west side with Youth Works.