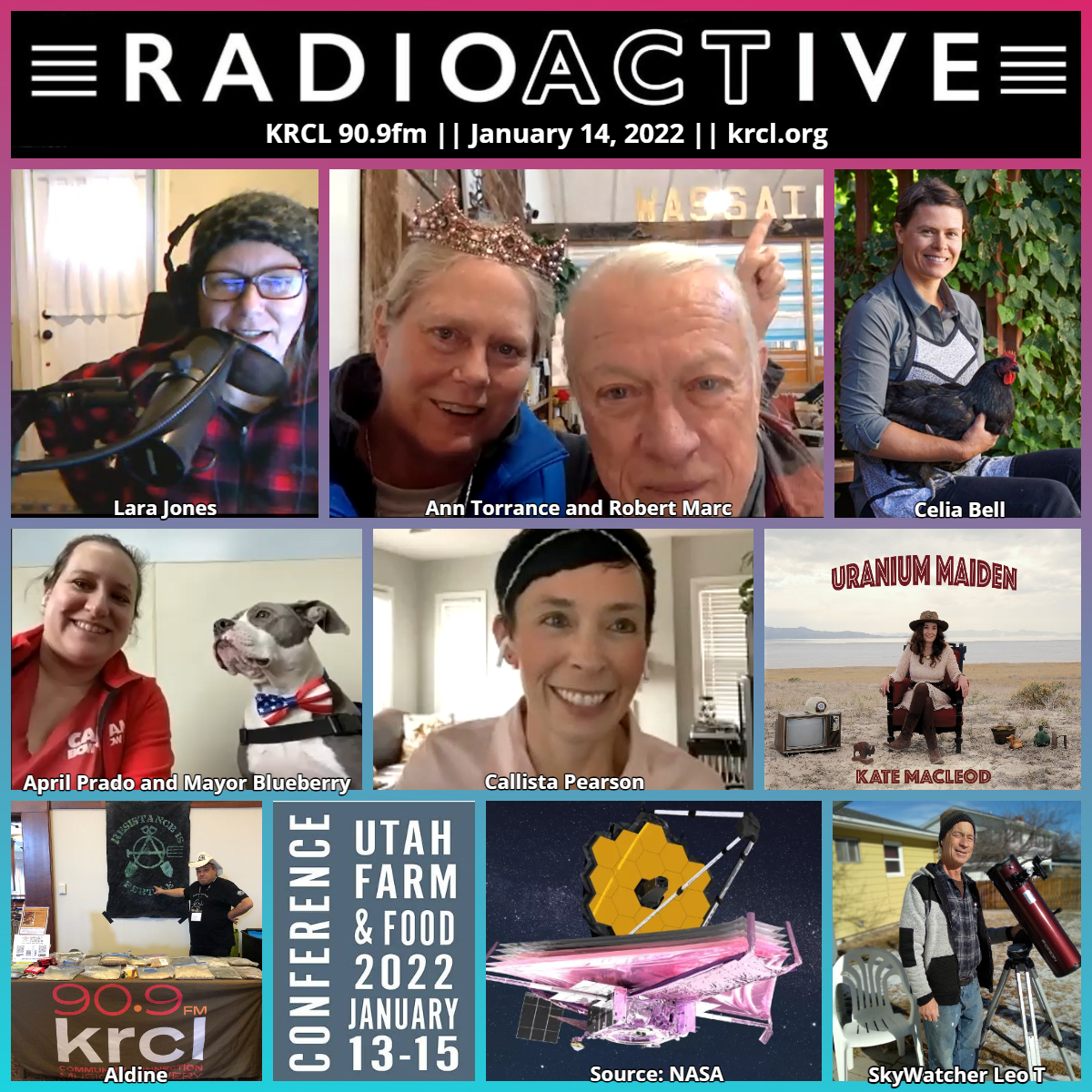 #PunkRockFarmerFriday brings you more true tales from the agrihood, including Celia Bell's Coops de Ville class for backyard chicken farmers. Aldine checks in from the Utah Farm and Food Conference. Etta Place Cider goes pagan for wassailing in its orchard in Torrey. SL County PAWlitical Mayor Blueberry. Homegrown music from Kate McLeod's Uranium Maiden, which gets an international release this month!
Tonight's show featured the following people, organizations and/or events. Check them out and get plugged into your community!
Homegrown music from Kate MacLeod. Her new album, Uranium Maiden, will be released nationwide Feb. 4th. RadioACTive revisited our conversation with her from last October when the new album was released locally along with a commemorative beer from Fisher Brewing Company.
SkyWatcher Leo T, a RadioACTive volunteer contributor who shares his love for the night sky, cultural tales of the constellations and more during #PunkRockFarmerFridays. Tonight: Cygnus the Swan in the Northwest sky at dark, as well as Rigel the beautiful, blue star on the right side of Orion (see a sky chart from Sky and Telescope on Leo's FB page, news of the James Webb Space Telescope that is on its way to an orbit 930,000 miles way past the moon! Credit NASA. In the #ManyCulturesOneSky department, Leo shared skylore from the Blackfeet of Montana
The election is over, the voters have spoken! Blueberry, the pitbull, is the new PAWlitical Mayor of Salt Lake County Animal Services. RadioACTive spoke with SLCAS' Callista Pearson, who arranged for Blueberry and her human, April Prado of Camp Bow Wow South Salt Lake, to make a statement. Seriously, congratulations to all the candidates whose campaigns raised more than $12,000 for SLCAS' Injured Animal Fund.
Etta Place Cider's Robert Marc and Ann Torrance checked in from their cidery in Torrey, Utah. Their annual wassailing ritual in the orchard happens this weekend, if you fancy a road trip to Capitol Reef. And they plan to reschedule their SLC tasting event -- originally scheduled for this month -- for early Spring at Scion Cider Bar. We'll have them back when that draws closer.
Aldine sent in a report from the Utah Food and Farm Conference, going on this weekend in Cedar City. Tune in next week when he returns with stories for #PunkRockFarmerFriday! KRCL is a media sponsor of the event.
Lara's #UrbanFarmReport, featuring SLC homesteader Celia Bell. Her class on raising backyard chickens starts next month. Links below to that and some of her other classes with Lifelong Learning at the UoU:
Lifelong Learning says: "Celia has been an organic gardener since 1998. After graduating from Weber State University in 1998 with a B.S. in zoology and minors in both botany and chemistry, Celia decided that she wanted a 'PhD in practical knowledge,' joined a farm collective, and took on gardening leadership responsibilities. After returning home to Utah she began large-scale backyard gardening, teaching gardening classes, and taking as many gardening classes as possible. Chickens were a natural part in the evolution of her urban garden, and they were integrated in spring 2004. Celia's chickens have been working hard on garden bug patrol, soil fertilizing and preparation, and egg production ever since."
Views, thoughts or opinions shared by guests are their own and do not necessarily reflect those of the board, staff or members of Listeners' Community Radio of Utah, KRCL 90.9fm. Tonight's show was produced and hosted by
Lara Jones
and
Aldine, KRCL's Punk Rock Farmer
.
###