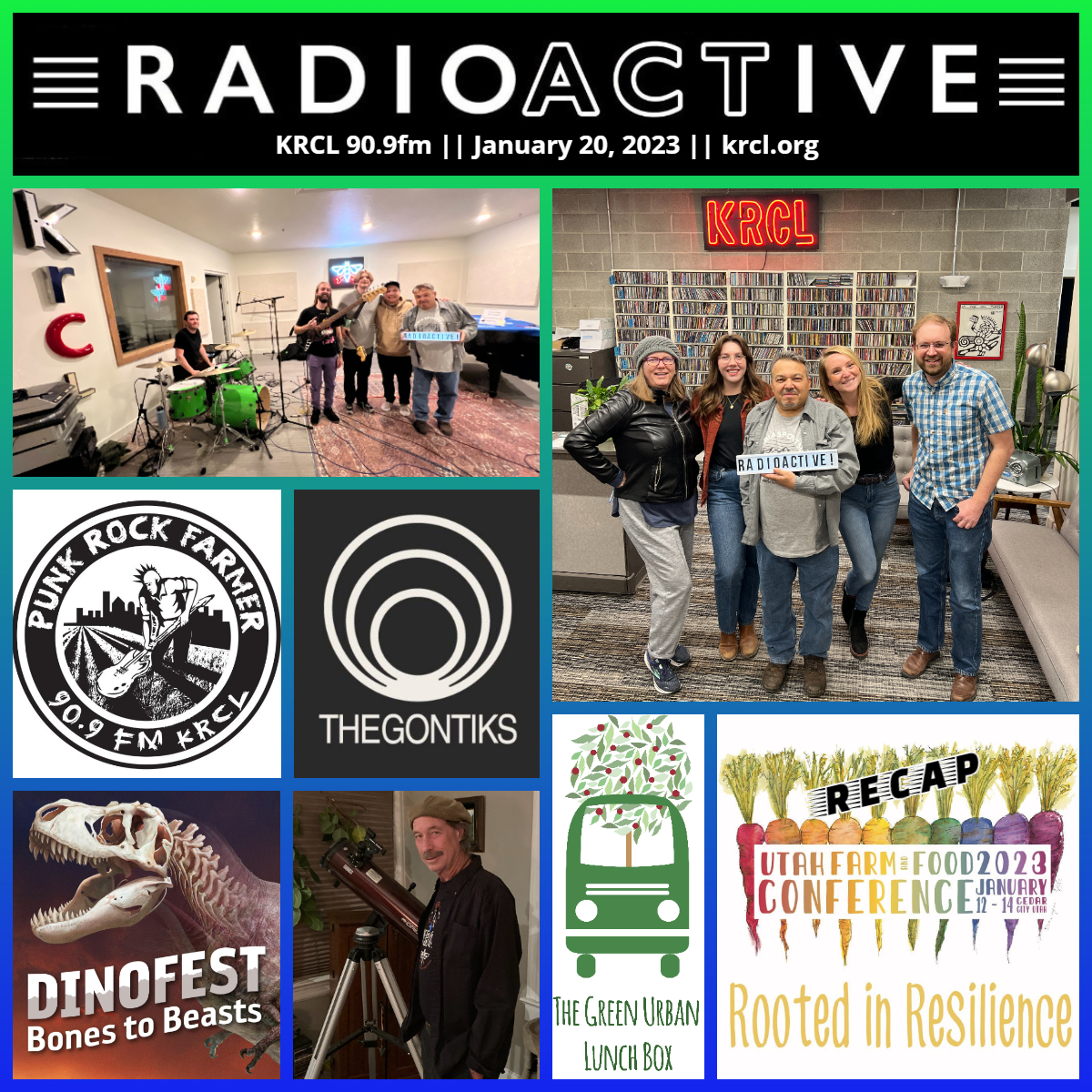 Punk Rock Farmer Friday, with more true tales from the agrihood with Aldine, KRCL's Punk Rock Farmer, and Lara. On the menu -- Utah Farm and Food Conference recap, The Green Urban Lunch Box tree tips, DinoFest at NHMU, Dark Sky at Red Butte, Skywatcher Leo T, and fresh, homegrown music from the Gontiks.
Tonight's show featured the following people, organizations and/or events. Check them out and get plugged into your community!
Fresh, homegrown music from The Gontiks. See them live Thursday, Jan. 26, at Urban Lounge!
#ManyCulturesOneSky with SkyWatcher Leo T, a RadioACTive volunteer-contributor who shares his love for the night sky and cultural tales of the constellations during #PunkRockFarmerFridays. FOLLOW: SkyWatcher Leo T.
Dark skies advocate and photographer Bettymaya Foott, who will be speaking at Red Butte Garden tomorrow. Click here for details and tickets.
Randal Irmis, NHMU Chief Curator and Curator of Paleontology, on DinoFest: Bones to Beasts at the Natural History Museum
Jan. 28-29: DinoFest: Bones to Beasts at the Natural History Museum, 301 Wakara Way, SLC. "Guest paleontologists will present groundbreaking in-person keynote and DinoBite talks and interact with attendees on site. DinoFest guests can enjoy special access to the Paleo Prep Lab and Paleontology Collections to get up close with incredible fossils, and community partners will fill out the Museum's Canyon to highlight the region's many dinosaur research and educational communities. DinoFest is included with regular admission and free for Museum Members and University of Utah faculty, staff, and students. DinoFest guests can also explore our current special exhibition, Angkor: Empire of Cambodia."
Hannah Goggin, Equitable Distribution Coordinator & FruitShare Communications at The Green Urban Lunch Box.
Aldine's Urban Farm Report, featuring:
Symbria Patterson of Red Acre Center. Get your microgrant application in by midnight!
Dale Thurber Delectation of Tomatoes
John Webster, GO BioChar
Guests' views, thoughts, or opinions are their own and do not necessarily reflect those of the board, staff, or members of Listeners' Community Radio of Utah, KRCL 90.9fm. Questions, comments or suggestions for the show? Email radioactive@krcl.org. Tonight's RadioACTive team included:
###