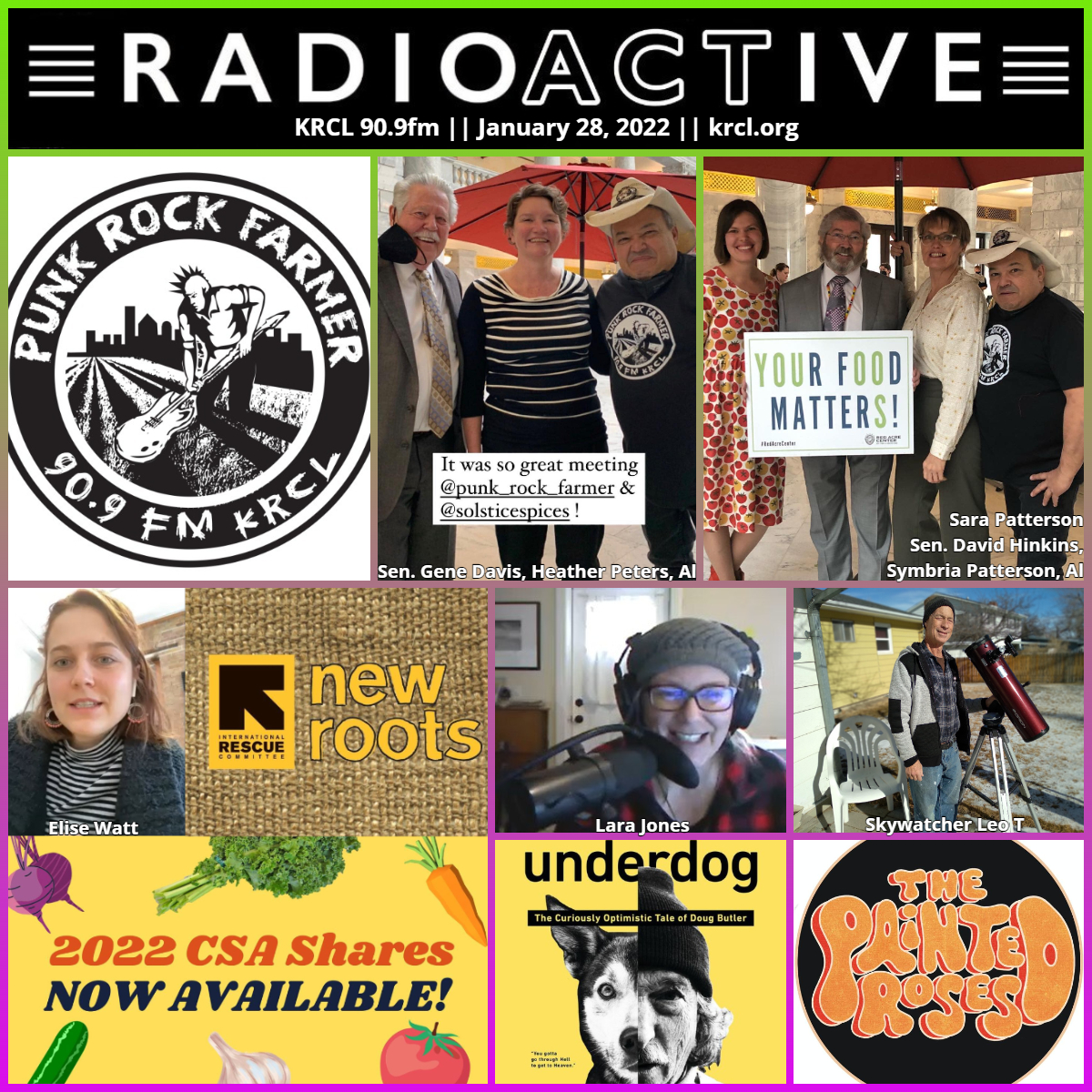 #PunkRockFarmerFriday goes to Capitol Hill with Red Acre Center, meets the Biodynamic Cowboy, signs up for CSAs with IRC's New Roots program -- and you can, too! Plus, Underdog, the Slamdance documentary about Vermont farmer Doug Butler, who also likes to mush. SkyWatcher Leo T and fresh, homegrown music from The Painted Roses.
Tonight's show featured the following people, organizations and/or events. Check them out and get plugged into your community!
Fresh, homegrown music from The Painted Roses, a six-piece rock band from northern Utah. They shared The Run, Mellow Man and My Day from their album released last summer, Stone Cold Killer. Check them out live:
Feb. 5 @ Whysound
Feb. 12 @ Metro Music Hall, SLC
March 19 @ The Basement, Rexburg
March 23-27 @ Treefort Music Festival, Boise
SkyWatcher Leo T, a RadioACTive volunteer contributor who shares his love for the night sky, cultural tales of the constellations and more during #PunkRockFarmerFridays. Tonight: James Webb entering its final orbit between Earth and the sun! We visit Yellowstone, Mars and a horoscope from the Casper Star-Tribune, just for fun and balance. For sources and more space news, follow Leo on his Facebook page: SkyWatcher Leo T.
Legislative Update from Red Acre Center's Symbria Patterson, who is back on Utah's Capitol Hill to advocate for small farmers and ranchers.
Punk Rock Farmer Aldine Strychnine shared an interview with Lloyd Nelson, the Biodynamic Cowboy, from the meetup at the Utah Farm & Food Conference earlier this month in Cedar City. To learn more about Nelson's non-profit devoted to the preservation and evolution of Biodynamic Agriculture, click here.
New Roots CSA is now open for signup! RadioACTive spoke with New Roots Logistics Specialist Elise Watt about ways to support New Roots farmers, all of whom have previous refugee status. This year's CSA pick-ups will occur every Wednesday from 4:30-7pm for 18 weeks from June 29-October 26.
Shares are half off for members using SNAP benefits at time of pickup. This year's pick-up locations for all CSA members include:

Wheadon Farm in Draper

IRC Office downtown

New! Redwood Farm in West Valley

Workplace CSA: If 20 or more employees sign up, they can deliver to your location

CSA add-on options:

Donate or sponsor a share for a food-insecure refugee or new American family resettled by the International Rescue Committee in Salt Lake City.

Partnership with Roots Charter High

Biweekly and weekly egg shares

New! Biweekly and weekly flower shares will be added to our site soon.

CSA Workshare volunteer program: come work on the farm for 4 hours every Tuesday or Wednesday and receive a full share in return.

New! Barter With a Farmer volunteer program: get connected with a farmer whose availability fits your schedule and help with harvest and land management in exchange for vegetables.
#UrbanFarmReport: Tonight we featured a conversation with filmmaker Tommy Hyde and Doug Butler, the subject of Underdog, now showing at Slamdance.
The film is "the curiously optimistic tale of Doug Butler—a hardscrabble Vermont dairy farmer who risks losing the only home he's ever known to chase his dreams of dog mushing in Alaska. Revealed in intimate vérité, Doug at first presents as a modern Quixote, but then finds to his delight that sometimes the world can actually be as he imagines. Meticulously captured over the course of a decade, the resonance of Doug's journey extends to all who have faced down loneliness, isolation and the struggle to make sense of forces beyond control." To watch Underdog, click here to get your $10 pass to the all-virtual Slamdance Film Festival.

Cobble Hill Kennel: If you're ever in Vermont and want a unique way to tour the countryside, then check out Doug's new side hustle. Winter, spring and fall, the dogsled tours support Doug's more than 60 "canine athletes." The only season they're unavailable: farming season.
View this post on Instagram
Views, thoughts or opinions shared by guests are their own and do not necessarily reflect those of the board, staff or members of Listeners' Community Radio of Utah, KRCL 90.9fm. Tonight's show was produced and hosted by
Lara Jones
and
Aldine, KRCL's Punk Rock Farmer
.
###