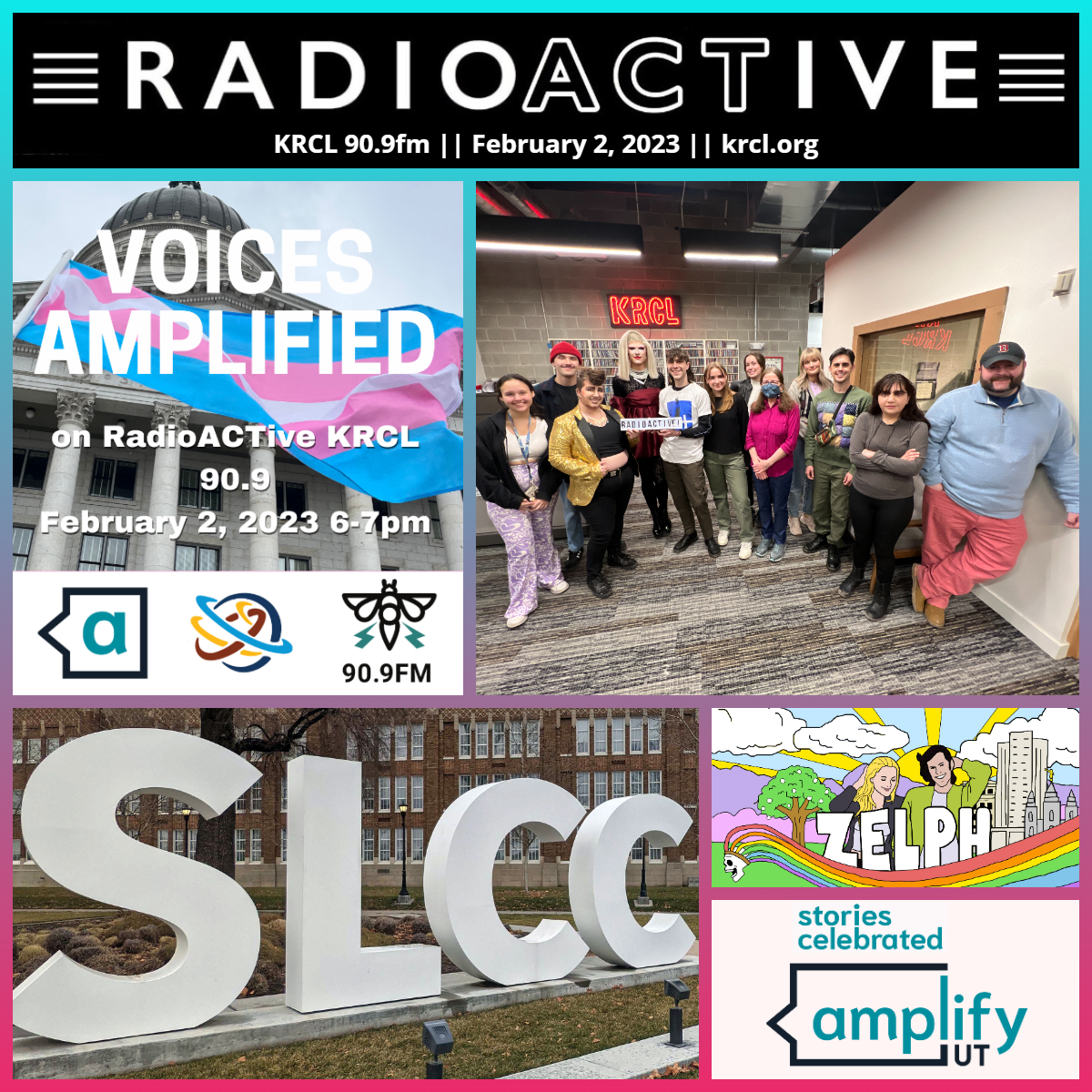 SLCC rising journalists take over RadioACTive. Listen as team lead Braden Timmerman talks about legislation in drag with local performers Hysteria and Notta Genda. Then explore the ex-Mormon side of social media with the creators behind the viral TikTok sensation Zelph On The Shelf. Plus, pop culture nuggets and more!
To hear tonight's show for the next two weeks, click here to listen on demand. Sort by show title (RadioACTive) or show date. The Soundcloud file below is edited for compliance with the Digital Millennium Copyright Act and does not feature all the music from the show.
Tonight's show featured the following people, organizations and/or events. Check them out and get plugged into your community:
Upcoming event highlighted during tonight's show:
Feb. 9: Trans Youth on the Hill, 5:00-6:30 p.m. at the Utah State Capitol, 350 N. State St., SLC. Event by PFLAG Provo/Utah County and Genderbands: "Calling all Trans youth/teens and allies! We are gathering at the capitol to protest the new bill banning gender affirming care for transgender youth. We will be doing a sing-in on the South steps singing a medley of 'This is me' and 'God Help the Outcasts.' We want as many youth as possible! Wouldn't it be great to fill those capitol steps? Bring your kids and yourselves in solidarity and protest against SB16! Sponsored by: QueerMeals, HRC foundation, PFLAG, Equality Utah, Genderbands, FAM, Flourish, QueerCommunityAllies, and Project Rainbow."
SLCC Voices Amplified Playlist grows every week, Check it out:
Guests' views, thoughts, or opinions are their own and do not necessarily reflect those of the board, staff, or members of Listeners' Community Radio of Utah, KRCL 90.9fm. Questions, comments or suggestions for the show? Email radioactive@krcl.org and put "Voices Amplified" in the subject line. Tonight's RadioACTive team included:
Executive producer: Lara Jones

Academic advisor: Marcie Young Cancio, assistant professor of journalism and digital media and Salt Lake Community College and Amplify Utah executive director

Lead producer: Teresa Chaikowsky

Associate producer: Anna Gardner

Host: Braden Timmerman

Booker: Rory Weber

Digital: Nicole Spearman