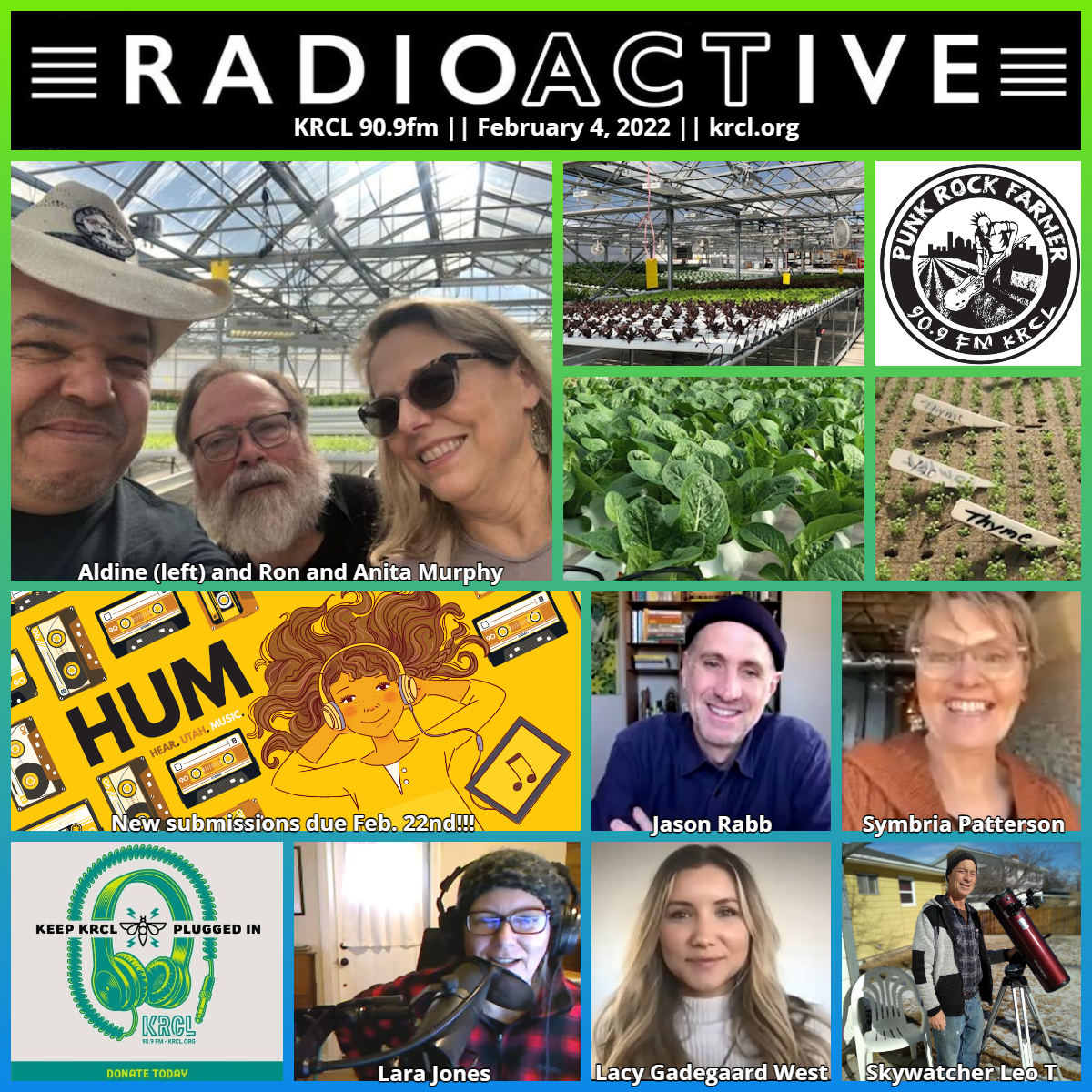 #PunkRockFarmerFriday with Aldine and Lara brings you more true tales from the agrihood with Ron and Anita of R and A Hydroponics -- not a rocking chair kind of retirement! Legislative update with Red Acre Center. Heads-up on the Hope for Hair Gala. Skywatcher Leo T. Homegrown music from HUM, the local music catalog at The City Library.
Tonight's show featured the following people, organizations and/or events. Check them out and get plugged into your community!
Fresh, homegrown music from Hear Utah Music at The City Library, now accepting submissions through Feb. 22. Jason Rabb chose songs by Josaleigh Pollet, Neon Natives and Rosie Diamond from the more than 200 albums in HUM's catalog. Submit your music to HUM:
The HUM music collection is curated by a jury of local music advocates, who work to select a diverse collection representing our music community. Submissions are open to music made in Utah within the last 5 years.

Submissions should include one example track from the album you'd like to submit (they prefer high-quality masters in FLAC, WAV, or AIFF formats, but they'll also accept high bitrate Mp3, AAC, and Ogg Vorbis) and information about you and your music.

HUM pays musicians a one-time honorarium of $200 for albums ($100 for EPs) that are chosen to be included in the collection. To have your music considered for inclusion in the HUM collection, visit hum.slcpl.org/submit.
SkyWatcher Leo T, a RadioACTive volunteer-contributor who shares his love for the night sky, cultural tales of the constellations and more during #PunkRockFarmerFridays. Tonight, check out the dawn sky and Venus, then travel with Leo out to Venus with the European Space Agency's Solar Orbiter and get a surprise as the orbiter goes through Comet Leonard's tail! Artemis 1, the backside of the moon, and more. For sources and more space news, follow Leo on his Facebook page: SkyWatcher Leo T.
Hope for Hair Gala with Lacy Gadegaard West, founder of Laced Hair Foundation. lacy is a hairstylist and owner of Laced Hair Extensions. She started the nonprofit to help other women who suffered hair loss as she did when diagnosed and treated for a brain tumor in 2015. The Laced Hair Foundation allows you to nominate yourself or someone else to be a recipient of Laced Hair Extensions at no charge.
Feb. 10: First Annual Hair for Hope Gala, 6:30-9:30 p.m. at the Hidden Valley Country Club in Sandy. Proceeds benefit The Laced Hair Foundation to support women challenged with hair loss due to illness. By contributing to this event you'll be empowering women suffering from hair loss, so they can face whatever challenges come their way. For more information on The Laced Hair Foundation and the Hair for Hope Charity Gala, follow their Instagram @LacedHairFoundation or email them at foundation@lacedhair.com.
Legislative Update from Red Acre Center's Symbria Patterson, who is back on Utah's Capitol Hill to advocate for small farmers and ranchers.
Aldine's Urban Farm Report, with Ron and Anita Murphy of R&A Hydroponics. They're growing hydroponic leafy greens and herbs at their greenhouse in West Jordan, selling at the Downtown SLC Farmers Market-Winter Market at The Gateway, Saturdays from 10a-2p through April 23. Be sure to follow them to see where they end up for summer markets, too!
Views, thoughts or opinions shared by guests are their own and do not necessarily reflect those of the board, staff or members of Listeners' Community Radio of Utah, KRCL 90.9fm. Tonight's show was produced and hosted by Lara Jones and Aldine, KRCL's Punk Rock Farmer
###