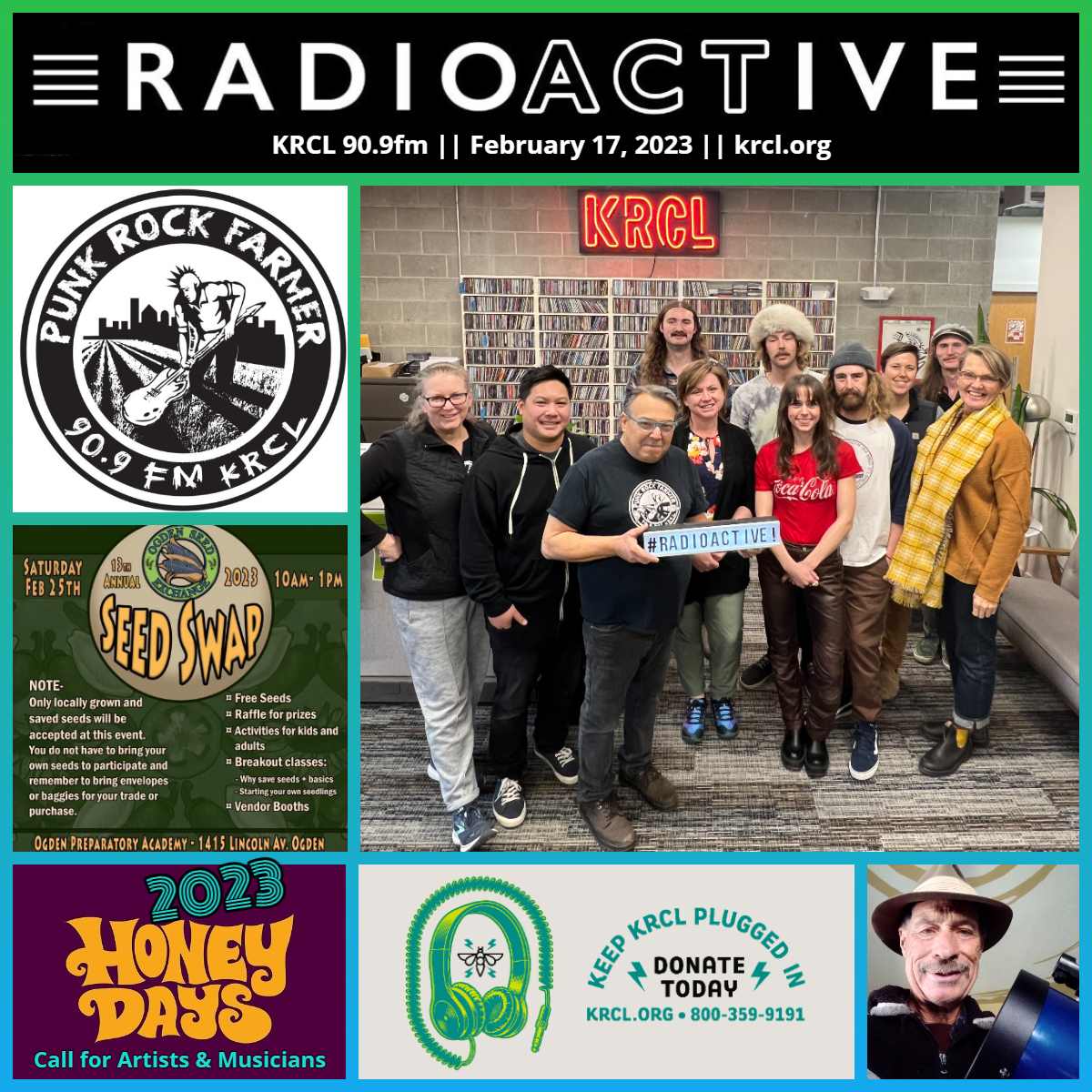 Punk Rock Farmer Friday, with Aldine, KRCL's Punk Rock Farmer, and Lara. Red Acre Center with bills affecting the agrihood, Ogden Seed Exchange, food equity microgrants, SkyWatcher Leo T and fresh, homegrown music.
Tonight's show features the following people, organizations and/or events. Check them out and get plugged into your community!
Fresh, homegrown music from Lee Rafugee, a rock 'n roll band from SLC. Look for them March 4 at Solitude Mountain Resort, outside Last Chance Lodge near the base of Apex Express, kicking off the resort's Last Chance Beach Bash series at about 4:30 p.m.
SkyWatcher Leo T and his Many Cultures One Sky report, featuring NASA Solar System Ambassador Patrick Wiggins. FOLLOW: SkyWatcher Leo T.
Alex Millet of Honey Days 2023, which is now accepting applications for music performers and art vendors. This year's festival will cover multiple venues and multiple days in September. Click here to apply.
Greg Batt & Anna Cash of Ogden Seed Exchange, which hosts its annual Seed Exchange from 10a-1p on Sat., Feb. 25, at Ogden Preparatory Academy, 1415 Lincoln Ave., Ogden. FREE and open to the public.
Shannon Bennett of Utah Lady Grizzlies, which is offering a free skate for girls this weekend.
Maria Schwarz of SLC Green, where she is the Food & Equity Program Manager.
Salt Lake City launches microgrants to increase food equity in the community. Administered by SLC's Sustainability Department, the microgrant program has a total budget of $35,000. Individuals may apply for grants of $250 to grow or raise their own food and community grants up to $5,000 are available for organizations. Applications are open through March 5, 2023. To learn more and apply, click here.

Feb. 23: SLC Food Equity Microgrant Informational Workshop, 6:30-7:30 p.m. at Day-Riverside Library, 1575 W. 1000 N., SLC. "Come learn more about the Salt Lake City Food Equity Microgrant program, ask questions, and get help with your project idea or application. RSVP Here!"
Al's Urban Farm Report:
Symbria Patterson of Red Acre Center on legislation affecting the agrihood.

Thursdays: Red Acre Center hosts Politics & Pastries during the legislative session. Look for them from 9:30-10:30 a.m. every Thursday in Room 160 of the Utah State Capitol Building, 350 N. State St., SLC. "It's a busy session with bills to discuss, support, and oppose. Please join us in helping to build local food economies by being part of the legislative process. We need you whether you are a seasoned veteran or have never stepped foot on the grounds."

Anne Dunaway of the Utah Department of Agriculture & Food, which offers a Farm Stress Relief Program and a Specialty Crop Block Grant program.
Guests' views, thoughts, or opinions are their own and do not necessarily reflect those of the board, staff, or members of Listeners' Community Radio of Utah, KRCL 90.9fm. Questions, comments or suggestions for the show? Email radioactive@krcl.org. Tonight's RadioACTive team included:
###