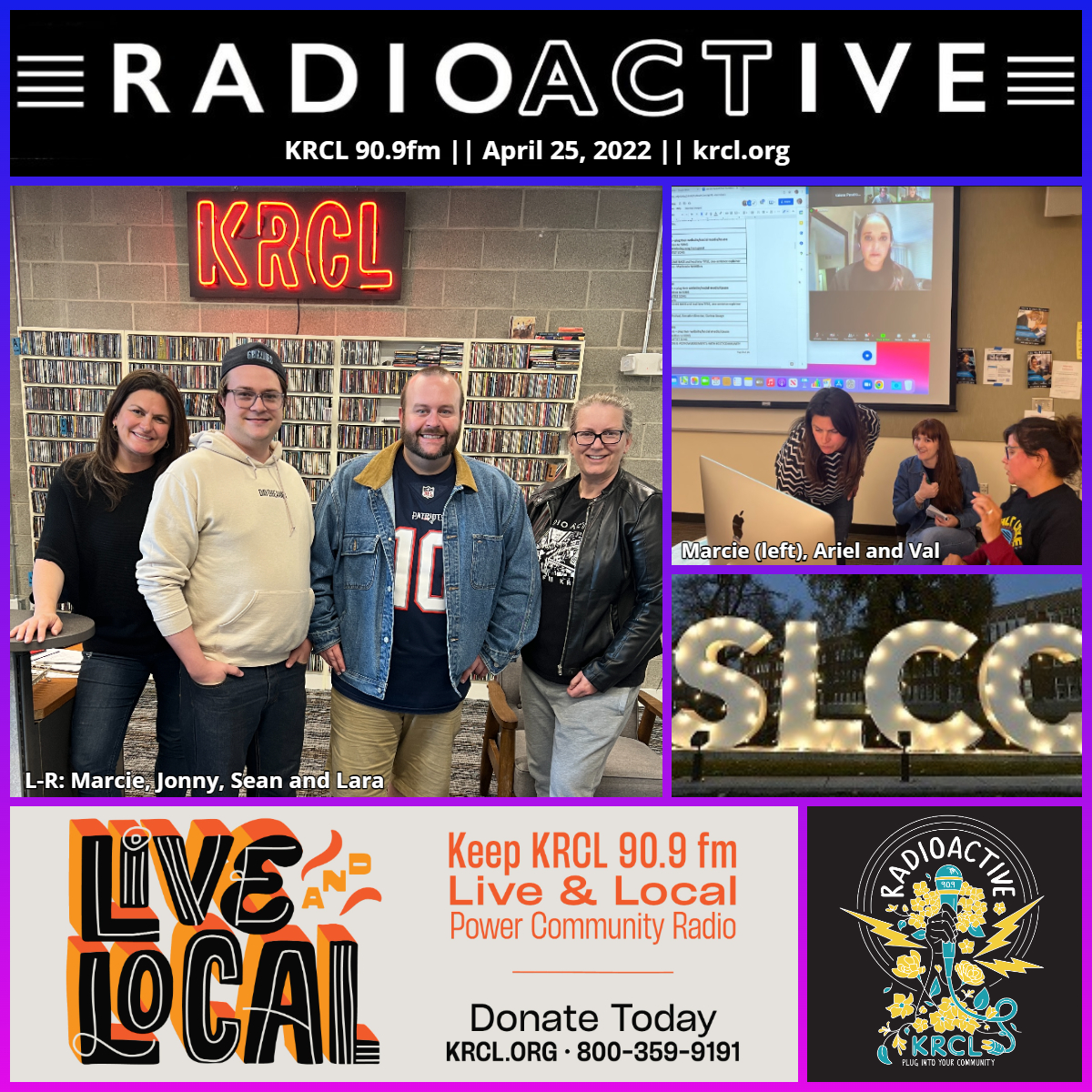 A Radiothon edition of RadioACTive and a #VoicesAmplified takeover! Featuring the #VoicesAmplified team from SLCC and Amplify Utah. Plus, #VoicesAmplified conversations with Women of the World, SLCC Community Gardens and the LOVELOUD Festival.
>>>>>>>To relive tonight's #VoicesAmplified edition of the show, listen on-demand or use the media players below.
Rising journalists once again took over RadioACTive for Voices Amplified, a collaboration between Salt Lake Community College, Amplify Utah and KRCL. Diversity, stories that matter, the things you care about — amplified. Listen to them every Monday night at 6 p.m. through Spring Semester at SLCC.
To find out how you can get in on this class next time, contact Marcie Young Cancio, assistant professor at Salt Lake Community College and Amplify Utah executive director. Her email is marcie.youngcancio@slcc.edu.
Host Jonny Tollestrup spoke with Samira Harnish, founder and executive director of Women of the World. The nonprofit empowers displaced women from all over the world right here in our community.
May 7: Celebrating Mother's Day, 2:00-5:00 p.m. at SL County Building, South Atrium, 2001 S. State St., SLC. Event by Women of the World: "Women of the World would like to invite you, your kids, and your partner to celebrate Mothers! Our new neighbors have gone to the end of the earth to protect their families, we are so appreciative of their being here in our community. Come celebrate Mother's Day with our ladies and their families." To register for this free event, click here.
Tollestrup spoke with Mackenzie McMillen from Salt Lake Community College Gardens about all things green and all the things they're doing in the community. To find out how you can get involved, check out their links below and learn about all the beautiful projects you can grow!
May 13: SLCC Gardens Day of Service, 9a-3p, various projects, starting at SLCC's Taylorsville Campus. "This year SLCC will be partnering with community partners Dual Immersion Academy, Neighborhood House, The Green Urban Lunch Box, and the SLCC Community Garden at the Taylorsville campus on various projects. We will be meeting at Redwood campus and then commute to the different service sites. All SLCC employees can participate as long as it is approved by your supervisor and department. Each volunteer will be given an SLCC Day of Service shirt and lunch will be provided. Please be aware that you are committing to the entire length of service time."
In tonight's final segment, Tollestrup spoke with LOVELOUD Festival Executive Director Clarissa Savage, as well as Equality Utah Managing Director Mindy Young, about the return of the music festival after being bumped off stage by the pandemic.
May 14: LOVELOUD Festival, 4:00 p.m. at Vivint Arena, 301 W. South Temple, SLC. "The 2022 LOVELOUD Festival will feature performances by Grammy® Award-winning recording artist Dan Reynolds of Imagine Dragons along with nationally recognized stars WILLOW, Anitta, Neon Trees, The Aces, and Mat & Savanna Shaw. More performers and speakers will be announced in the coming weeks." Follow on Facebook, Twitter, Instagram: @loveloudfest.
Tonight's RadioActive was a production of Listeners' Community Radio of Utah, Salt Lake Community College and Amplify Utah. Tonight's team included:
Lead Producer: Valene Peratrovich

Assoc. Producer: Amy Cremer

Host: Jonny Tollestrup of SLCC The Globe/Amplify Utah

Booker: Ariel Wilderburg

Digital Producer: Sean Stetson

Adviser: Marcie Young Cancio, assistant professor at SLCC and Amplify Utah executive director

Editor: Lara Jones, RadioACTive executive producer
Views, thoughts or opinions shared by guests are their own and do not necessarily reflect those of the board, staff or members of Listeners' Community Radio of Utah, KRCL 90.9fm.
###