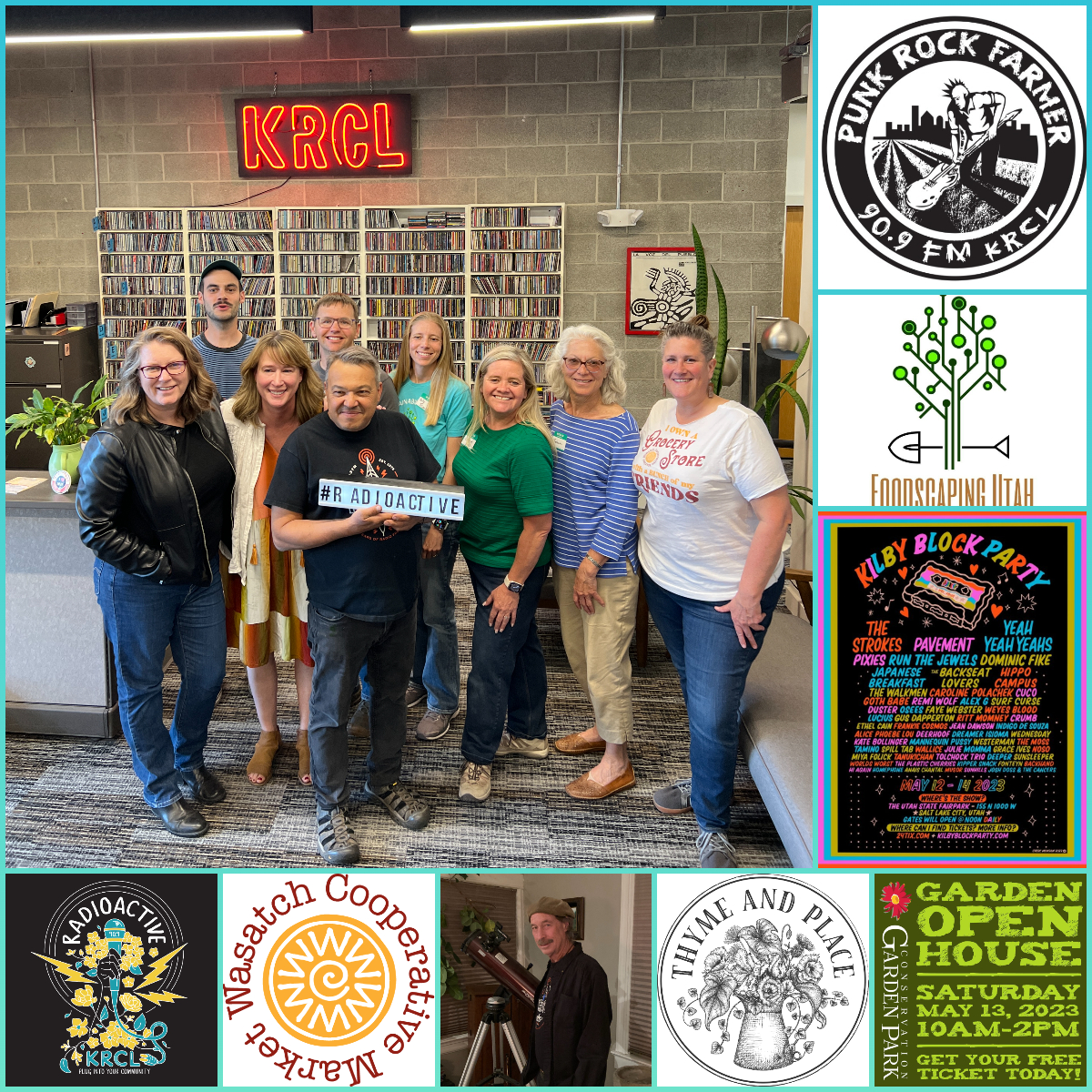 Punk Rock Farmer Friday, with Aldine, KRCL's Punk Rock Farmer, and Lara. Conservation Garden Park and Foodscaping Utah will help us rip our strips and plant something waterwise this summer. Plus, Wasatch Cooperative Market news, Thyme and Place workshops, SkyWatcher Leo T, and homegrown music from bands at this weekend's Kilby Block Party.
Tonight's show features the following people, organizations and/or events. Check them out and get plugged into your community!
Homegrown music from local bands playing this weekend's Kilby Block Party, including:
Many Cultures One Sky with SkyWatcher Leo T. Tonight: Fomalhaut star system, sun flares, Mars ice, and Chinese skylore. For space news and sources, follow the SkyWatcher Leo T Facebook page.
Erin Whitelock & Barbara Pioli of Wasatch Cooperative Market, which will host a lease-signing party Saturday, May 20, from 2:00-5:00 p.m. at 422 E. 900 S., SLC. Free and open to the public, featuring a pop-up farmers market, food trucks, family-friendly activities, and live music from Mel Soul & The Heartbeat.
Melinda Meservy of Thyme and Place on workshops at the local plant shop and in collaboration with Scion Cider Bar. For a list of their upcoming events, click here. Shop local!
Aldine's Urban Farm Report offered advice on water-wise planting, rip-your-strip incentives, and more, featuring:
Cynthia Bee of Conservation Garden Park, which will host an open house tomorrow from 10a-2p. Location: 8275 S. 1300 W., West Jordan. FREE and open to the public.

John & Holly Trimble of Foodscaping Utah, a nonprofit organization and volunteer group dedicated to helping people get started growing their own food. Click here to check out their classes and events in the Ogden area.
Guests' views, thoughts, or opinions are their own and do not necessarily reflect those of the board, staff, or members of Listeners' Community Radio of Utah, KRCL 90.9fm. Questions, comments or suggestions for the show? Email radioactive@krcl.org. Tonight's RadioACTive team included:
###