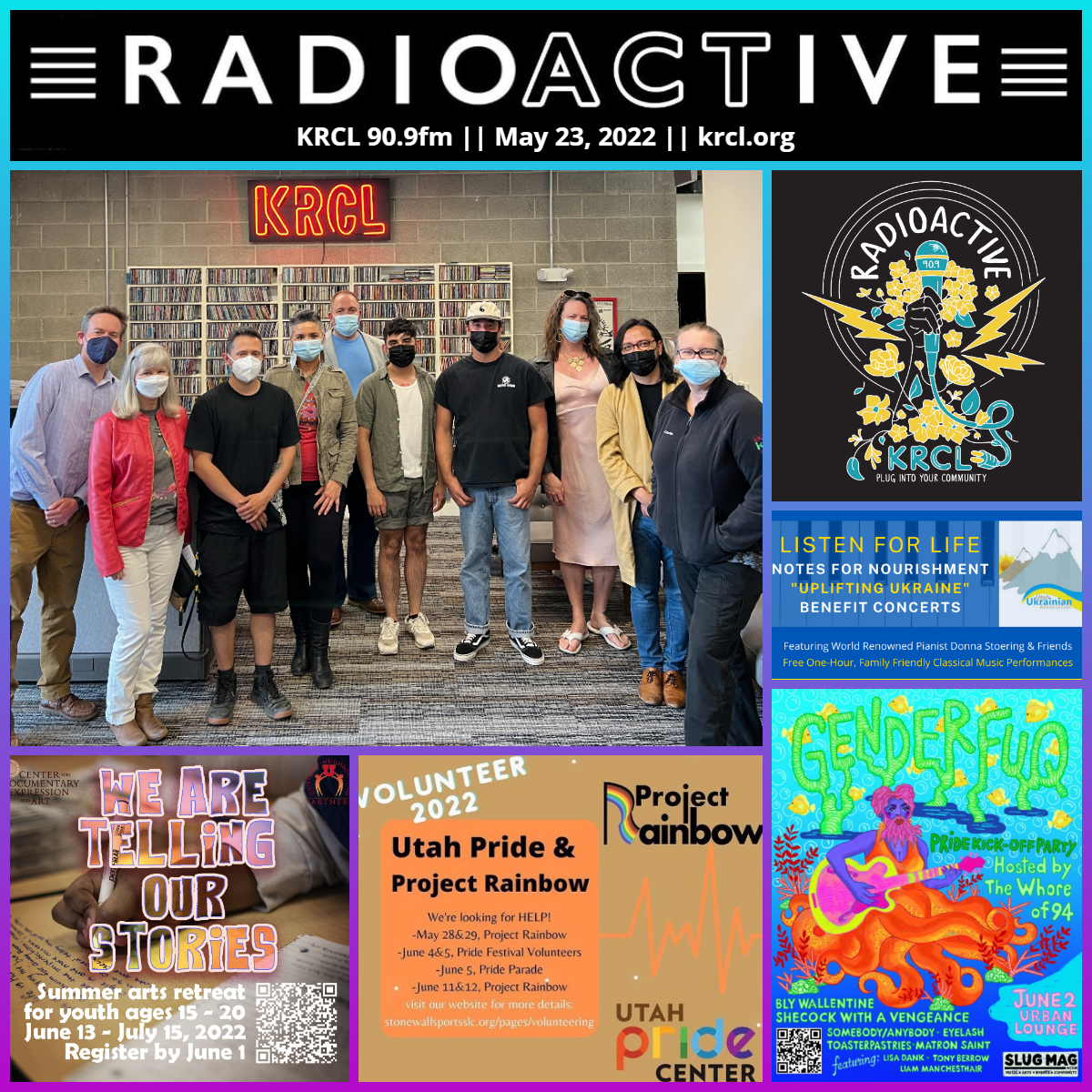 RadioACTive passed the mic to community groups, including HEAL Utah, Utah Clean Energy, Project Rainbow, SL County Health, We Are Telling Our Stories, Uplifting Ukraine, and more. Plus, Sofia Scott shares homegrown music from her upcoming GenderFUQ Pride Kick-Off Party.
Tonight's show featured the following people, organizations and/or events. Check them out and get plugged into your community!
Veteran Andrew Nydegger, Dean, Salt Lake's Arizona College of Nursing. May is Military Appreciation and National Nurses Month

Dr. Angela Dunn, Salt Lake County Health Department Executive and Medical Director. To get more details on COVID testing in SL County, click here. For more information about monkeypox, visit the CDC.gov/monkeypox.
Donna Stoering of Listen For Life, a global nonprofit empowering musicians from all cultures to use their gifts in the service of others. LFL is hosting "Uplifting Ukraine" concerts to benefit Ukrainian refugees and displaced families. As a part of that series, two free, one-hour, family-friendly concerts will take place in Utah to raise funds for Ukraine, in partnership with the Utah Ukrainian Association, and sponsored by the SLC law firm of Lance Andrew Bingham:

⮚ Friday, June 3 at 7:30 p.m. MDT – Libby Gardner Concert Hall, 1375 Presidents' Circle in SLC

⮚ Saturday, June 4 at 7:30 p.m. MDT – Waterford School Concert Hall, 1480 E. 9400 S. in Sandy

⮚ Online Global Broadcasts also available on the LFL Notes for Nourishment YouTube channel.

⮚ Donations accepted at the door and any time online at ListenForLife.org (DONATE page)
Lucas Horns of Project Rainbow, which needs another 200 volunteers to help deliver and stake pride flags this weekend. To sign up in your county, click here.
Guests' views, thoughts or opinions are their own and do not necessarily reflect those of the board, staff or members of Listeners' Community Radio of Utah, KRCL 90.9fm. RadioACTive Executive Producer Lara Jones hosted tonight's show.
###