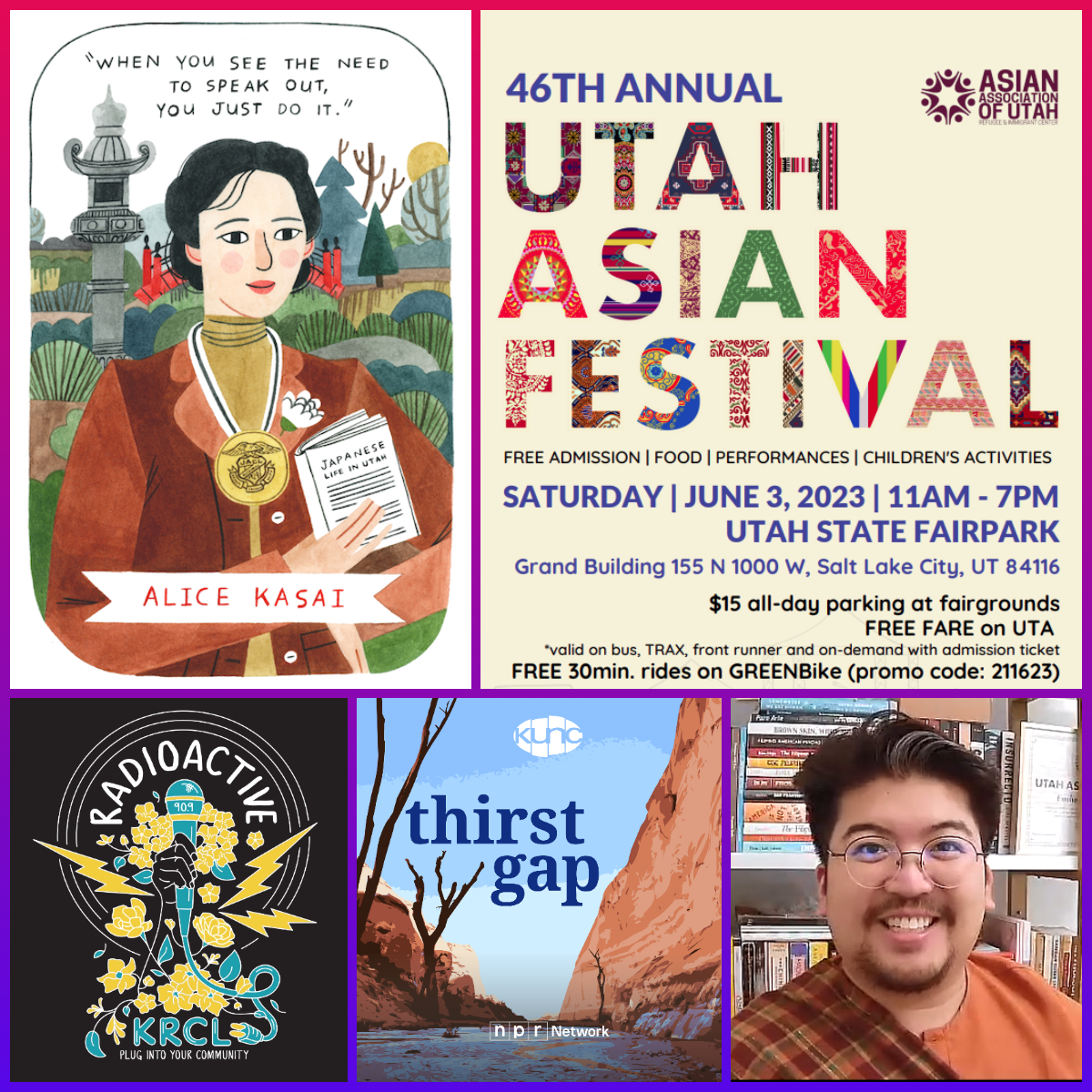 RadioACTive gets a preview of the 46th annual Utah Asian Festival, the longest-running continuous event of its kind this side of the Mississippi. Better Days on Alice Kasai, an advocate for Japanese-Americans' rights and for international peace. Plus, Rocky Mountain Community Radio Regional Roundup on writers of the region, and podcast The Thirst Gap.
Tonight's show features the following people, organizations and/or events. Check them out and get plugged into your community! 
Emilio Manuel Camu, chair of the Utah Asian Festival. For your free ticket which is also free fare on UTA, click here. 
June 3: 46th annual Utah Asian Festival on Saturday, June 3rd from 11:00 am until 7:00 pm at the Grand Building of the Utah State Fairpark (Salt Lake City, UT 84116). The Festival is a celebration to connect new Americans, immigrants, and refugees to the more historic ethnic groups in our state, but also brings our diverse ethnic communities together and meet our various communities, leaders, and elders; and seek new opportunities to be involved and support our diverse Utah Asian communities. There will be vendors, performances, and cuisine from across Asia. For more info click here.

Better Days and the story of Alice Kasai, an advocate for Japanese-Americans' rights and for international peace. When Alice's husband was sent to a prison camp during WWII, she led the Japanese American Citizens League in Salt Lake City to try to build bridges of cultural understanding. Her work as a civil rights leader shaped Utah for the better. To learn more about Alice, click here. 
Hear writers who write about the Rocky Mountain West on the latest episode of the
Rocky Mountain Regional Roundup from RMCR.
 Produced and hosted by Maeve Conran, this episode features authors who write about the American West:
Author Oscar Hokeah speaking with Aspen Public Radio's Kaya Williams about his novel Calling For a Blanket Dance which was shortlisted for this year's Aspen Words Literary Prize.
Author Shelley Read speaks on KGNU about the drowning of Iola and what it means to be from Western Colorado in her book Go As a River.
Author Teow Lim Goh explores the Chinese Immigrant's experience in the American West in her new collection of essays titled Western Journeys. She spoke with KVNF's Tae  Jae.
Author Morgan Sjogren talks to KRCL's Lara Jones about her new book, Path of Light, A Walk Through Colliding Legacies of Glen Canyon.
The podcast The Thirst Gap, produced by K-U-N-C, examines how the Southwest is adapting to water shortages as climate change causes the region to warm up and dry out.The series asks how can we learn to live with less on the Colorado River? For Rocky Mountain Community Radio, Maeve Conran speaks with podcast host Luke Runyon.
Views, thoughts or opinions shared by guests are their own and do not necessarily reflect those of the board, staff or members of Listeners' Community Radio of Utah, 90.9fm KRCL. Tonight's RadioACTive team included: