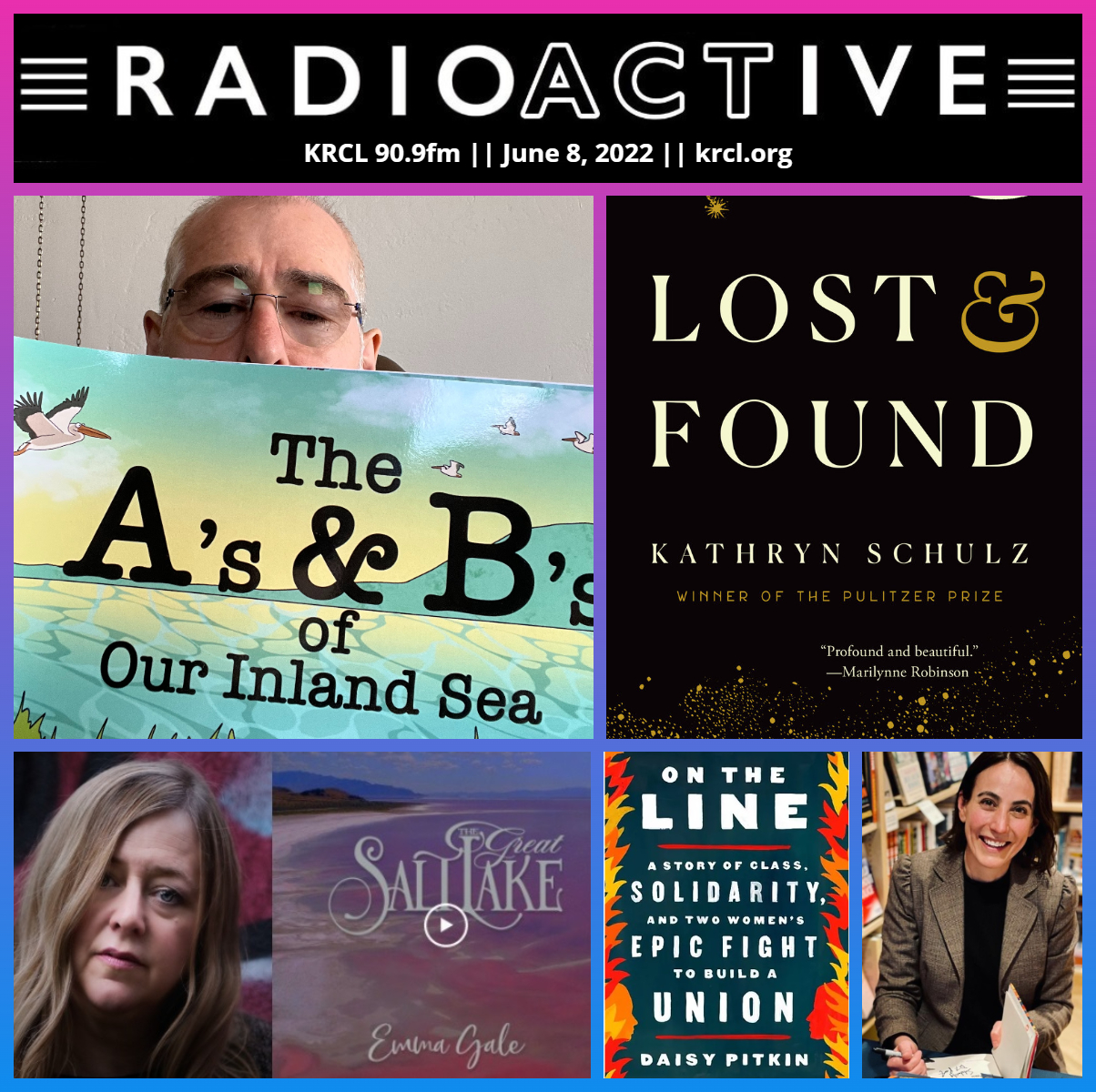 Volunteer Host Nick Burns brings you a song for the Great Salt Lake. Plus, author Kathryn Schulz and her memoir of grief, Lost and Found, and writer Daisy Pitkin on her latest, On the Line: A Story of Class, Solidarity, and Two Women's Epic Fight to Build a Union.
Hosted by Volunteer DJ Nick Burns, tonight's show featured the following people, organizations and/or events:
Pulitzer Prize-winning New Yorker writer Kathryn Schulz on her new book, Lost & Found. Schulz is a staff writer at The New Yorker and the author of Being Wrong. She won a National Magazine Award and a Pulitzer Prize for "The Really Big One," her article about seismic risk in the Pacific Northwest. Lost & Found grew out of "Losing Streak," a New Yorker story that was anthologized in The Best American Essays.
SLCC Professor Nicole Anderson, author of The A's and B's of Our Inland Sea, returned with English singer-songwriter Emma Gale. The two talked with Burns about "The Great Salt Lake," for which Gale was inspired by Anderson's new children's book.
Daisy Pitkin, author of On the Line: A Story of Class, Solidarity, and Two Women's Epic Fight to Build a Union. Pitkin has spent more than 20 years as a community and union organizer, working first in support of garment workers around the world, and then for U.S. labor unions organizing industrial laundry workers. She is currently working with Workers United to unionize the Starbucks workers. Pitkin lives and writes in Pittsburgh, Pennsylvania, where she works as an organizer with an offshoot of the union UNITE.
Guests' views, thoughts, or opinions are their own and do not necessarily reflect those of the board, staff, or members of Listeners' Community Radio of Utah, KRCL 90.9fm. Tonight's team included Volunteer Host Nick Burns and executive producer Lara Jones. Questions, comments or suggestions? Email radioactive@krcl.org.

###