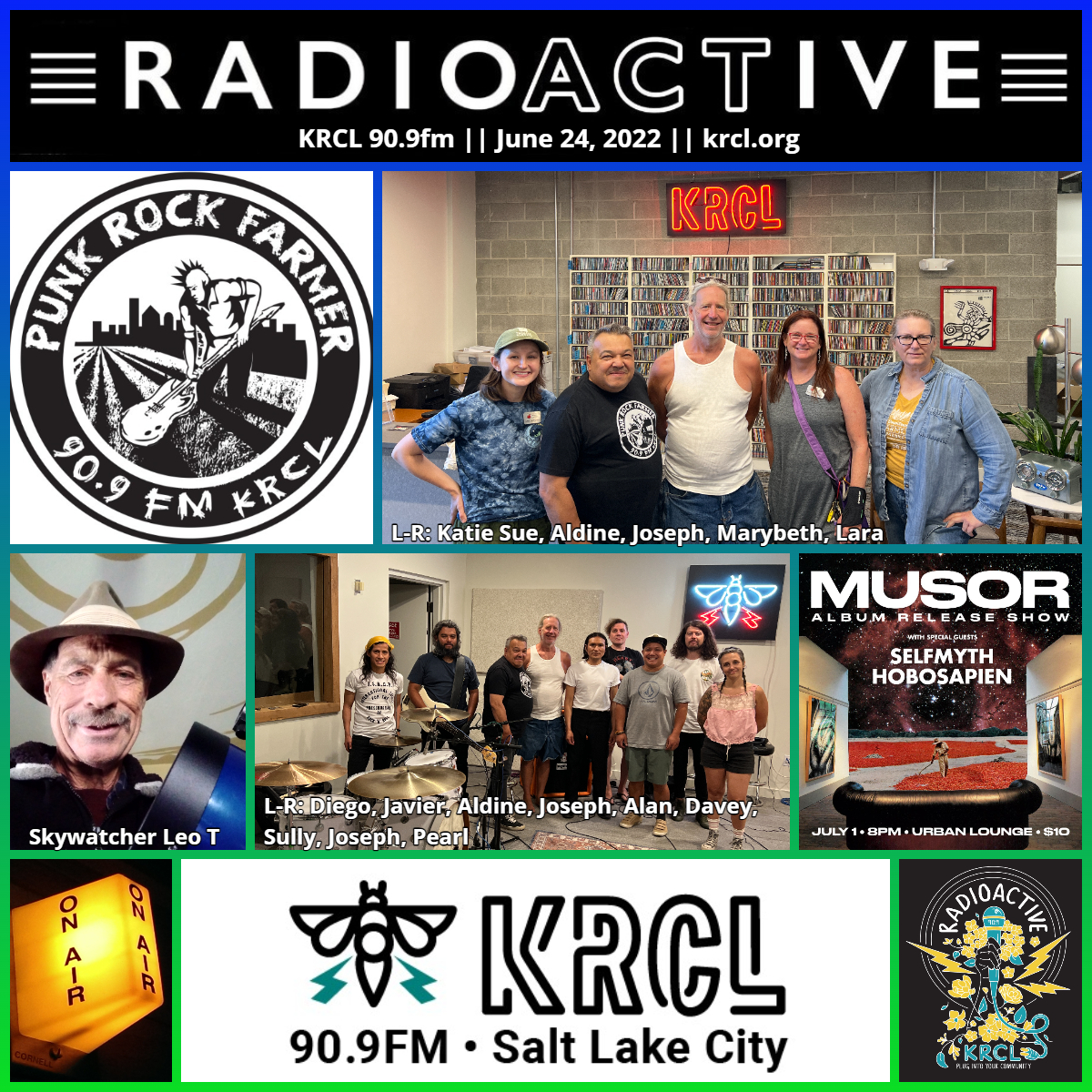 Aldine, KRCL's Punk Rock Farmer, and Lara bring you more true tales of the agrihood with Landrace Gardening author Joseph Lofthouse and Marybeth Janerich and Katie Sue Mulliken of Wasatch Community Gardens. Skywatcher Leo T, #whatsfresh at farmers markets, the new skate loop at Millcreek Common, and homegrown music from Musor -- live in the studio!
Tonight's show featured the following people, organizations, and/or events. Check them out and get plugged into your community!
Fresh and homegrown music from Musor — live in the studio!
#ManyCulturesOneSky with SkyWatcher Leo T, a RadioACTive volunteer-contributor who shares his love for the night sky, cultural tales of the constellations, and more during #PunkRockFarmerFridays.
Marybeth Janerich and Katie Sue Mulliken of Wasatch Community Gardens. They're opening their new campus, an expanded Grateful Tomato Garden, tomorrow.
June 25: Wasatch Community Gardens' Campus Grand Opening, 11:00 a.m. 629 E. 800 S., SLC. "Enjoy educational garden demos led by WCG program staff. Learn to make gardening and healthy foods fun for kids. Collect tips to give your veggie garden the best chance at success this season. Visit our onsite community garden and see what makes these shared spaces so special! Take a self-guided tour of the Campus — Salt Lake City's newest urban agriculture hub — and enjoy a first-hand look at our insectary gardens, cover cropping and trellising techniques, herb spiral, fruit trees, edible landscaping and more!" Click here for the full slate of activities.
Millcreek Mayor Jeff Silvestrini and Sparkle on the new Skate Loop at Millcreek Common, 1354 E Chambers Ave, Millcreek, UT. Now open daily from 5:00-10:00 p.m. Get with Sparkle for skating lessons on Thursdays!
What's Fresh: Al spoke with Jack Wilbur of 3 Squares and John of Straw Hat Urban Farm to find out what they'd have for you at the Wheeler Sunday Farmer's Market, 6351 S. 900 E., Cottonwood Heights.
Aldine's Urban Farm Report, featuring Joseph Lofthouse, author of Landrace Gardening. Joseph adopted the principles of landrace gardening in response to the harsh growing conditions in his high-altitude, short-season, desert garden in Paradise, UT.
Guests' views, thoughts, or opinions are their own and do not necessarily reflect those of the board, staff, or members of Listeners' Community Radio of Utah, KRCL 90.9fm. Tonight's show was produced and hosted by Lara Jones and Aldine, KRCL's Punk Rock Farmer.
###