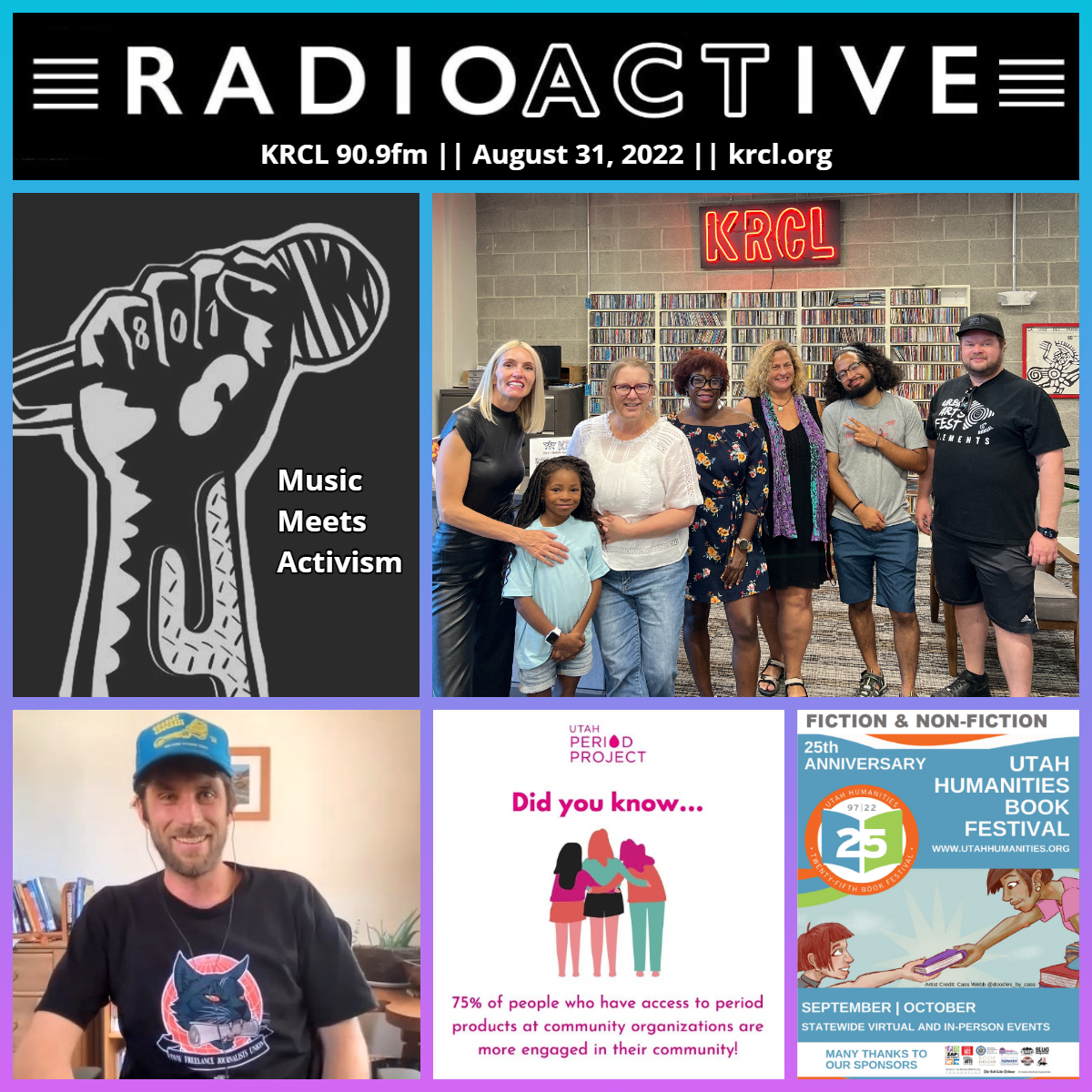 Music Meets Activism with SL Tribune reporter Zak Podmore, whose latest reports cover the fate of Lake Powell and Glen Canyon Dam. The Utah Period Project's back-to-school project. Plus, sneak peeks of the Utah Humanities Book Festival and this weekend's Urban Arts Festival.
Tonight's show featured the following people, organizations and/or events. Check them out and get plugged into your community!
Earlier today, UDOT announced its choice to relieve congestion in Little Cottonwood Canyon: a gondola. RadioACTive shared comments from SL County Mayor Jenny Wilson's press conference responding to that decision, one that could cost taxpayers in excess of $500 million. To watch Mayor Wilson's comments, click here.
UDOT has released the Final EIS and 14,000 public comments received during the Draft EIS comment periods. Gondola Alternative B with proposed phasing has been identified as the preferred alternative in the Final EIS. A 45-day public review and comment period is open from Sept. 2 to Oct. 17, 2022. For more details and to submit public comment, click here.
Emily Bell McCormick, president and founder of The Policy Project/Utah Period Project, a nonprofit working to end period poverty.
Sept. 13: First Annual Period Party, 7:00-9:00 p.m. at Twenty & Creek, 2050 Creek Road, Sandy. Approximately 250 students and advocates will join The Policy Project/Period Project and Aunt Flow® to assemble nearly 3,000 period packs to donate to youth in need at schools and community organizations throughout Utah. The Period Party also celebrates the efforts of Utah student ambassadors who helped the state pass legislation this year that requires all charter and public K-12 schools to provide free period products beginning with the 2022-2023 school year.
Utah Arts Alliance Executive Director Derek Dyer and Urban Arts Festival Director Cleopatra Balfour with a guide to Utah's largest free festival happening this weekend.
Sept. 2-4: Urban Arts Fest 2022, 18 N. Rio Grande St., SLC. Event by The Gateway and Urban Arts Festival: "Rooted in the social and cultural life of the community, Urban Arts Festival provides a platform for cultural art, music, and performance. This free, three-day festival features art, vendors, dance, music, live street art demonstrations, computer arts, and a new performing artist on Friday night." For a full schedule of events, click here.
Poets Nan Seymour and Willy Palomo with a preview of the 25th annual Utah Humanities Book Festival.
Sept-Oct.: 25th Annual Utah Book Festival, various locations, statewide. Event by Utah Humanities Book Festival: "During September and October, this year's book festival is featuring both virtual and in-person events. In addition, we are leaping off of the page and into the outdoors. Find us in the streets of Salt Lake County following Xristy as she uncovers the LGBTQ+ history of Utah. Find us celebrating nature with our Humanities in the Wild series, which will take you to breathtaking landscapes around our state. From controversial books to your favorite bedtime story, the 25th-anniversary festival will include dozens of events all over the state and online. Events begin in September and continue through October."
Music Meets Activism with SL Tribune reporter Zak Podmore, whose latest reports cover the fate of Lake Powell and Glen Canyon Dam.
Zak's MMA Playlist:
"Green River Blues" by Elliot Goldman
"A Stolen Jewel" by Charley Crockett
"Grand Coulee Dam" by Woody Guthrie
"Pontoon" by Little Big Town
"Run It" by My Morning Jacket
Guests' views, thoughts, or opinions are their own and do not necessarily reflect those of the board, staff, or members of Listeners' Community Radio of Utah, KRCL 90.9fm. Tonight's RadioACTive team included:
###