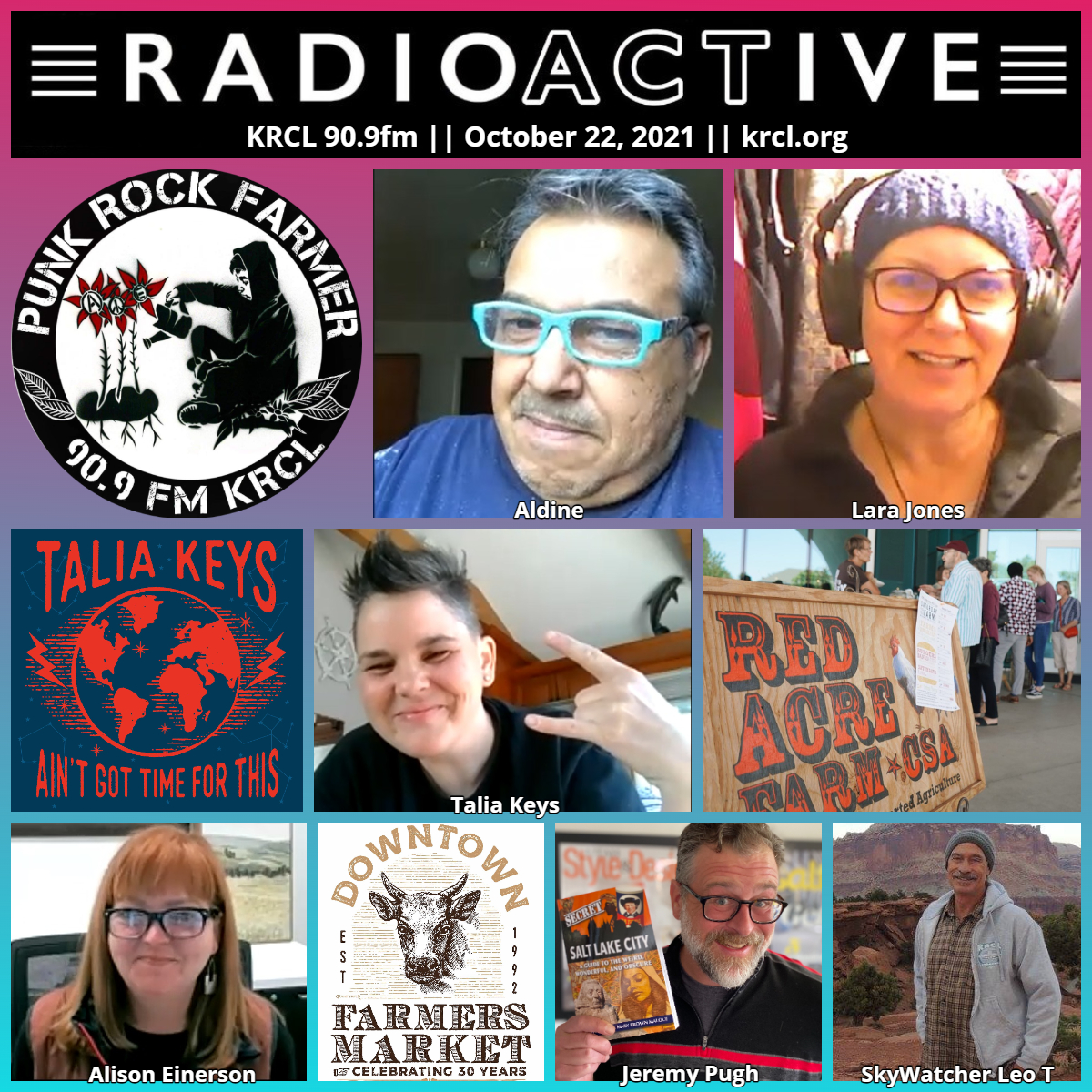 #PunkRockFarmerFriday with a fresh, homegrown new single from Talia Keys to start the show. #UrbanFarmReport with Red Acre Center's Symbria Patterson. Plus, SkyWatcher Leo T, #3QuickPicks for a spooky road trip from Jeremy Pugh, and one last hurrah at the Downtown SLC Farmers Market with Alison Einerson.
Tonight's show featured the following people, organizations and/or events. Check them out and get plugged into your community!
Fresh, homegrown music from Talia Keys! Listen to the archived show to hear Ain't Got Time For This before it drops on Oct. 26th. And this weekend Talia and her partner, Melahn Atkinson, are in California to pick up an award for Best Musical Short Film for Guns Out from the Hollywood Women's International Film Festival.
#ManyCulturesOneSky with SkyWatcher Leo T. Listen for skywatching tips for the Moon, Aldebaran and the Pleiades star cluster hanging in the East. The ways that Indigenous cultures embrace the Rabbit. A sky chart from Sky and Telescope. More exploration of Pluto on New Horizons Space Probe that visited in 2015 (the first and only spaceship to go here!). An update on the JPL/NASA Mars rover, Perseverance, which is making another trip to Jezero Crater. For cool photos and maps, visit Leo's FB page — click here.
Alison Einerson of the Downtown SLC Farmers Market, which closes for the season tomorrow! Never fear, Alison had news of the Winter Market, which opens at Gateway Mall (in the former Sur La Table shop space) on Nov. 13.
Oct. 22: Downtown SLC Farmers Market final day of Summer Market, 8a-1p at Pioneer Park, 350 W. 300 S., SLC. "We will have a limited number of FREE pumpkins for kids at our Market Info Booth. So, stop by early and get yours while supplies last. It will be your last chance to support many of your favorite vendors until June, so don't let the weather deter you."
Aldine's #UrbanFarmReport, featuring Symbria Patterson of Red Acre Center, a nonprofit that advocates for a stronger local food economy. The center is doubling down on its guild program and is getting ready to open registration for its next conference.
Jan. 13-15: Utah Food & Farm Conference 2022 in Cedar City. Stay tuned for details! Click here to see last year's.
Views, thoughts or opinions shared by guests are their own and do not necessarily reflect those of the board, staff or members of Listeners' Community Radio of Utah, KRCL 90.9fm. Tonight's show was produced and hosted by Lara Jones and Aldine, KRCL's Punk Rock Farmer.
###