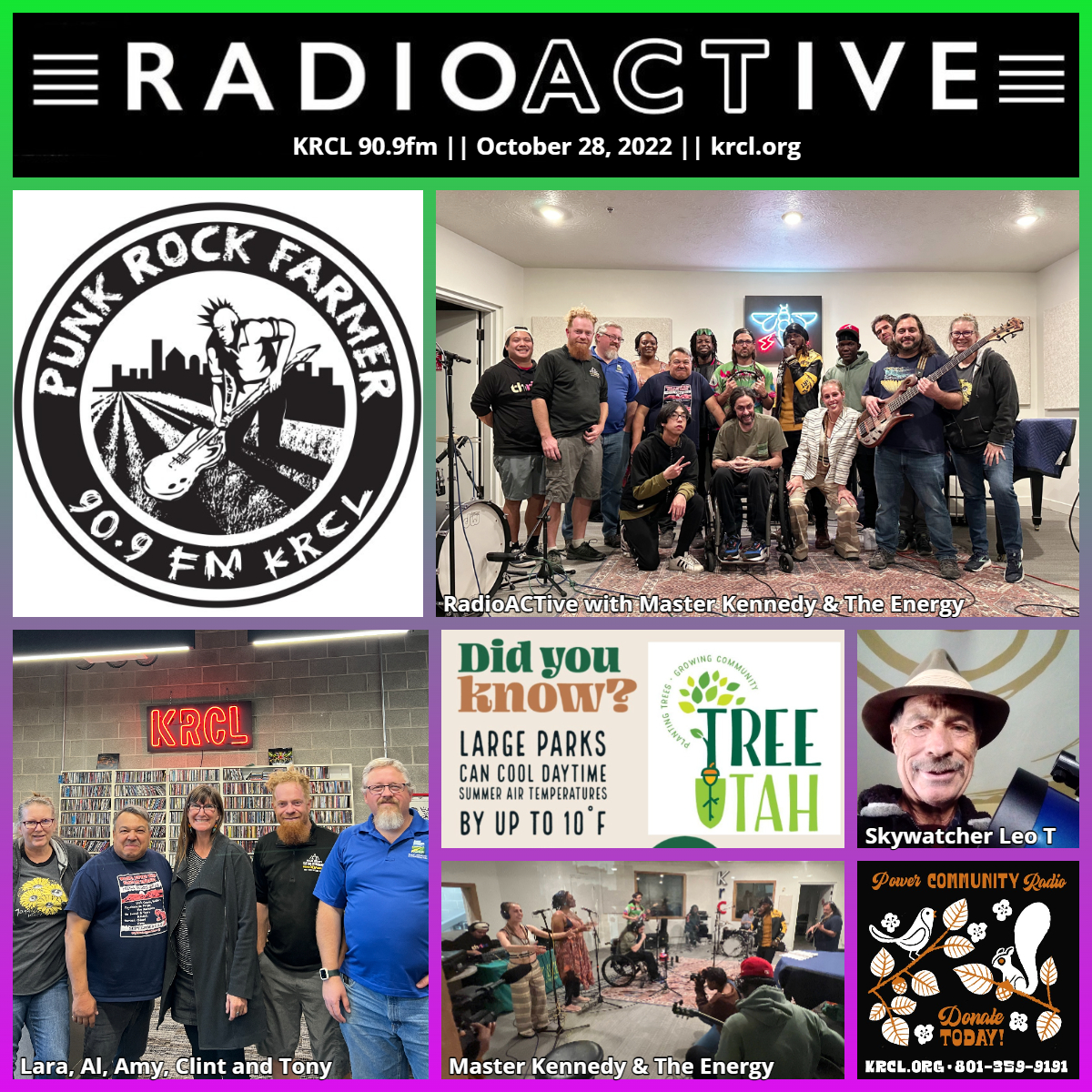 More true tales from the agrihood with Aldine, KRCL's Punk Rock Farmer, and Lara. Features Tony Richards, Utah Department of Agriculture and Food, with the latest on fall soil prep. The Great Pumpkin Drop. Tree Utah's Amy May on the next KRCL tree planting party. Skywatcher Leo T's Many Cultures One Sky report. Fresh, homegrown music from Master Kennedy.
Tonight's show featured the following people, organizations and/or events. Check them out and get plugged into your community!
Fresh, homegrown music from Master Kennedy.
#ManyCulturesOneSky with SkyWatcher Leo T, a RadioACTive volunteer-contributor who shares his love for the night sky and cultural tales of the constellations during #PunkRockFarmerFridays. Tonight: Leonid Meteor Shower, Oumuamua update, Curiosity on Mars, NASA launches UAF study, and James Webb Telescope's photos of two galaxies!
Amy May of TreeUtah announced the date for KRCL's next tree planting.
Nov. 5: KRCL Fall Radiothon Tree Planting Party, 9:00 a.m. at Fife Wetlands Preserve, 952 S. 1100 W., SLC. For more details, visit treeutah.org/events.
Clint Nash of Utah Giant Pumpkin Growers, which will hold its annual pumpkin drop from 12-4 p.m. tomorrow at Hee Haw Farms, 150 S. 2000 W., Pleasant Grove. Over 10,000 pounds of pumpkin will come crashing down from a 75-foot crane!
Aldine's Urban Farm Report featured:
Guests' views, thoughts, or opinions are their own and do not necessarily reflect those of the board, staff, or members of Listeners' Community Radio of Utah, KRCL 90.9fm. Tonight's RadioACTive team included:
###