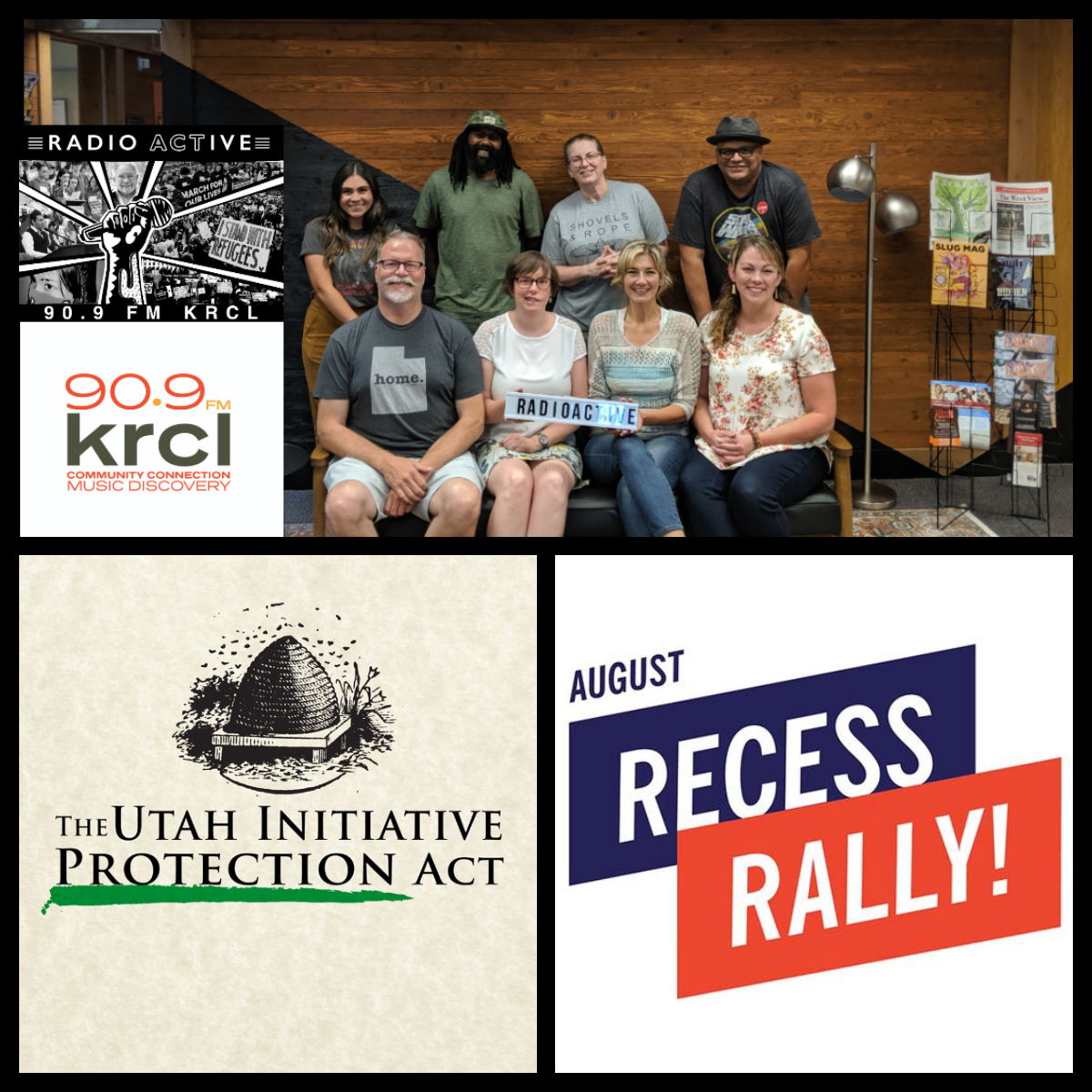 Utah Initiative Protection Act debuts, Advocacy Bootcamp and state of women and girls with YWCA and Action Utah, Utah Moms Demand Action rally for Gun Sense in America
Tonight's lineup:
Community Co-Host Amy Dominguez interviewed Denver City Councilwoman Candi CdeBaca, who earlier this month was successful in getting the council to end multi-million-dollar contracts with two private prison firms. No one was more surprised than CdeBaca, who had only been in office a month went the vote went down.
Maryanne Thompson of Moms Demand Action - UT, which will father with other community groups to demand lawmakers address gun violence.
Aug. 17: August Recess Rally to honor the lives cut short by gun violence and demand common-sense gun reform, 11:00 a.m. - 1:00 p.m. at Washington Square Park, 451 S. State St., SLC. Speakers: Carolyn Tuft, survivor of the shooting at Trolley Square; Salt Lake County District Attorney Sim Gill; Student Activist Ermiya Fanaeian; Angela Romero, Utah House of Representatives.
Debut of the Utah Initiative Protection Act, with Christine Stenquist, lead patient advocate in the push for medical cannabis in Utah, and former Utah Senator Steve Urquhart. To learn more about the initiative to protect initiatives approved by the vote of the people, click here.
A preview of The Utah Women's Policy Conference at which the Institute for Women's Policy Research will release its latest Utah-specific data on the status of women, with a particular focus on women of color. RadioACTive spoke with Erin Jemison, director of public policy at the YWCA Utah, and Patti Cook, Advocacy Educator at Action Utah.
Aug. 15-16: Utah Women's Policy Conference, at JADEN Event Center at Trolley Square, SLC. If you seek policy solutions to complex issues affecting Utah women and their families, YWCA Utah's second annual Utah Women's Policy Conference is for you. Thursday, August 15, 2019 8 AM - 5 PM & Friday, August 16, 2019, 8:30 AM - 1:30 PM.
Sept. 5: Advocacy Bootcamp! How to Turn Your Passion Into Action, 6:30-8:30 p.m. Thursdays through Oct. 3 at YWCA Utah, 322 E. 300 S., SLC. This 5-part workshop will demystify the political and elections systems and teach Utahns from both sides of the aisle how to embrace advocacy in order to confidently and meaningfully engage the politics that impact their lives and truly be a part of representative government. Click here to register.

Registration is required to attend Advocacy Bootcamp. The registration fee is $125. Space is limited, so be sure to get your tickets today. Inquire about discounts for groups of 3 or more and scholarships by emailing mobilize@actionutah.org. Inquire about discounts for YWCA members by emailing ejemison@ywcautah.org.
Got a story you'd like to share on the show or an issue you'd like us to cover? Record a voice memo on your smart phone, then email it to radioactive@krcl.org. Keep it under 3 minutes and be sure to include a name and phone number in the message.
Views, thoughts and opinions shared by guests are their own and do not necessarily reflect those of the board, staff and members of Listeners' Community Radio of Utah, 90.9fm KRCL. Tonight's RadioACTive team included:
Exec. Producer/Host: Lara Jones
Assoc. Producer: Billy Palmer
Community Co-Host: Amy Dominguez
Volunteer: Risshan Leak
###