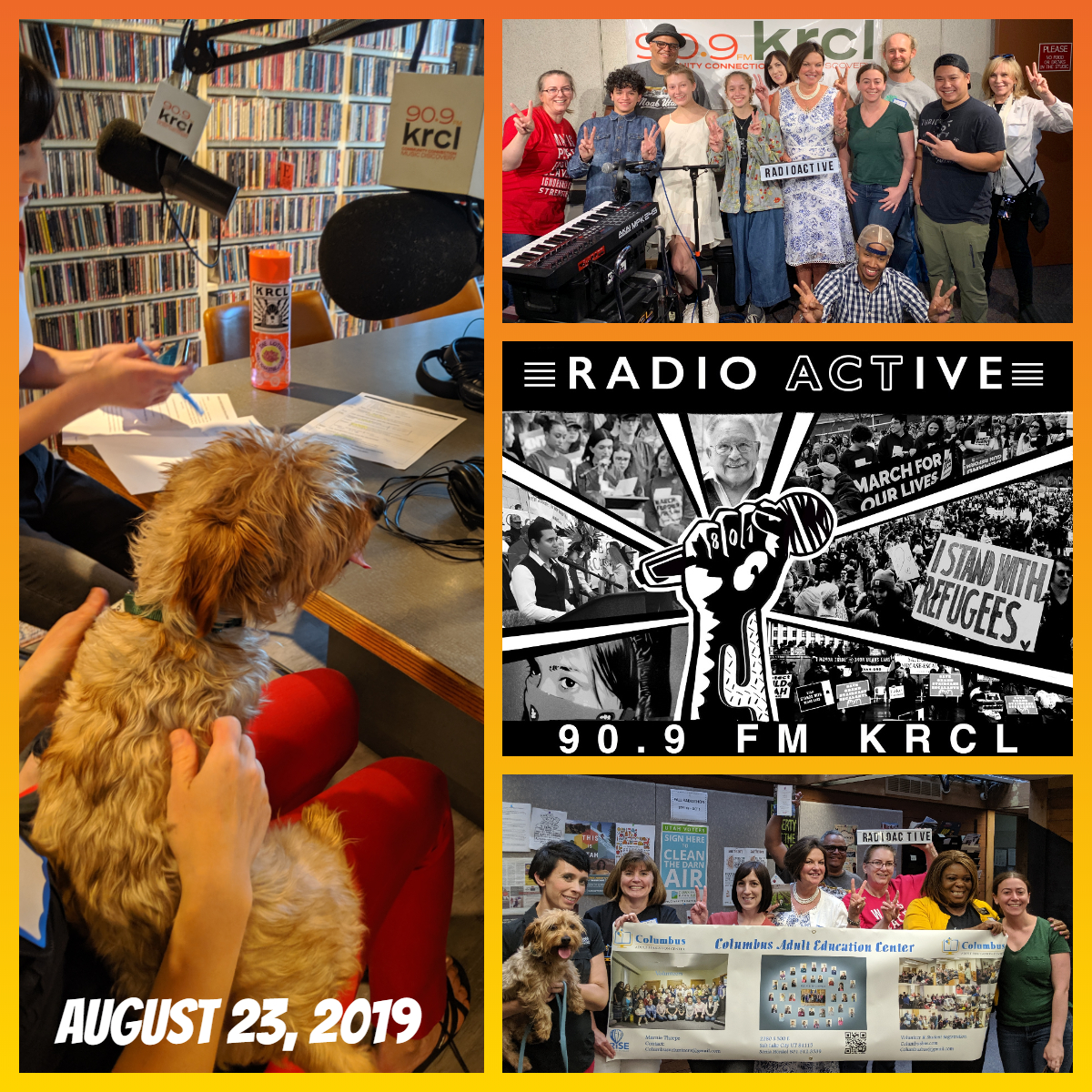 Love the Clementines live in the studio, #UrbanFarmReport with Mines to Vines--Planting Roots of Peace and Green Urban Lunch Box, one last #PuppyCam before Petapalooza, and more
Tonight's lineup:
Calista Pearson of Salt Lake County Animal Services brought in McFluff on the #PuppyCam.
Aug. 24: Petapalooza 2019: Pet Adoption Event, 9a-4p at Viridian West Jordan Library & Event Center, 8030 S. 1825 W., West Jordan. FREE and open to the public. Hundreds of adoptable pets, music, vendors, and a car show. Petapalooza is one of the largest pet adoption events in Salt Lake County. Besides hundreds of adoptable dogs, cats, rabbits, and even reptiles, there will be 50+ vendors, selling a range of items from pet toys to things for humans. You can bring your dog to shop as well, visit the pet psychic, run the agility course, and more. This event is free to attend.
Live, homegrown music from Love the Clementines, featuring former members of Sincerely, The Universe. See LtC at Evens Stevens tomorrow night from 6:00-8:00 p.m.
Davina Smith of SLC Air Protectors | 10,000 Allies Indigenous youth solidarity prayer run.
Diné woman, mother and SLC Air Protectors executive director, Smith is on a 360-mile journey to bring a sacred medicine bundle from the Bears Ears National Monument to the front doors of the Utah State Capitol. Allies from across the state are joining her as an act of solidarity to bring awareness to many issues that are part of the troubles affecting the whole web of life.
KRCL Volunteer Tom on what's coming in for the annual record sale.
Sonia Henkel and Marnie Thorpe on the opportunity to help refugees and immigrant adults learn English at Columbus Adult Education Center.
Aug. 24: Volunteer Training, 11a-1p at 2280 S. 300 S., SLC. You can also find more information on volunteering for Columbus adult education center at Columbusbas.com
#UrbanFarmReport, featuring:
The Green Urban Lunch Box's Shawn Peterson, who has been helping develop a national gleaning association this summer.
Exhibit - From Mines to Vines: Planting Roots of Peace, a new exhibit at The Leonardo about a global community of creative change makers addressing the issue of landmines to create sustainable peace and prosperity around the world. Guests: Heidi Kühn, CEO, Roots of Peace; Marissa Day, Curator, The Leonardo.

Land mines have devastating and far-reaching impact, far beyond the end of the conflict that placed them. Removing these weapons that have the power to indiscriminately take lives years after conflict has ended takes an enormous collaboration to raise awareness, to develop the technology and strategies for removal, and to innovate so that impacted communities can begin to rebuild.
NGO Roots of Peace and The Leonardo Museum have partnered to create this exhibit in the Leonardo's Human Rights Gallery to generate awareness about landmines and their impact globally, inspire communities to take action, and create connections between countries, organizations and people.
Got a story you'd like to share on the show or an issue you'd like us to cover? Record a voice memo on your smart phone, then email it to radioactive@krcl.org. Keep it under 3 minutes and be sure to include a name and phone number in the message.
Views, thoughts or opinions shared by guests are their own and do not necessarily reflect those of the board, staff or members of Listeners' Community Radio of Utah, 90.9fm KRCL. Tonight's RadioACTive team included:
Exec. Producer/Host: Lara Jones
Assoc. Producer/Host: Billy Palmer
Volunteer: Brooke Estes, Siya Mali
Audio Engineer: Sullivan Phetchanpheng
###