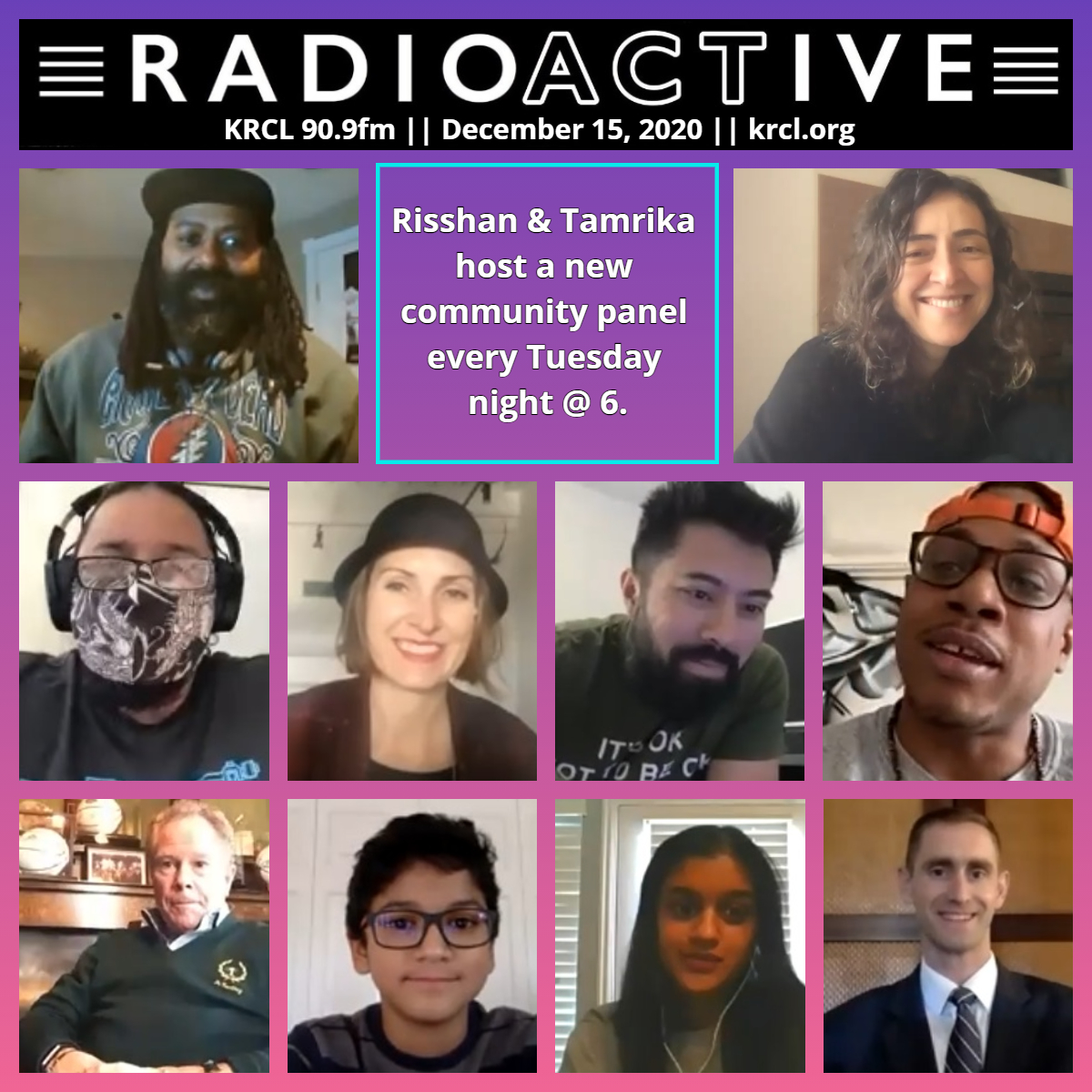 Does counterculture still exist? A #RoundtableTuesday panel, featuring artist/educator Jorge Rodriguez, SLUG Mag's Angela Brown, DJ Chu and Friday Night Fall Out's Keith McDonald. Plus, McCarthey Family Foundation's winning student essayists.
Tonight's lineup:
Earlier this year, the McCarthey Family Foundation held an essay contest in which they asked students to reflect on the meaning of this Thomas Jefferson quote for our democracy today: "The only security of all is in a free press." Today, on the very day the Bill of Rights -- including freedom of the press -- was adopted back in 1791, RadioACTive heard from the following:
Does counterculture still exist in Utah? If it's not skateboarding or art films or indie music anymore, what is it? Who makes it? #RoundtableTuesday panelists included:
Angela Brown, SLUG Mag and Craft Lake City. In 1997, Brown was approached to shoot a cover photo for SLUG Magazine. Continuing to work with the mag's owner at the time, she became the Managing Editor shortly thereafter. In 2000, she took over SLUG, leading the brand in a new direction. Brown launched SLUGMag.com, created a local music compilation series, established SLUG's podcast and created dozens of successful SLUG Magazine community events. She launched the non-profit Craft Lake City in 2009 to elevate Utah's creative community through science, technology and art.
Chu Chandara Chuon, an artist and old-school turntablist in Salt Lake City. Chu started out as a BBoy in 1995, breakdancing every chance he got. By 2000, he moved into being a DJ, loving the power of music to unify people. To book DJ Chu, click here.
Jorge Rodriguez, an artist and educator who also hosts Cada Domingo on KPCW-Park City. Jorge's artwork, "Los Perdidos" (The Lost), was accepted for Tzompantli - Reflexion Artistica, an international artistic gathering to reflect on the difficult times and events of 2020. He dedicated his piece to the names of those forgotten spirits. Watch the video that includes all awarded pieces: https://youtu.be/xk_9Ntfyqx8.
Keith McDonald, Friday Night Fall Out. Co-host of Utah's longest-running hip hop show Friday nights at 10:30 on KRCL 90.9fm, Keith was born in a small suburb south of Chicago, Illinois, called Blue Island. He arrived in Utah after being stationed at Hill Air Force Base on Sept. 11, 2001. Since the military — a job that "did not suit my peaceful sensibilities or my inclination toward helping others" — Keith has been working with kids as a mentor, coach and teacher. "My dream, as grandiose as it sounds, is to enact change in the urban areas of America by developing social and athletic programs, promoting education and creating community solidarity activities to counteract the influence of gangs, drugs and sedentary lifestyles."
Views, thoughts or opinions shared by guests are their own and do not necessarily reflect those of the board, staff or members of Listeners' Community Radio of Utah, 90.9fm KRCL. Tonight's RadioACTive team included:
Community Co-Host: Risshan Leak, Tamrika Khvtisiashvili
Executive Producer, Host: Lara Jones
Assoc. Producer: Billy Palmer
###