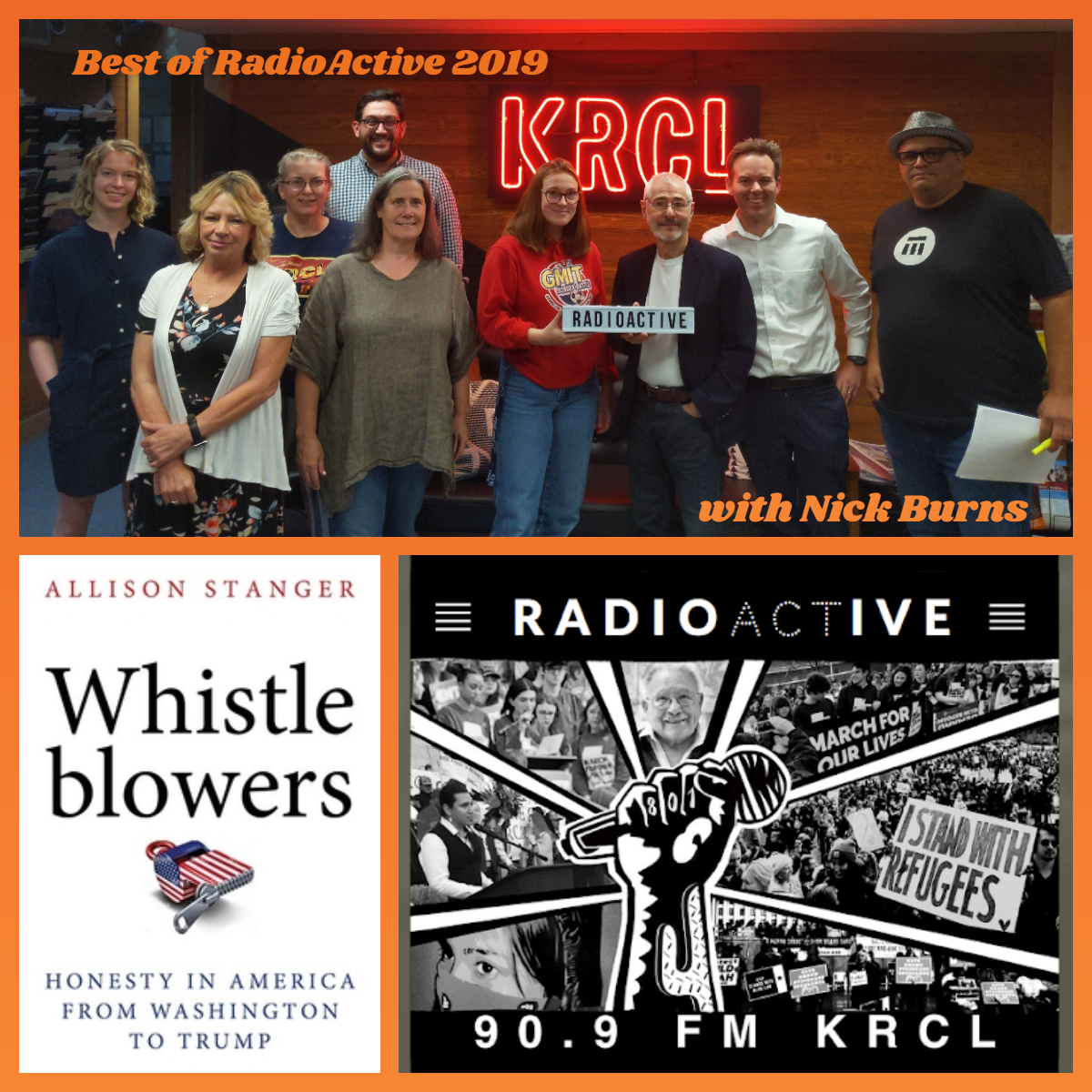 Best of RadioACTive with Community Co-Host Nick Burns, featuring an interview with author Dr. Allison Stanger: Whistleblowers - Honesty in America from Washington to Trump, Reporters from Inside Climate News and Deseret News. Plus, #GretaBacklash
Tis the season for the best of RadioACTive, featuring Community Co-Host Nick Burns, who started the show by sharing his thoughts on his 16 years as a RadioACTive host.
From September 25, 2019:
Perfect timing for today: A conversation with Dr. Allison Stanger, author of Whistleblowers - Honesty in America from Washington to Trump, released just two days ago by Yale Press.
Synopsis: Misconduct by those in high places is always dangerous to reveal. Whistleblowers thus face conflicting impulses: by challenging and exposing transgressions by the powerful, they perform a vital public service—yet they always suffer for it. This episodic history brings to light how whistleblowing, an important but unrecognized cousin of civil disobedience, has held powerful elites accountable in America.
Josh Craft of Utah Clean Energy, a non-profit, non-partisan public interest organization partnering to build the new clean energy economy through policy, regulatory, and educational initiatives. UCE is a member of Utah Climate Action Network.
Sept. 29-Oct. 5: Utah Climate Week, various locations. Nearly 40 organizations and businesses are hosting 14 events, spanning from Moab to Ogden, for the 3rd Annual Utah Climate Week. This is a multi-community effort to highlight the impact climate change is having on Utah and to share ideas and innovations to address this challenge. Click here for a list of events.
Glenn Jakins, CEO and founder of Lindon-based Humless, which is exhibiting at Solar Power International 2019 in SLC this week. Coinciding with the tradeshow, the company introduced The Humless Universal, which it says "is the solar power industry's first Energy Storage System (ESS) that intelligently manages the flow of electricity from any source for any use.
Chase Thomas of Alliance for a Better Utah responded to #GretaBacklash after the young climate activist spoke at the Global Climate Strike and the U.N. Climate Action Summit.
Utah Rivers Council's Zachary Frankel on the announcement earlier today that the state of Utah withdrew its application for the Lake Powell Pipeline from the Federal Energy Regulatory Commission. The state now will attempt to get the project permitted by the U.S. Department of the Interior.
The changing nature of climate change coverage with journalists Judy Fahys, Mountain West reporter for InsideClimate News, and Amy Joi O'Donoghue, who covers critical land, air and water issues for the Deseret News.
Got a story you'd like to share on the show or an issue you'd like us to cover? Record a voice memo on your smart phone, then email it to radioactive@krcl.org. Keep it under 3 minutes and be sure to include a name and phone number in the message.
Views, thoughts or opinions shared by guests are their own and do not necessarily reflect those of the board, staff or members of Listeners' Community Radio of Utah, 90.9fm KRCL. Tonight's RadioACTive team included:
Exec. Producer/Host: Lara Jones
Assoc. Producer: Billy Palmer
Community Co-Host: Nick Burns
Volunteer: Natalie Benoy, Isabella Sabala
###