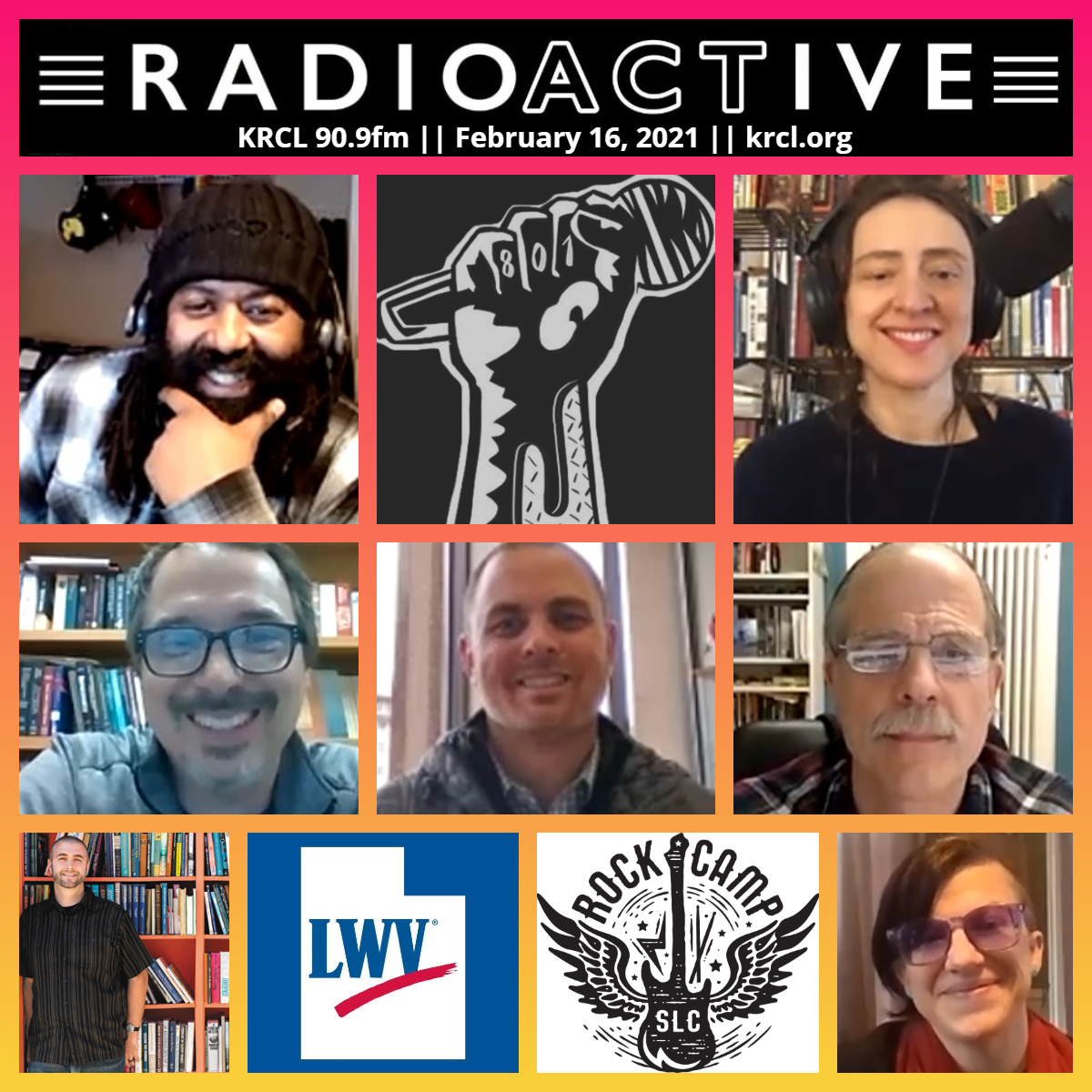 Two econ profs and a capitalist walk into a bar -- #RoundtableTuesday explores all the "isms" -- capitalism, socialism and communism. Plus, Rock Camp SLC's #genderchillfest, #PoetryStillHappens, #3QP with The City Library and the League of Women Voters of Utah.
Tonight's lineup:
#3QuickPicks on The People's Business at the Utah Legislature with Catherine Weller of League of Women Voters of Utah. Highlighted bills and events included:
S.B. 158 -- Children's Health Coverage Amendments (Sen. Escamilla, L.)

H.B. 34 -- Medical Respite Care Pilot Program (Rep. Dunnigan, J.)

S.B. 83 Third Substitute -- POLST Order Amendments (Sen. Iwamoto, J.)
Shell "Yeah" Danis of Rock Camp SLC, which on Feb. 26 will present its virtual #genderchillfest. "This online festival is the result of Rock Camp shaking things up with a 6-Week SLAY at Home program, putting instruments in the hands of folks of all genders and all ages who are learning at home, inside their quarantine bubbles. These badasses have been working hard and will be debuting their newest songs with their newly formed bands for one night of in-home rocking! Please support them for their bravery and awesomeness! THIS IS A FUNDRAISER to send kids to camp during the summer at our Rock Camp SLC program. If you can't make it to the fundraiser but want to support the camp, visit rockcampslc.org/donate."
#PoetryStillHappens with Trish Hopkinson, featuring Poet Michael McLane. To hear more homegrown poetry, click here.
#3QuickPicks with Azra Basic, adult services librarian at the Marmalade Branch, Salt Lake City Public Library. Basic's picks on economic systems and co-existence included:
Capitalism, A Love Story by Michael Moore: "In this movie, Michael Moore looks at the global financial crisis and the U.S. economy during the transition between the incoming Obama Administration and the outgoing Bush Administration. The film also features a religious component in which Moore examines whether or not capitalism is a sin and whether Jesus would be a capitalist." Available to check out as DVD or streaming video.

The War on Normal People: The Truth About America's Disappearing Jobs and Why Universal Basic Income Is Our Future by Andrew Yang: "In this book, Yang imagines a different future--one in which all citizens have a guaranteed income--and one that is rapidly gaining popularity among forward-thinking politicians and economists. Yang proposes that Universal Basic Income is an essential step toward a new, more durable kind of economy, one he calls "human capitalism." Available in hard copy and eBook.

Unlikely Friendships by Jennifer Holland: "This is a heartwarming tale about animals who, with nothing else in common, bond in the most unexpected ways. From a gorilla and a kitten to a snake and a hamster. The pictures of these unlikely friendships are included in the book."
#RoundtableTuesday explores all the "isms" — capitalism, socialism and communism. Featuring:
Al Campbell, Professor of Economics, University of Utah (the mid-80s-2010)

Miles Hansen, president and CEO, World Trade Center Utah

Hal Snarr, Professor of Economics at Westminster College
Views, thoughts or opinions shared by guests are their own and do not necessarily reflect those of the board, staff or members of Listeners' Community Radio of Utah, 90.9fm KRCL. Tonight's RadioACTive team included:
Community Co-Hosts: Roundtable Tuesday's Tamrika Khvtisiashvili and Risshan Leak
Exec. Producer: Lara Jones
Assoc. Producer: Billy Palmer
###