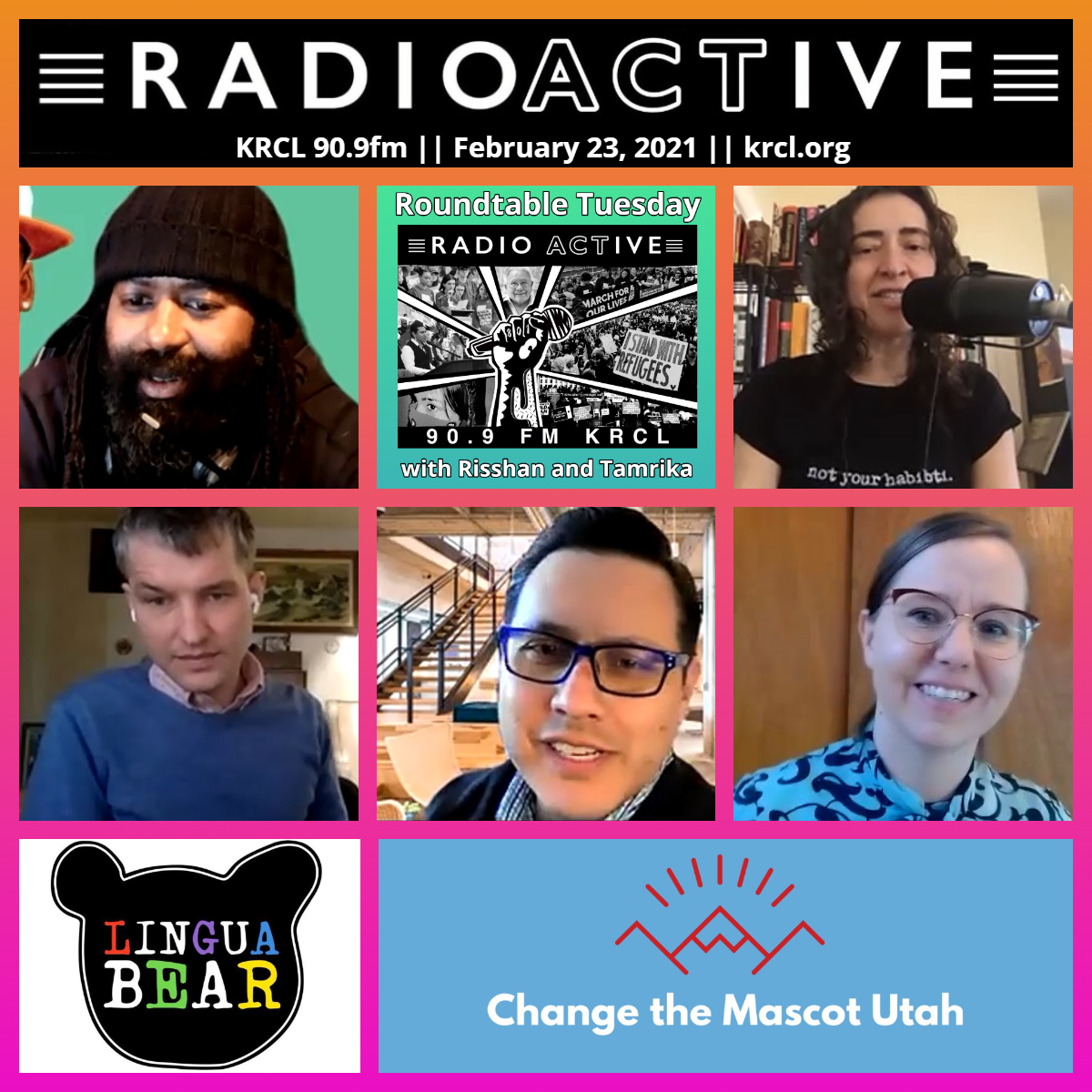 #RoundtableTuesday explores cultural appropriation vs. appreciation with SLCC Professor James Singer and Andrei Golub of Lingua Bear. Plus, #3QuickPicks from The City Library and the League of Women Voters of Utah.
Guided by Community Co-Hosts Risshan Leak and Tamrika Khvtisiashvili, tonight's RadioACTive lineup included:
#3QuickPicks on the People's Business at the Utah Legislature with Emily Walsh of League of Women Voters of Utah.
The Utah Legislature has only 8 business days left in its General Session, which ends March 5. Walsh shined a light on the following bills tonight:

Wednesdays through March 5: Join the League of Women Voters of Utah for a virtual lunch at 11:00 a.m. each Wednesday. They'll catch you up on the action and answer your questions about the 2021 General Session of the Utah Legislature.
Melissa Caldwell Clark, who teaches fashion design, including history of clothing, at Salt Lake Community College.
#3QuickPicks with Azra Basic, adult services librarian at the Marmalade Branch, Salt Lake City Public Library. All available for online hold and curbside pickup, Basic's picks on cultural appropriation vs appreciation included:
#RoundtableTuesday explored cultural appropriation vs. appreciation, preservation vs. change. Panelists included:
Professor James Courage Singer, a Diversity Fellow in Sociology and Ethnic Studies at Salt Lake Community College. Singer is co-founder of Utah League of Native American Voters, and he also works with ChangetheMascotUT, a community-led organization trying to eliminate Native Mascots in the Beehive State.

Lingua Bear Founder Andrei Golub, who was born in the Soviet Union and immigrated to the US in 1989. A non-profit focused on focused on promoting language diversity and revitalization, Lingua Bear aims "to raise awareness about language extinction in the 21st century, empower the communities most affected by linguistic and cultural homogenization and extermination, and to provide a fun and immersive way to learn a diverse array of languages."
Views, thoughts or opinions shared by guests are their own and do not necessarily reflect those of the board, staff or members of Listeners' Community Radio of Utah, 90.9fm KRCL. Tonight's RadioACTive team included:
Community Co-Hosts: Roundtable Tuesday's Risshan Leak and Tamrika Khvtisiashvili and
Exec. Producer: Lara Jones
Assoc. Producer: Billy Palmer
###