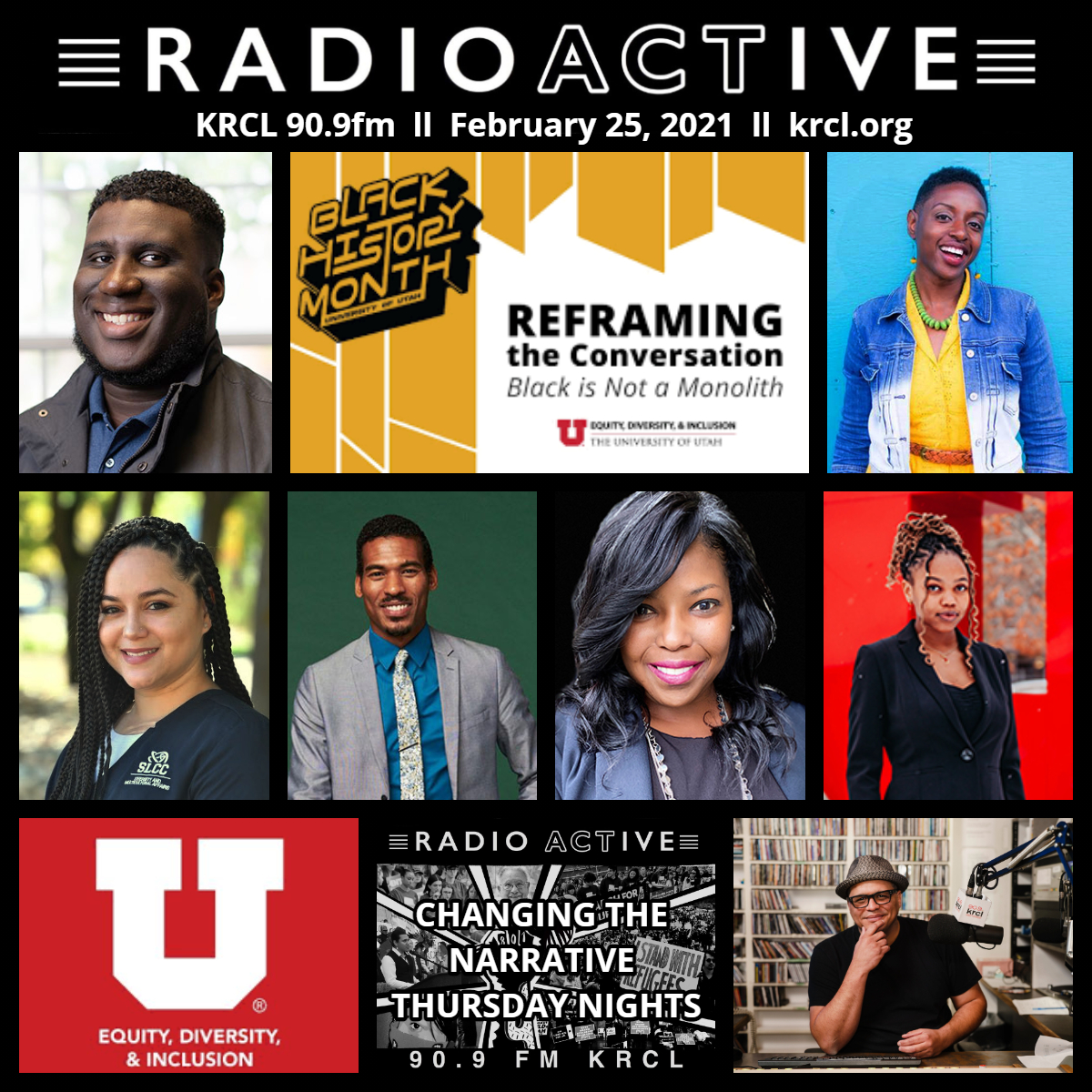 Reframing the Conversation: Black is Not a Monolith! Another addition to the discussion series from the U of U, Department of Equity Diversity and Inclusion
Tonight's Lineup:
Reframing the Conversation "brings together experts from across the U of U campus and the community to spark important conversations around racism, othering, and safety. With these conversations, we are striving to counteract the growing culture of othering with a culture of belonging." Presented by the U of U, Department of Equity Diversity and Inclusion
Reframing the Conversation: Black is Not a Monolith
MODERATOR:
Meligha Garfield, Director, Black Cultural Center. Meligha Garfield is tasked with directing and strategically planning the Black Cultural Center as a model for the state. He brings expertise on the implementation, development, and evaluation of programs aimed at promoting awareness of the African diaspora.
PANELISTS:
Franque Bains, Franque is a poet, an organizer, a google doc nerd, and that gluten-free friend. She is convinced that the key to happiness is bringing your ideas to life and helping others do the same. She currently works to build community through storytelling in Salt Lake City.
Sendys Estevez, Sendys Estevez was born in Cotui, Dominican Republic and migrated to the United States in April of 1990 at the age of 3. She lived most of her life in the New York/Philadelphia "Norff Philly" area and became the first person in her family to graduate from college—a Bachelor's in Business Administration from La Salle University. In 2013, she permanently moved to the Salt Lake Valley and is currently pursuing a Master's degree from Westminster College in Community Leadership with an emphasis on Education. Sendys has been working at Salt Lake Community College for 5 years and is passionate about empowering her community through education because she strongly believes in the power education has to help individuals shape their own lives!
Bryan Hubain, Dr. Hubain is a member of the Student Affairs Leadership Team and provides supervisory oversight to the departments of Basic Needs Center, Career & Professional Development Center, Financial Wellness Center, LGBT Resource Center, TRIO, Veterans Support Center, and Women's Resource Center. Dr. Hubain also serves on various University committees.
Maryan Shale, Maryan Shale (She/Her/Hers) is a third-year University of Utah student studying Health Society and Policy with two minors in Sociology and Leadership. Born in Nairobi Kenya, she is a first-generation college student who loves to advocate for underrepresented communities. She comes from a single-parent home where culture, education, and family are embraced. Maryan is the current Black Student Union President and is also running for the VP of Student Relations here at the University of Utah. She loves her Blackness and hearing about other's experiences in higher education.
Nikki Walker, Nikki Walker is a consummate public relations professional with cross-category experiences in the fields of beauty, fashion, celebrity and lifestyle. Specialties include media relations and press placement, celebrity seeding and wrangling, press and red-carpet event development and activation, consumer engagement and launch strategies. Ms. Walker has carved for herself a unique niche in the industry with her ability to bring ethnic brands into the mass consciousness and create opportunities for mainstream brands to authentically penetrate diverse markets. As the current Director of Brand Experience and Community Engagement for Domo, she works with a team of professionals to elevate and amplify the brand by creating and driving PR programs and initiatives focused on Diversity and Inclusion, workplace equity and belonging, community engagement and Domo for Good.
Views, thoughts or opinions shared by guests are their own and do not necessarily reflect those of the board, staff or members of Listeners' Community Radio of Utah, 90.9fm KRCL. Tonight's RadioACTive team included:
Assoc. Producer/Host: Billy Palmer

Community Co-host: Meligha Garfield

Executive Producer: Lara Jones
###