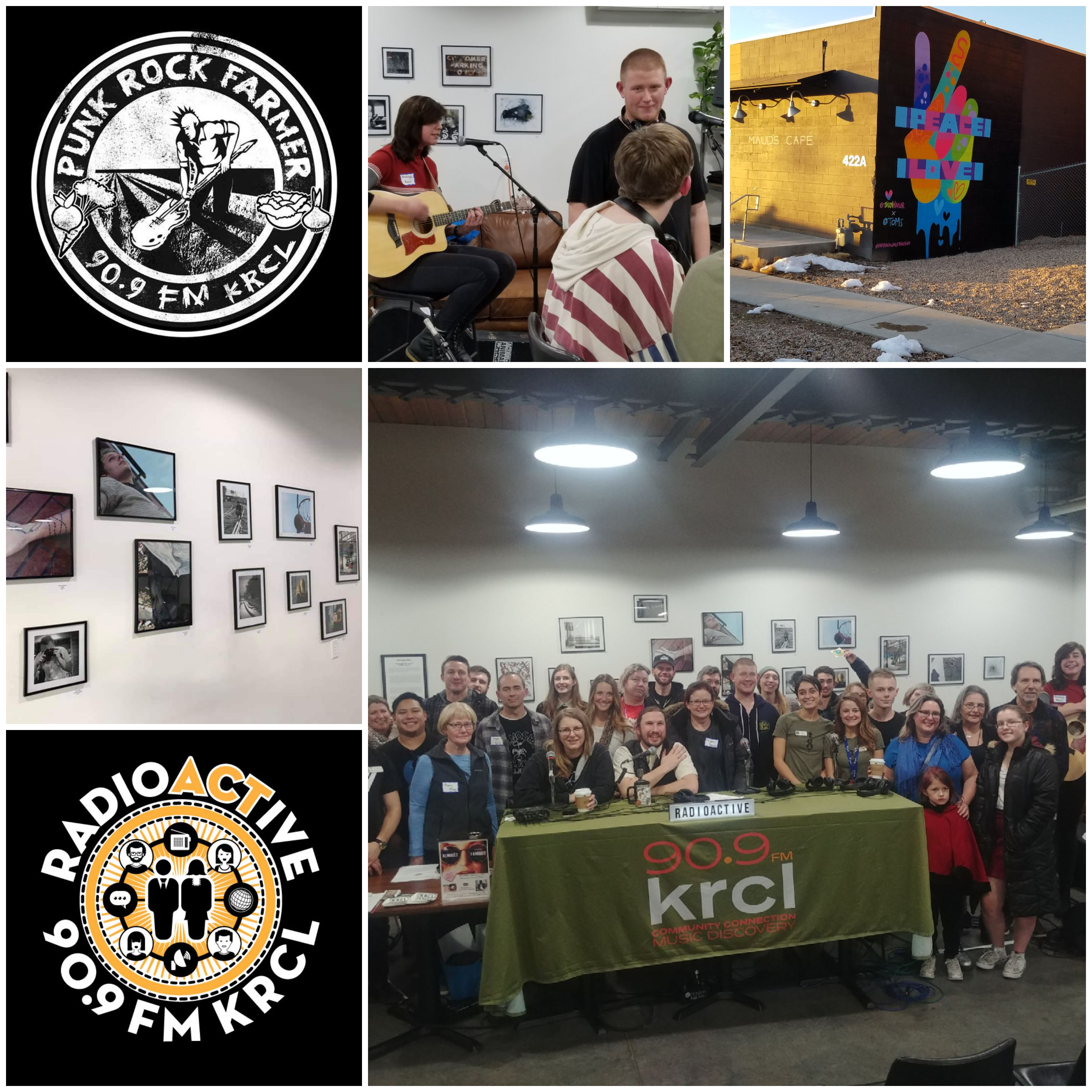 Maud's Cafe Turns 1, musician Josaleigh Pollett, Ogden Seed Swap, 30 Years of Wasatch Community Garden
Tonight's show was broadcast live from Maud's Café, which is now 1 year old. Stop by Maud's at 422 W. 900 S., SLC, and help end teen homelessness with every cup of coffee you drink.
Tonight's lineup:
Live, homegrown music from Josaleigh Pollett
Sundance update with Cody D of Sneaking Into Movies. For all of KRCL's coverage of this year's Sundance Film Festival, be sure to follow KRCLradio on Facebook, Instagram and Twitter or click here for our Sundance page.
Sabriel Parker, manager of Maud's Café, with an update on the coffee shop and its job training program for clients at the Volunteers of America, Utah Youth Resource Center. YRC clients Gentry and Preston, a Maud's barista, shared some of their story, too.
Artistic expression at Maud's Café with Erika Cespedes of Bad Dog Arts and muralist Josh Scheuerman. FYI, all the photographs on exhibit at Maud's are for sale–proceeds go directly to the artists, who are or were YRC clients.
#UrbanFarmReport, featuring:
Marybeth Janerich of Wasatch Community Gardens, which is celebrating its 30th year empowering people of all ages and incomes to grow and eat healthy, organic, local food. Click here for WCG's calendar of workshops, which start next month!
May 11: 2019 Spring Plant Sale, 8a-1p at Rowland Hall, 720 S. Guardsman Way (1580 E.), SLC.
June 22: 2019 Urban Garden & Farm Tour, 10a-2p at various locations.
Oct. 24: 30th Anniversary Celebration - Out of Our Gourds for 30 Years, 6-9p at the Union Event Space, 235 N. 500 W., SLC.
Ogden Seed Exchange's Mary Milan and Gregg Batt. OSE was founded solely for free and public education and interest in selecting, growing, saving and sharing heirloom & other open pollinated quality seeds.
Feb. 9: 2019 Annual Seed Swap,10a-12p at Ogden Preparatory Academy, 1415 Lincoln Ave., Ogden. FREE and open to the public. Please note that this year they are beginning a refocused event and are asking that only locally grown and raised seeds be brought to the swap event for both sale or trade.
Special thanks to Caffe Ibis for once again providing a free coffee tasting booth, as well as our featured food truck: Raclette Machine.
Got a story you'd like to share on the show? Record a voice memo on your smart phone, then email it to radioactive@krcl.org. Keep it under 3 minutes and be sure to include a name and phone number in the body of the message.
RadioACTive is a production of Listeners' Community Radio of Utah. Tonight's team included:
Exec. Producer/Host: Lara Jones
Community Co-Host: Eric "Produce" Nelson
Broadcast Engineer: Bill Ramsay
Audio Engineer: Sullivan Phetchanpheng
Volunteer: Sarah Thacker
Intern: Ashley Finley