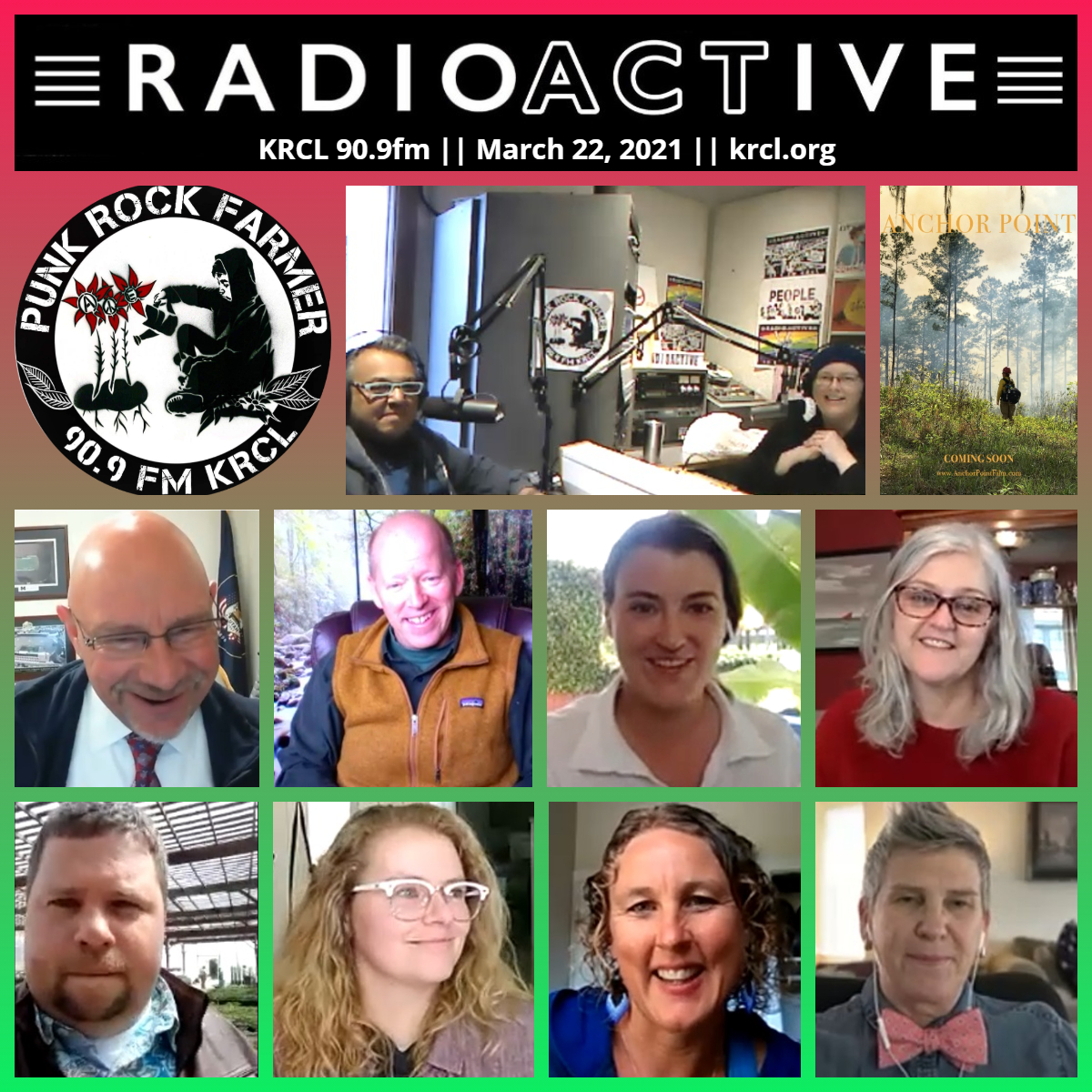 True Tales of the agrihood as KRCL's Punk Rock Farmer gets the low down on the growing season with Chad's Produce, famous for the donut peach and lemon spinach. Plus, badass women of Anchor Point, Utah Rivers Council's rain barrels, United Farm Workers, Skywatcher Leo T and fresh, homegrown music from Eric Heideman.
Tonight's lineup:
Fresh, homegrown music from Eric Heideman, featuring his songs "Out of Time, "Working Blues" and "I Don't Care." To download music or contact Heideman, click here.
Many cultures, one sky with SkyWatcher Leo T, who says "Peace and love from the universe and Oumuamua," planting by the stars with the Diné Nation, and more. To follow him on Facebook, click here.
Elizabeth Strater of the United Farm Workers on getting COVID vaccinations to migrant farm workers.
March is the start of the fire season here in the USA. Anchor Point is a new feature documentary about badass women that rely on each other as they fight fire and gender-based discrimination. RadioACTive spoke with Holly Tuckett, director; Maddy Purves, editor; Jennifer Dobner, writer; and Lenya Quinn-Davidson, founder of Women-in-Fire Prescribed Fire Training Exchange. To learn more about the film and find a screening, click here.
Rain barrels from the Utah Rivers Council are back! RadioACTive got the scoop from URC's Zach Frankel and Millcreek Mayor Jeff Silvestrini. Rain barrels available for as little as $50 while supplies last. Click here for more details.
Al's #UrbanFarmReport, bringing you more True Tales of the Agrihood. Tonight's guest: Chad Midgley of Chad's Produce, an urban farmer famous for the donut peach and lemon spinach, not to mention his "volcano" method of mulching.
Views, thoughts or opinions shared by guests are their own and do not necessarily reflect those of the board, staff or members of Listeners' Community Radio of Utah, 90.9fm KRCL. Tonight's RadioACTive team included:
Community Co-Host: Aldine, KRCL's Punk Rock Farmer
Executive Producer, Host: Lara Jones
Assoc. Producer: Billy Palmer
###