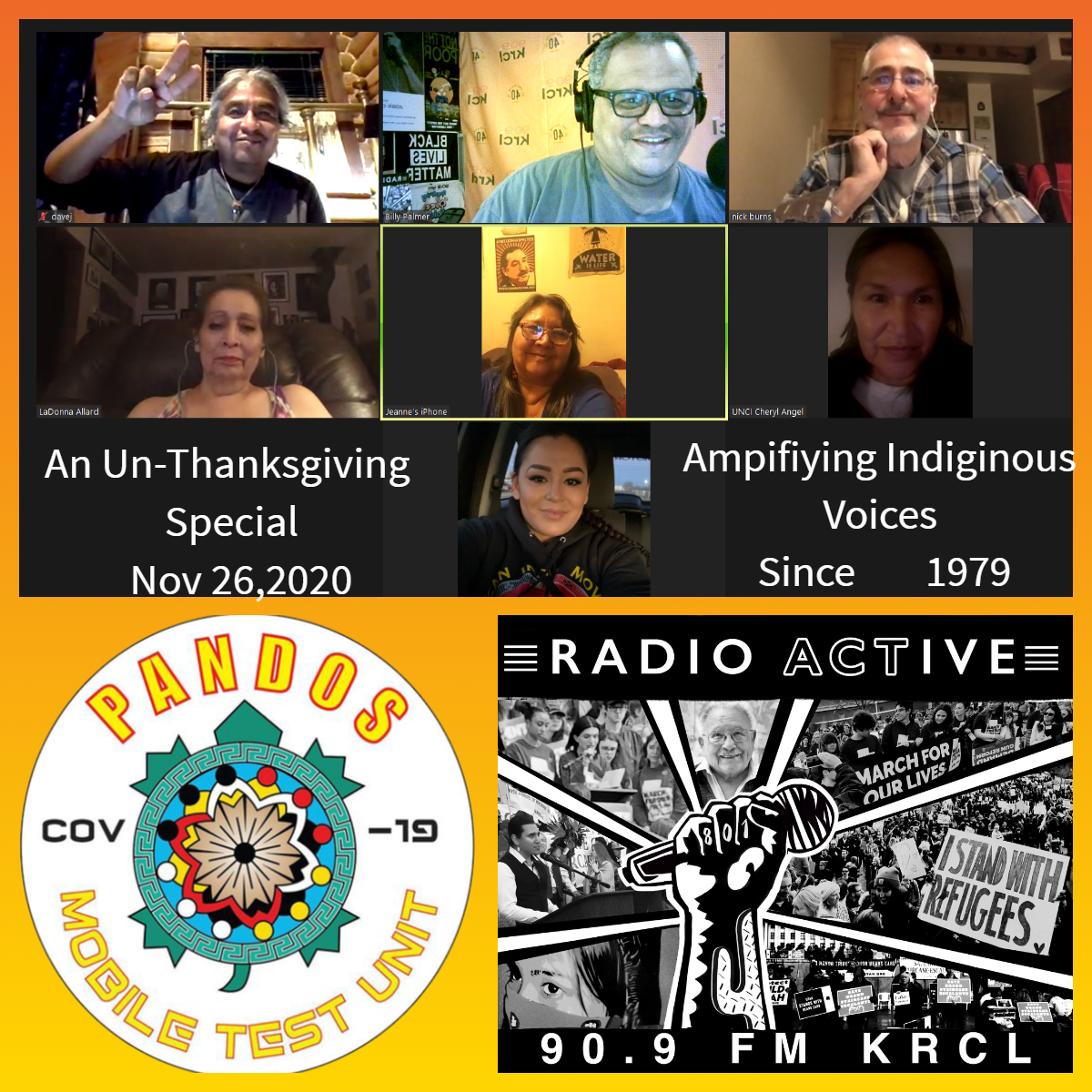 An Un-Thanksgiving Special featuring Native American Voices, with guests from PANDOS Covid-19 Mobile Test Unit, International Leonard Peltier Defense Committee, Water Protectors of Standing Rock, and more
Tonight's Lineup:
An "Un-Thanksgiving" Special
We started the show off with reflections from our guests on what they do on the day marked as Thanksgiving, a conversation about telling the truth about what history and ideas are behind the holiday.
Dave John of Utah based PANDOS talked about their COVID-19 mobile testing project and an expansion to Camp Mni Luzahan with Indigenous leader, spiritual activist, and water protector, Cheryl Angel. Angel set up the camp to serve members of indigenous tribes in the Dakotas hard hit by the economic and health impacts of the pandemic.
Jean Roach, from the International Leonard Peltier Defense Committee, gave an update about Peltier and gave a personal account of what took place the day of the incident surrounding Peltiers arrest and imprisonment. Roach is a long time activist, organized with NoDAPL and is currently involved with Camp Mni Luzahan as well.
Ladonna Allard, Indigenous Elder and Water Protector talked about the ongoing fight to stop pipeline construction on native land and the long 200+ year wait for the U.S. to uphold treaties and true native sovereignty.
Red Fawn, a Water Protector and activist, talked about her trial and imprisonment at Standing Rock that she says follows a pattern of injustice and wrongful imprisonment of Native American activists. For information on how to support Water Protector Prisoners click here.
Views, thoughts or opinions shared by guests are their own and do not necessarily reflect those of the board, staff or members of Listeners' Community Radio of Utah, 90.9fm KRCL. Tonight's RadioACTive team included:
Assoc. Producer/Host: Billy Palmer

Community Co-Host: Nick Burns

Executive Producer: Lara Jones
###