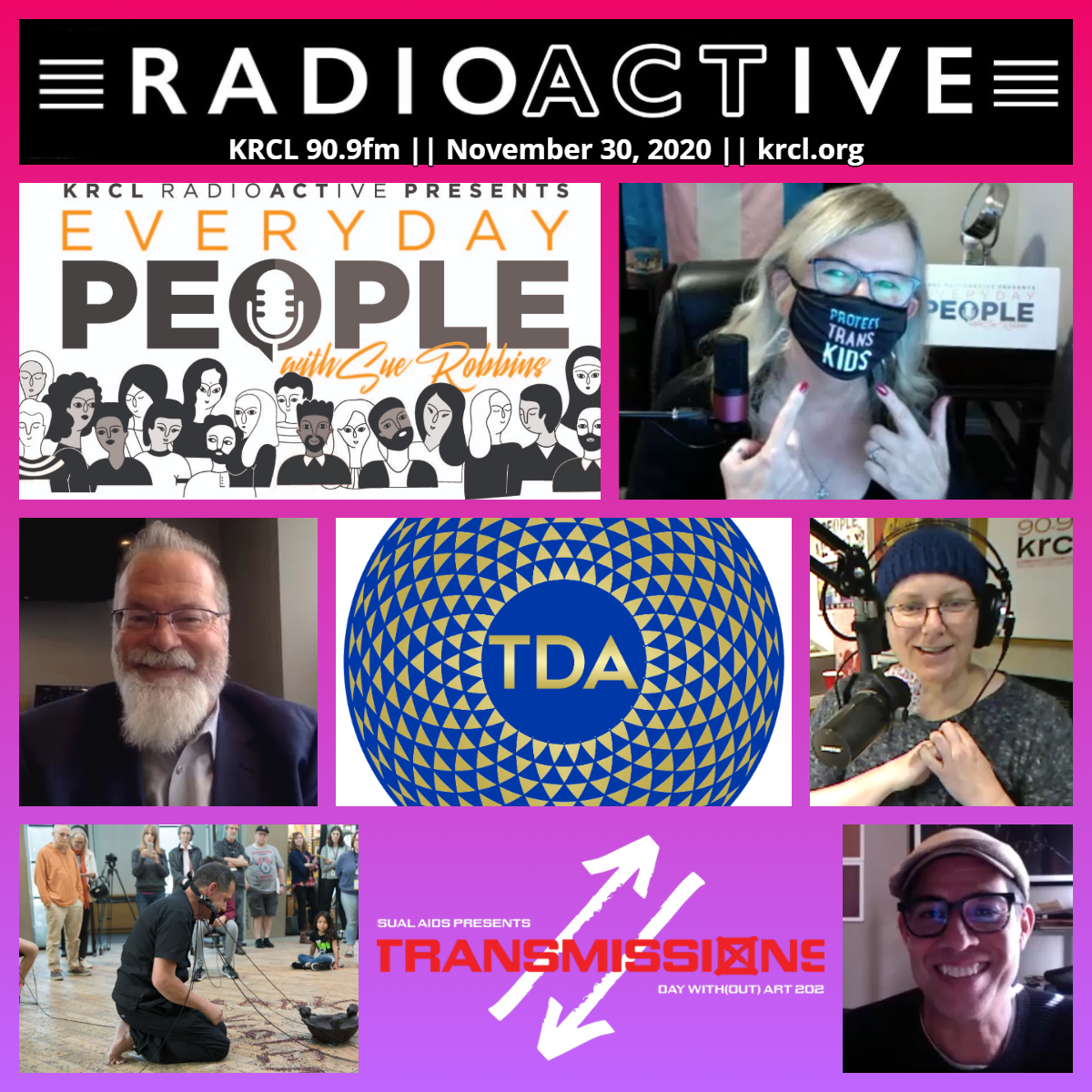 #EverydayPeople edition of RadioACTive, featuring The Divine Assembly's co-founder Steve Urquhart on the new religion's single tenet, its psilocybin sacrament and the 'nodes' that will spread its unique gospel. Plus, artist Jorge Rojas's tether is headed for The Immigrant Artist Biennial-TIAB in NYC.
Tonight's lineup:
Utah artist Jorge Rojas, who will perform his piece "tether" at this weekend's The Immigrant Artist Biennial-TIAB from 2:00-4:00 p.m. Mountain Time. Rojas will be joining the biennial from the Utah Museum of Contemporary Art via Zoom. To sign up for this free event, click here.
Nov. 30: TRANSMISSIONS premieres at visualaids.org/transmissions. Featuring six new videos about the ongoing HIV and AIDS crisis, from artists around the world: Jorge Bordello (Mexico), Gevi Dimitrakopoulou (Greece), Las Indetectables (Chile), George Stanley Nsamba (Uganda), Lucía Egaña Rojas (Chile/Spain), and Charan Singh (India/UK). Tune in for the online premiere, followed by a Q&A with the artists and Jih-Fei Cheng.

Dec. 1: World AIDS Day, an opportunity for people worldwide to unite in the fight against HIV, to show support for people living with HIV. The theme for the 2020 observance is "Ending the HIV/AIDS Epidemic: Resilience and Impact" ("Erradicar la epidemia del VIH/SIDA: Resiliencia empacto"). World AIDS Day was first observed in 1988. Each year, organizations and individuals across the world bring attention to the HIV epidemic, endeavor to increase HIV awareness and knowledge, speak out against HIV stigma, and call for an increased response to move toward Ending the HIV Epidemic: A Plan for America. On December 1st at 2:00 pm ET, join the Live with Leadership World AIDS Day Edition with Harold Phillips, and other federal and community speakers. Learn how to submit questions in advance or during the conversation.
Dec. 2: Day Without Art: Utah Museum of Fine Arts is partnering with Visual AIDS and local organizations to virtually present TRANSMISSIONS--a series of six short videos that consider the effect of HIV and AIDS beyond the United States. UMFA's local partners include the University of Utah's LGBT Resource Center, Black Cultural Center, and PrEP Clinic as well as Planned Parenthood's Teen Council and The LGBTQIA+ and Allies in Medicine Student Interest Group. Established in 1989, Day With(out) Art celebrates the lives and achievements of those lost to AIDS, encourages caring for all people living with AIDS, educates diverse communities about HIV infection, and continues to work towards finding a cure. Beginning December 1, the video program will be available to view online at visualaids.org/transmissions. TRANSMISSIONS will also screen in numerous locations around the world, both online and in-person. See here for a growing list of screening locations: https://visualaids.org/events/detail/dwa2020
An #EverydayPeople discussion of The Divine Assembly, featuring co-founder Stephen Urquhart on the new religion's single tenet, its psilocybin sacrament and the "nodes" that will spread its unique gospel.
Dec. 12: The Divine Assembly Worship Service, 7:00-10:00 p.m. online. Hosted by The Divine Assembly: "We will connect the nodes and energize the mycelial network for a second time! On Twitch.tv TDA will broadcast worship, music, and ceremony from a few locations, but we invite everyone to plan a ceremony where you are. That can mean by yourself (painting, meditation, or doing yoga, etc., as some did during our first Assembly) or with a Covid-appropriate group (dancing, in a drum circle, or putting together a jigsaw puzzle, etc., as some nodes did). For now, the Internet will serve as surrogate for our gathering community. Please join us, and let's exchange energy and blessings! Register at www.thedivineassembly.org to receive email with the twitch.tv link before the event."
Views, thoughts or opinions shared by guests are their own and do not necessarily reflect those of the board, staff or members of Listeners' Community Radio of Utah, 90.9fm KRCL. Tonight's RadioACTive team included:
Community Co-Host: Sue Robbins, #EverdayPeople edition of RadioACTive
Executive Producer, Host: Lara Jones
Assoc. Producer: Billy Palmer
###