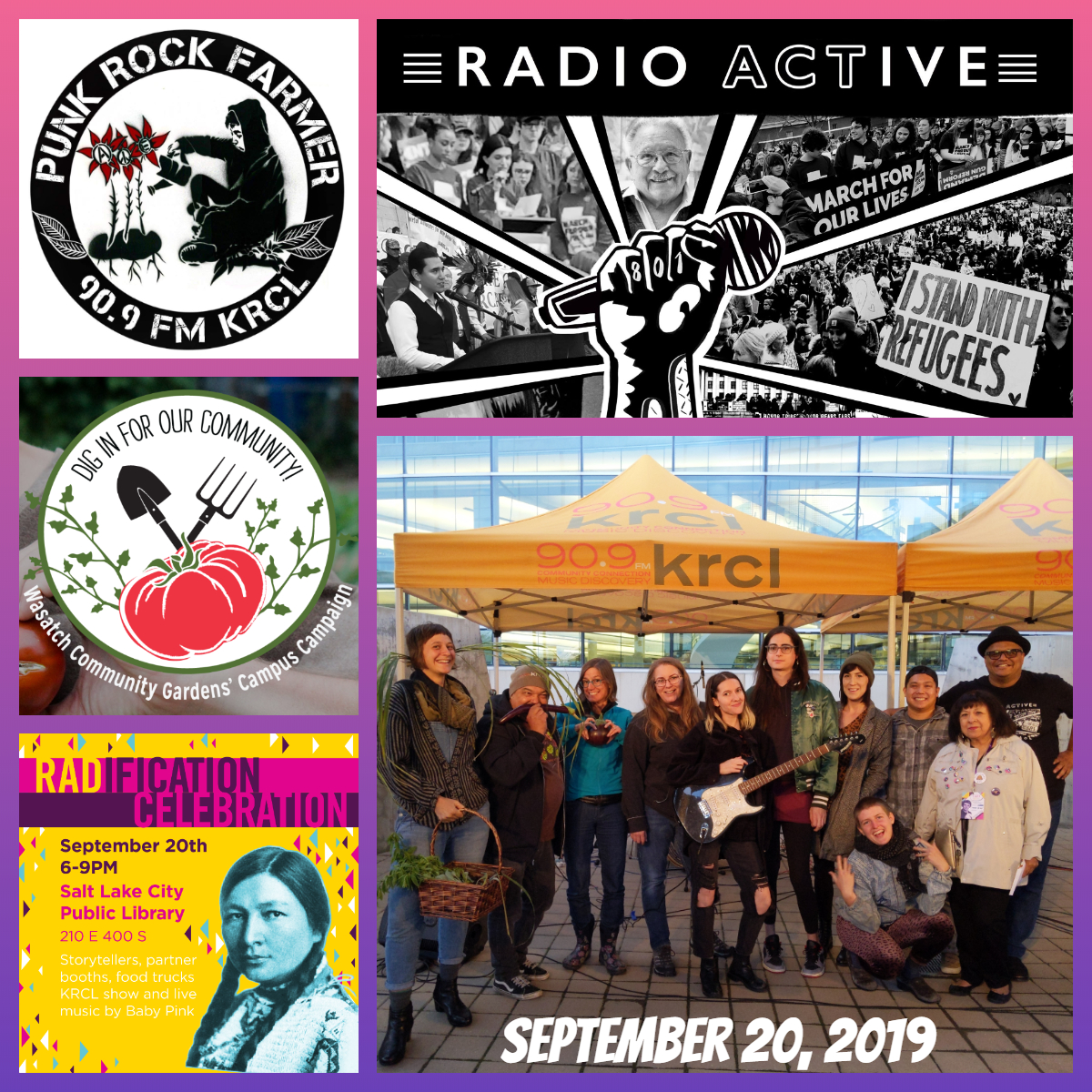 #OntheRoad for Better Days 2020's Radification Celebration, #UrbanFarmReport with Mobile Moon Co-Op and Wasatch Community Gardens, live music from Baby Pink, and more
Live from Library Square for the Better Days 2020: Radification Celebration, tonight's lineup:
Live music from Baby Pink, whose music you can download from SLCPL's digital HUM library. Look for them at HUM FEST 2019 this Sunday. They'll play at 2:00 p.m. in the amphitheater at Library Square.
Anna Labrum of Clean the Darn Air, a ballot initiative to fund Air Quality and Rural Economic Development while cutting existing taxes with a moderate carbon tax.
Marissa Day of The Leonardo, which tomorrow will offer free admission as part of Smithsonian Magazine's Museum Day. You still need a ticket, but it's free when you download it here.
Better Days 2020 CEO Neylan McBaine and crew unveiled the new Martha Hughes Cannon Statue Design. Click here to help send Martha to Washington. Special guests:
Senator Ann Millner
Representative Karen Kwan
Ben Hammond, Artist
Blaine Bradley, great grandson of Martha
#UrbanFarmReport, featuring:
Erika Longino of The Mobile Moon Co-op and Emma Wilson, Community Garden Coordinator at Salt Lake City Public Library. The duo will lead a FREE workshop on the essentials of herbalism from 2-4 p.m. during tomorrow's People's Energy Summit at the Library, 210 E. 400 S., SLC. Meet at THE PLOT, the library's beautiful garden space on the North side of the building. Please bring a notebook and pencil.

Ashley Patterson of Wasatch Community Gardens, which will expandiits Grateful Tomato Garden onto adjacent property to create a campus where community members can learn, share, and connect with each other through a shared love of gardening and healthy food. The Alternative Visions Fund has generously offered to match donations to the campus received by January 1, 2020, up to $2 million. Click here to make your donation.
Got a story you'd like to share on the show or an issue you'd like us to cover? Record a voice memo on your smart phone, then email it to radioactive@krcl.org. Keep it under 3 minutes and be sure to include a name and phone number in the message.
Views, thoughts or opinions shared by guests are their own and do not necessarily reflect those of the board, staff or members of Listeners' Community Radio of Utah, 90.9fm KRCL. Tonight's RadioACTive team included:
Exec. Producer/Host: Lara Jones
Assoc. Producer: Billy Palmer
Community Co-Host: Aldine, KRCL's Punk Rock Farmer
Volunteer: Brooke Estes
Audio Engineers: Sullivan Phetchanpheng, Bill Ramsay
###