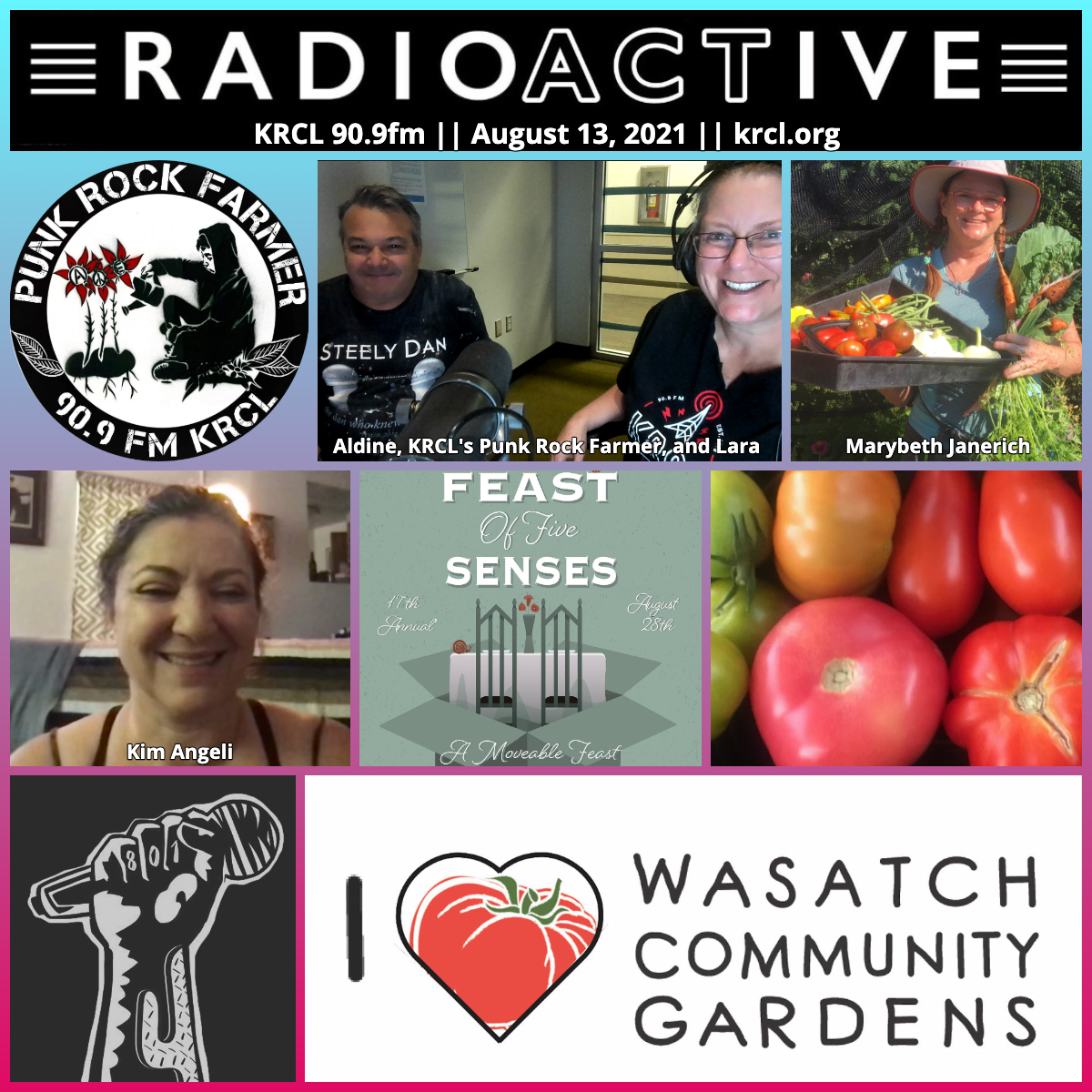 #PunkRockFarmer's visit to the home garden of with Wasatch Community Garden's Mary Beth Janerich. SkyWatcher Leo T. Utah Beer Festival, Slow Food Utah's Feast of the 5 Senses. Fresh, homegrown music from the stages of Craft Lake City's DIY Festival this weekend.
Tonight's show:
Craft Lake City's 13th Annual Craft Lake City DIY Festival Presented By Harmons is going on now! RadioACTive checked in with CLC's Executive Director Angela H. Brown and Festival Entertainment Coordinator Audrey Lockie. Click here for festival info and tickets. Tonight's featured bands:
Rifamos, Friday, Aug. 13, 6:30-7:00 p.m. | KRCL Stage
Nicole Canaan, Saturday, Aug. 14, 3:00-3:30 p.m. | SLUG Mag Stage
Icky Rogers, Friday, Aug. 13, 7:00-7:30 p.m. | SLUG Mag Stage
Kim Angeli of Slow Food Utah, which presents its annual Feast of Five Senses on August 28. Featuring 1 of 10 local restaurants/chefs combos, you can pick up the 4-course tasting menu, gather your inner circle and recreate the feast from your kitchen. Proceeds support Slow Food Utah's microgrant program, a fund dedicated to local food-related projects, especially small-scale food growers and producers, community innovators, and educators.
SkyWatcher Leo T with Many Cultures, One Sky. Love the night sky? Wonder what's going on up there? Follow SkyWatcher Leo T.
Aldine's #UrbanFarmReport takes you to the backyard garden of Marybeth Janerich, community education director at Wasatch Community Gardens.
Views, thoughts or opinions shared by guests are their own and do not necessarily reflect those of the board, staff or members of Listeners' Community Radio of Utah, 90.9fm KRCL. Tonight's RadioACTive Summer Break was produced and hosted by Lara Jones and Aldine Strychnine, KRCL's Punk Rock Farmer.
###