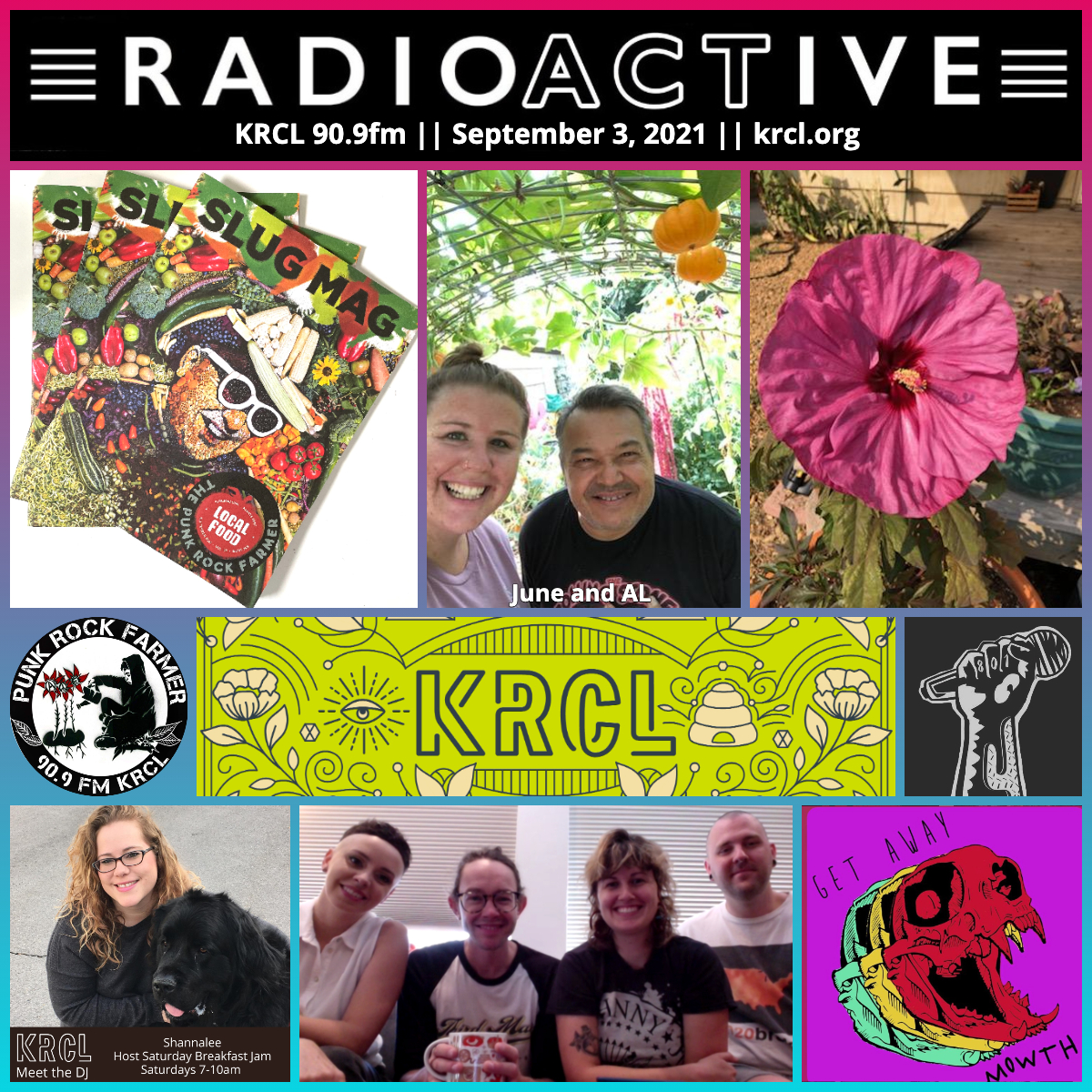 #PunkRockFarmer garden visit, SLUG portrait in vegetables. Fresh, homegrown music of Mowth. Meet the DJ -- Shannalee of Saturday Breakfast Jam. SkyWatcher Leo T. Rundown of September's cultural festivals.
Tonight's show:
Fresh, homegrown music of Mowth, a female-fronted indie dance-punk band from SLC.
Oct. 5: Unity Makes Strength -- Haiti Earthquake Relief Benefit, featuring Mowth and Early Successional, Urban Lounge. Proceeds go to Hope for Haiti Foundation.
#ManyCulturesOneSky: A classic episode from SkyWatcher Leo T.
September is the month of festivals. Here's a short list we shared on the show tonight:
Sept. 3-5: Urban Arts Festival 2021 at The Gateway, 18 N. Rio Grande St., SLC

Sept. 3, 4 & 6: Polynesian Days at Thanksgiving Point Electric Park, Lehi

Sept. 3, 4 & 6: Festival Latinoamericano Provo 2021, 50 S. University Ave., Provo

Sept. 10-11: Brigham City Peach Days

Sept. 10-12: Salt Lake City Greek Festival at Holy Trinity Cathedral, 279 S. 300 W., SLC

Sept. 11: Utah Brazilian Festival at University Place, 575 E. University Pkwy., Orem

Sept. 11: 2021 Avenues Street Fair, 500 E. 9th Ave., SLC

Sept. 18-19: Festa Italiana SLC | 2021 at The Gateway, 18 N. Rio Grande St., SLC

Sept. 25: 5TH Ogden Hispanic Festival 2021 at Ogden Union Station, 2501 Wall Ave., Ogden

Sept. 25-26: Holi Festival of Colors Spanish Fork at Sri Sri Radha Krishna Temple, 8628 S. State Rd., Spanish Fork
Angela H. Brown of SLUG Mag, which just published its local food issue with Aldine -- IN VEG -- on the cover! Pick it up anywhere cool, or click here.
MEET THE DJ: Shannalee, host of Saturday Breakfast Jam, 7-10AM on KRCL. Find out how Shannalee grew up with KRCL, from her early days as a Loud & Clear kid to running that program, how she picks her songs, and why Van's her guy and dog. Outside of KRCL, Shannalee holds a Master's in Social Work and uses music as a therapeutic tool. Fun fact -- her dad's a falconer and, as a result, she's the go-to whenever friends find birds in distress. To listen on-demand to the last two weeks of Saturday Breakfast Jam, click here.
Aldine's #UrbanFarmReport: Al continues his visits to the yards, backyards and small farms of listeners. Tonight: June Hiatt.
Views, thoughts or opinions shared by guests are their own and do not necessarily reflect those of the board, staff or members of Listeners' Community Radio of Utah, 90.9fm KRCL. Tonight's RadioACTive Summer Break was produced and hosted by Lara Jones and Aldine Strychnine, KRCL's Punk Rock Farmer.
###