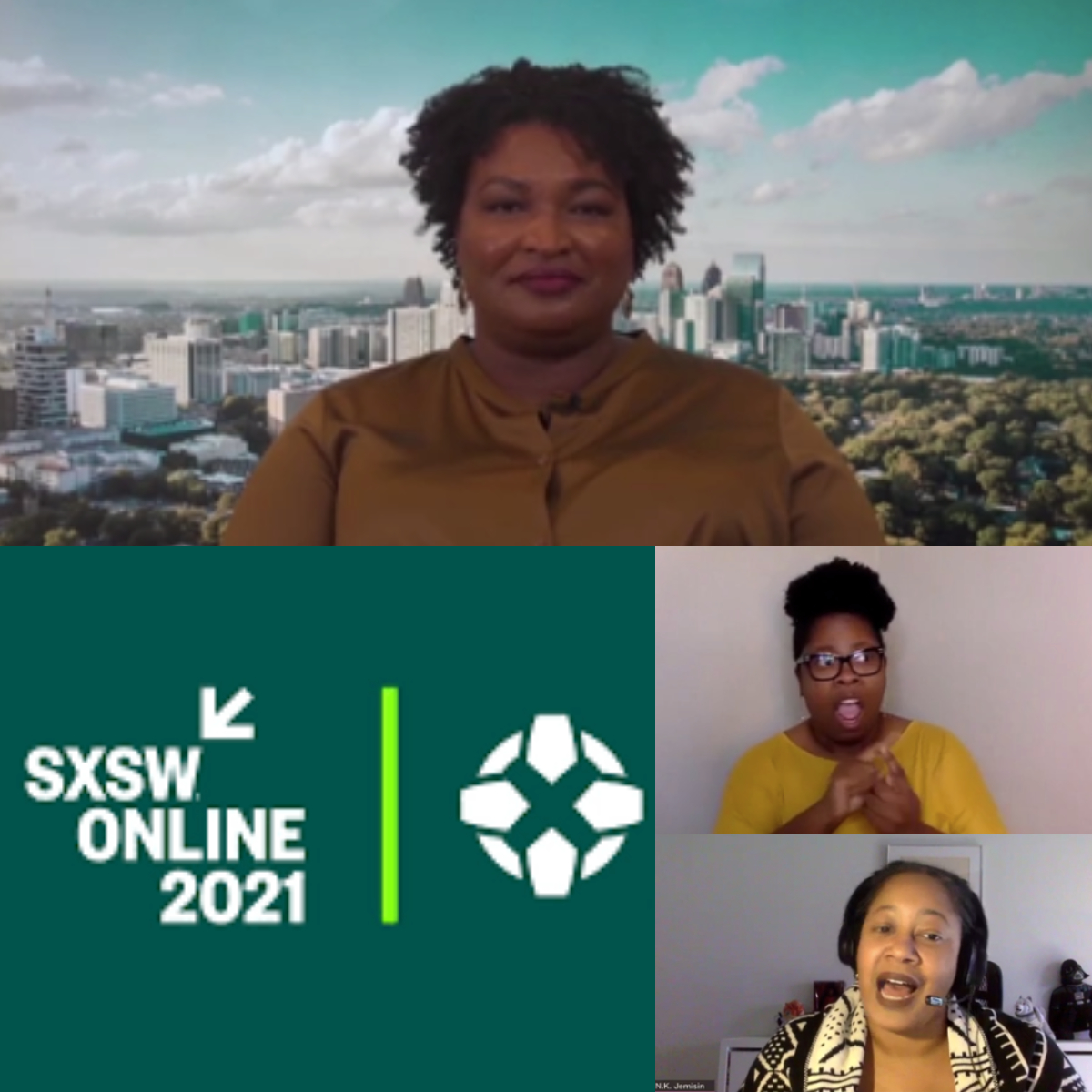 The first keynote conversation of the SXSW festival began over 30 minutes late, citing technical difficulties. But it was worth the wait for so many reasons. Virtual audience members kept themselves entertained by engaging with one another in the chat room and sharing their enthusiasm over the impending conversation. Once the session finally began, we were treated to the music video of "Turntables" performed by Janelle Monae, who wrote the song for the 2020 documentary "All In: The Fight for Democracy." Her song was goosebumps-inducing and served as the perfect lead-in for the conversation. I was so taken in by the music that, for a minute, I could almost imagine what an in-person performance at SXSW might feel like.
After the music video ended, N.K. Jemisin and Stacey Abrams appeared on screen. The first couple of minutes were fangirl moments between the two. Jemisin, a 2020 MacArthur Fellow and bestselling science fiction novelist, told Abrams (introduced as an author, entrepreneur, activist, leader for the Fair Fight Get Out and Vote movement, and nominee for the 2021 Nobel Peace Prize) that she was having a hard time keeping her cool. Abrams opened with revealing that she and her family had all read and loved Jemisin's books as part of their family book club.
There were many great moments within the 35 minutes of conversation. Here's a few of my favorite.
Jemisin admitted that she did not know Abrams was a romance writer and asked her to pitch her a book. Abrams revealed that she has a book coming out on May 11 called "While Justice Sleeps" and proceeded to pitch the book. "A law clerk finds out that she holds the guardianship for an ailing Supreme Court justice who's fallen into a coma, and she has to decide whether he gets to live or die and unravel a political scheme that is trying to take his life and possibly hers."
Abrams on politics: "Politics is about self preservation and it's about creating the world you want to see. If we don't elect people who see us in that world, then we should not be surprised that they try to draw us out of the narrative. That's why constant attention and agitation is so necessary."
Jemisin declares Abrams a genius: "I'm officially a genius. I can declare other people a genius if I want."
Abrams on holding politicians accountable: "It's our responsibility as citizens to not only do the piece of getting them elected but then do the part of holding them accountable. I like to describe it as we protest in the streets, we protest at the ballot box, and then we have to protest in the halls of power because in between elections is when life happens. And that's the life that we have to live with. So we need to be always present in the faces and in the minds of those in charge and those who support those in charge to ensure that we have the best society has to offer."
The American Sign Language interpretor Rorri Burton, who was so amazing that the chatroom blew up with comments about how awesome they were. A rockstar in their own right.