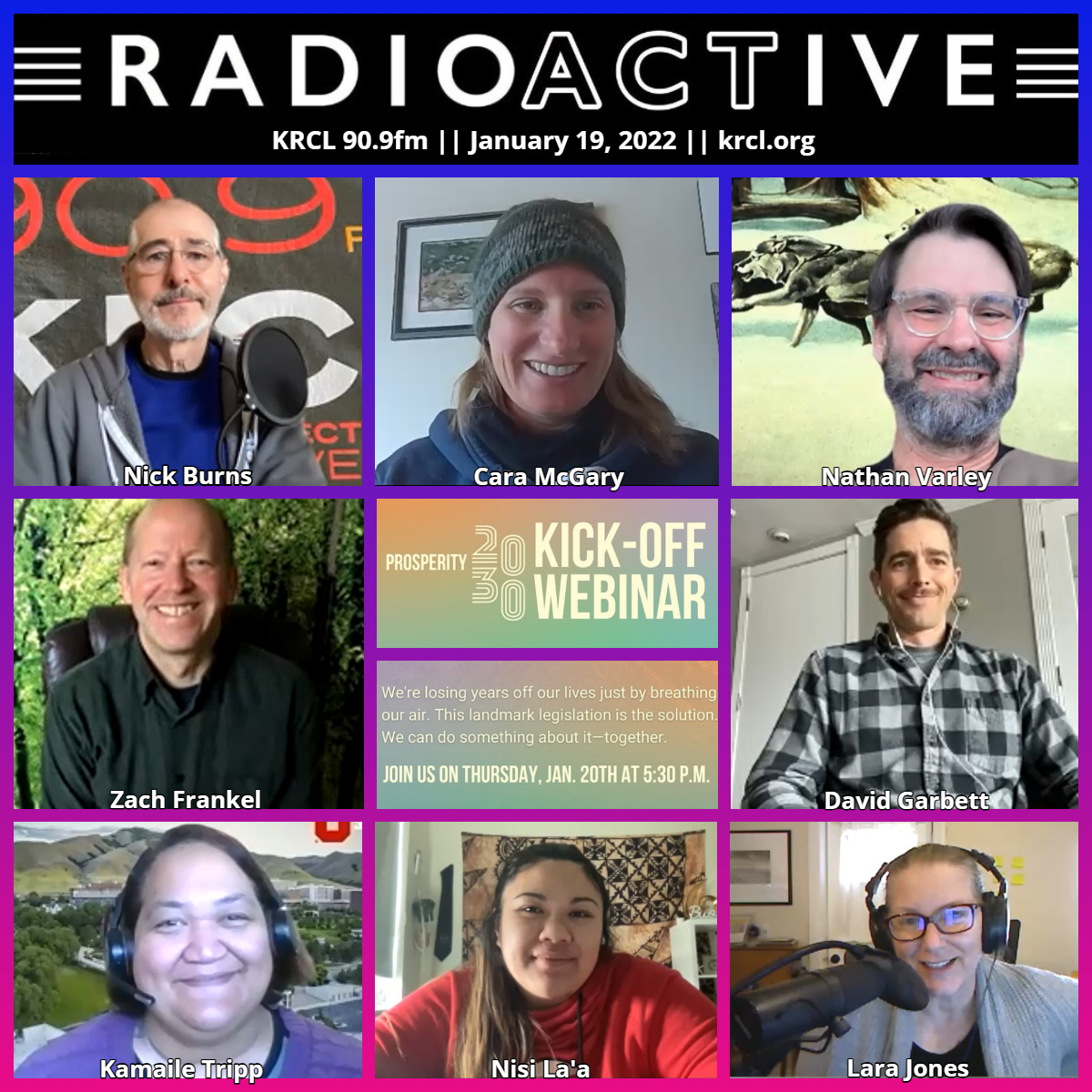 Day 2 of the Utah Legislature: RadioACTive amplifies the work of PIK2AR and Community Health Workers, Utah Rivers Council and water issues, o2 Utah Foundation and its Prosperity 2030 initiative for clean air legislation. Yellowstone wildlife-related businesses call for the reinstatement of gray wolf protections. Plus, Sundance Film Festival 2020 with Cody D of KRCL's Maximum Distortion.
Tonight's show featured the following people, organizations and/or events. Check them out and get plugged into your community!
Sundance Film Festival 2022 starts tomorrow. RadioACTive gets some quick picks from Cody D of Maximum Distortion, a long-time film and festival fan. Be sure to check KRCL social platforms for festival updates!
With Day 2 of the Utah Legislature's General Session wrapped, RadioACTive amplified several nonprofits and the work they're doing working on or following issues at The People's House. Guests included:
Kamaile Tripp of The Island Wave Podcast and Nisi La-a of Pacific Island Knowledge 2 Action Resources. Community Health Worker day on Utah's Capitol Hill is one week from today. They'll be lobbying for the passage of S.B. 104 -- Community Health Worker Certification Process (Sen. Escamilla, L.).

Zach Frankel of Utah Rivers Council was back again this week because just one day after his visit with us last week, Utah Governor Spencer Cox and state agencies released the first chapter of Utah's Coordinated Action Plan for Water. We asked for his reaction, as well as his view of lawmakers as their General Session gets underway.

David Garett of o2 Utah, creator of the Prosperity 2030 initiative to cut air pollution in half in the next 8 years. Want to learn more? Join them Thursday, Jan. 20, at 5:30 p.m. for the Prosperity 2030 Kick-off Webinar. Click here for details.
A group of 30 Yellowstone wildlife-related business owners is calling on Department of Interior Secretary Deb Haaland to reinstate Endangered Species protections for the gray wolf. RadioACTive Community Co-Host Nick Burns spoke with two of them on tonight's show. Guests included Dr. Nathan Varley, wildlife biologist and owner of Yellowstone Wolf Tracker, and Cara McGary, owner of In Our Nature Guiding Services.
From a press release by the group: "In 1995, the year wolves were reintroduced to Yellowstone, there were 130 commercial use authorizations that allowed tour companies to operate in the park; by 2019 that number had grown to over 300. In 2005, when visitation to the park was 2,835,651, the annual economic impact assessment of wolves in the park was estimated to be $35.5 million. Park visitation has grown to over 4.4 million visitors in 2021, an approximate 57% increase. Adjusted for inflation, the current economic impact of wolf recovery is approximately $80 million annually -- money that is spent in communities and supports local jobs. Additionally, visitor polling in Yellowstone consistently places wildlife viewing in the top three reasons people want to visit the park, making wolves a key contributor to the region's overall tourism economy. In 2020, visitors to Yellowstone and Grand Teton National Parks spent over one billion dollars in the parks and surrounding communities."
Views, thoughts or opinions shared by guests are their own and do not necessarily reflect those of the board, staff or members of Listeners' Community Radio of Utah, KRCL 90.9fm. Tonight's show was produced and hosted by Lara Jones.
###