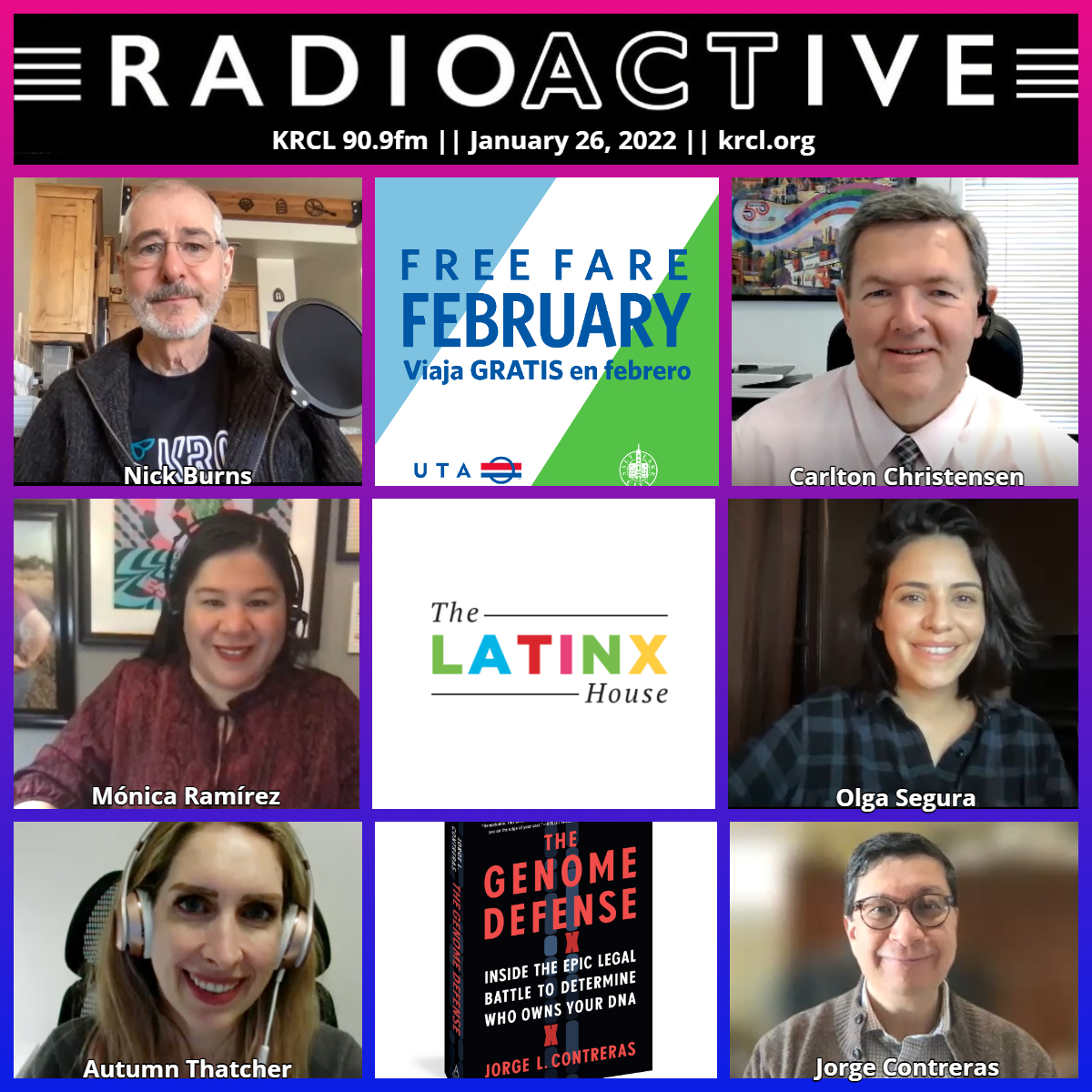 The Genome Defense, Inside the Epic Legal Battle to Determine Who Owns Your DNA with author and UoU Prof. Jorge Contreras. Sundance review and views from The Latinx House, including La Guerra Civil, and KRCL's own Autumn Thatcher on the premieres of jeen-yuhs: A Kanye Trilogy and Phoenix Rising. Plus, UTA's Free Fare February.
Tonight's show featured the following people, organizations and/or events. Check them out and get plugged into your community!
UTA Board Chair Carlton Christensen on Free Fare February. From Feb. 1-28, fares will be free across UTA's entire service area — all UTA bus and rail services, including Ski Bus, paratransit service, the Park City-SLC Connect, and UTA On-Demand. Click here for more details.
Sundance Film Festival reviews and updates, featuring:
Autumn Thatcher, KRCL's virtual red carpet correspondent, reviewed two documentaries:

jeen-yuhs: A Kanye Trilogy: One fateful night at Jermaine Dupri's birthday party in 1998, Coodie, a Chicago public access TV host, first interviewed 21-year-old up-and-coming hip-hop producer Kanye West.

Phoenix Rising: Evan Rachel Wood is no stranger to the screen. From Westworld to her latest performance at the Sundance Film Festival in Miranda July's Kajillionaire, audiences have watched her grow. But in this arrestingly intimate portrait of her experience as a domestic violence survivor turned activist, we finally hear her with the clarity she deserves.

Mónica Ramírez and Olga Segura, co-founders of The Latinx House at Sundance. The Latinx House is a gathering place for people who appreciate and support the Latinx community and who celebrate Latinx excellence in film and entertainment. It is also a space to discuss pressing societal issues and the content creation related to these stories. Check out two of the TLH's Sundance 2022 panels mentioned in tonight's show:
Community Co-Host Nick Burns wrapped the show in conversation with Prof. Jorge Contreras, author of THE GENOME DEFENSE: Inside the Epic Legal Battle to Determine Who Owns Your DNA. Contreras teaches intellectual property, science policy, and genetics law at the University of Utah. He received his law degree from Harvard and has served on high-level government advisory committees and testified before Congress on patent law matters.
Views, thoughts or opinions shared by guests are their own and do not necessarily reflect those of the board, staff or members of Listeners' Community Radio of Utah, KRCL 90.9fm. Tonight's show was produced and hosted by Lara Jones and Community Co-Host Nick Burns.
###