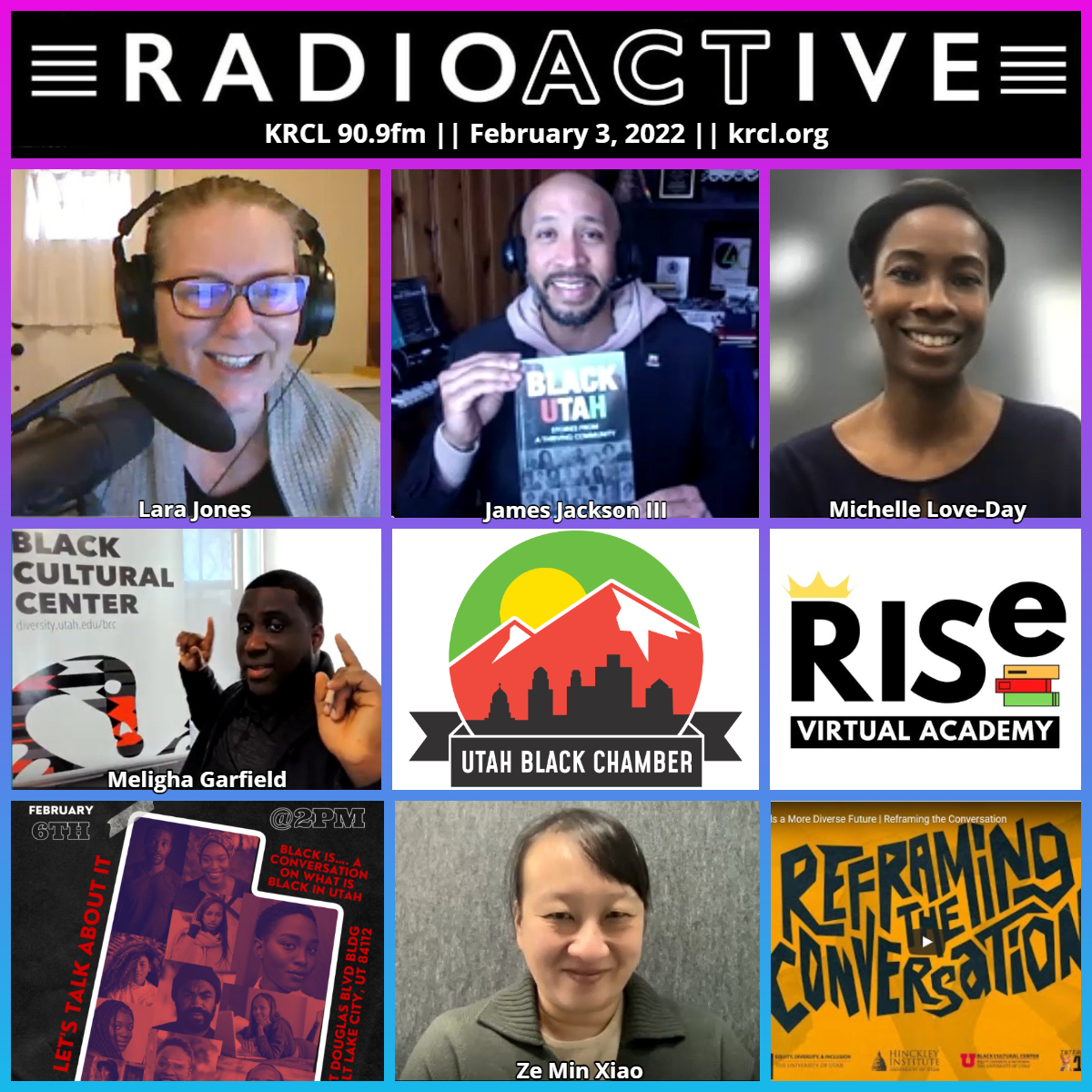 Voices from Black Utah, Stories From a Thriving Community, with the Utah Black Chamber's James Jackson III and Rise Virtual Academy's Michelle Love-Day. #BelongInUtah's call for submissions with Ze Min Xiao. Black Cultural Center's Meligha Garfield with Black History Month events. Clip from Reframing the Conversation 2045: Towards a More Diverse Future.
Tonight's show featured the following people, organizations and/or events. Check them out and get plugged into your community!
Meligha Garfield of the Black Cultural Center - University of Utah, which is hosting several events to mark Black History Month.
Feb. 6: Let's Talk About It: Black Is, a conversation on what is Black in Utah, 2:00-5:00 p.m. at Black Cultural Center, 95 Fort Douglas Blvd., SLC. "What is Black in Utah? Can we define it? Is there a culture, or norm? Let's talk about it. Let's talk about is a conversation concept that allows for a space for meaningful conversation rather that is topics of sex, race, futurism, life, relationships ext. Aren't you tired of being in a group setting and not having a meaningful conversation? By creating the space for people to have meaningful conversations, new friends can be made, tears might get shed, but most importantly our thought process and values can grow." To register to attend this free event, click here.
Belong In Utah is a statewide initiative to collect and share the stories of everyday Utahns who choose to live, work, and play in our great state. To find out more, RadioACTive spoke with Ze Min Xiao, director of the Center of Economic Opportunity and Belonging, where the project resides.
Feb. 18: Belong In Utah now accepting submissions. Take this public survey by Feb. 18th to share what brought you to Utah (if you are a transplant), what are your favorite things to do and experience here, and what challenges you've faced along the way. Visit bit.ly/belongUT to share your story by Feb. 18th.
RadioACTive passed the mic to Utah Black Chamber Founder James Jackson III. Jackson and the Chamber have just released a new book, Black Utah, Stories From a Thriving Community, and we're collaborating to bring some of those conversations to you. Tonight he spoke with Michelle Love-Day, a long-time educator and founder of RISE Virtual Academy. Michelle offers up her yellow Lamborghini theory of what's going on with Davis County School District and civil rights violations they're dealing with there, among other things.
Excerpt from Reframing the Conversation – 2045: Towards a More Diverse Future, a conversation curated by our friends at Equity, Diversity, & Inclusion - University of Utah. Held January 19th in partnership with the Hinckley Institute of Politics, this panel conversation featured:
Jordan Brown, B.S., Second-Year Medical Student (MS2), University of Utah School of Medicine

James Jackson III, Executive Director, Utah Black Chamber

Olivia Jaramillo, Director of Public Outreach, Equality Utah

Claudia Loayza, Communications & Community Engagement Coordinator, Utah Division of Multicultural Affairs

Moderator: Natalie Gochnour, Associate Dean, David Eccles School of Business, Director, Kem C. Gardner Policy Institute, University of Utah.
To watch Reframing the Conversation – 2045: Towards a More Diverse Future in its entirety, watch the video below.
Views, thoughts or opinions shared by guests are their own and do not necessarily reflect those of the board, staff or members of Listeners' Community Radio of Utah, KRCL 90.9fm. Tonight's show was produced and hosted by Lara Jones.
###