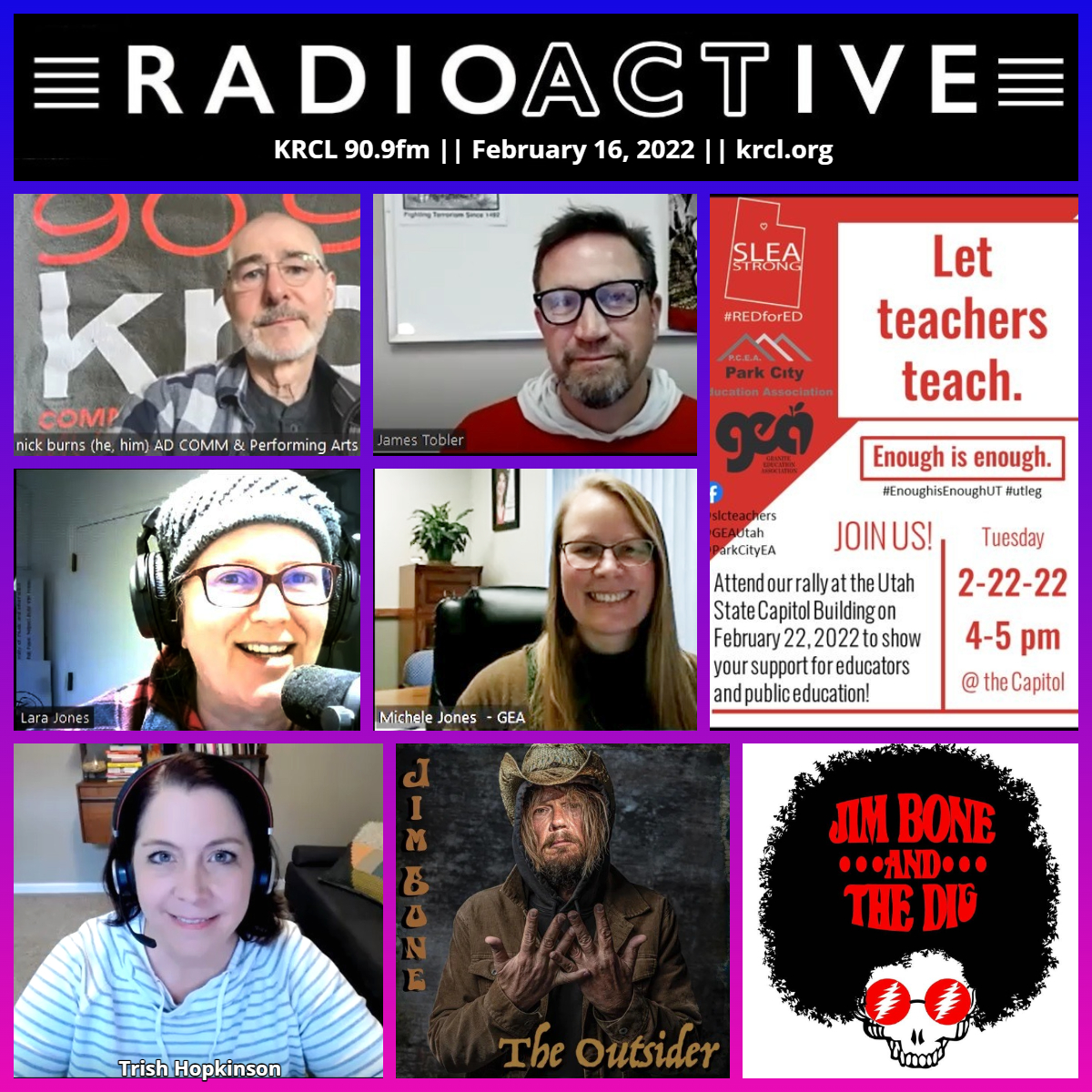 Salt Lake Education Association issues rallying cry, 'Let Teachers Teach,' in advance of next week's rally at the Utah Capitol. Sema Hadithi's Robert Burch on a bill to recognize Juneteenth in Utah. Musician, social worker Jim Bone shares songs from his new solo album, The Outsider. #PoetryStillHappens with Trish Hopkinson of Rock Canyon Poets.
Tonight's show featured the following people, organizations and/or events. Check them out and get plugged into your community!
Robert Burch, founder of Sema Hadithi African American Heritage and Culture Foundation, which strives to "tell the story" of African-ancestored history, heritage, and culture in Utah. Click here for volunteer opportunities with Sema Hadithi.
BILL TO WATCH: H.B. 238 -- State Holiday Modifications (Rep. Sandra Hollins, D-Dist. 23, SLC). This bill would make Juneteenth a state-recognized holiday.

APPROPRIATIONS: Utah Division of Multicultural Affairs is requesting $6M in ongoing funding for new Opportunity Expansion Grants that "ensure that our nonprofits serving diverse Utahns have the investment necessary to expand opportunity throughout the state."

Salt Lake County Community Remembrance Project, a coalition of community individuals and organizations with the shared goals of addressing the problems described by the EJI, including the following:

Publicly remember the victims of racial terror (lynching)

Memorialize the victims and locations of these terror events

Facilitate ongoing community discussion around racial terror, justice inequities, and other social inequities

Help establish legislative and municipal policies that address inequities and cure them.
Salt Lake Education Association President James Tobler and Michele Jones, a math teacher at Cyprus High and president of the Granite Education Association talked about a voucher bill and an upcoming rally for teachers.
BILL TO WATCH: H.B. 331 Substitute -- Hope Scholarship Program (Rep. Candice Pierucci, R-Dist. 52, SLC). Widely seen by teachers as another attempt at school vouchers, SLEA and GEA oppose this bill as they believe it will divert funding from public education to private, religious and/or charter schools. To read their position as recently posted on their FB account, click here.

Feb 22: SLEA "Let Teachers Teach" Rally, 4:00 p.m. at the Utah State Capitol, 350 N. State St., SLC. Event by Salt Lake Education Association: "This legislative session has brought with it some terrible bills designed to undermine teachers and public education in Utah. These bills put the special interests of a vocal minority first instead of putting our students first. We are calling on all supporters of teachers and public education in Utah to join SLEA on 2-22-22. It's time to show up, wear red, bring a friend, and be loud. Let's show them that enough is enough."
Utah musician and LCSW Jim Bone has a new solo album, The Outsider. In addition to sharing two songs, Bone talked about music and human connection as his strategy for coping during trying times. Click here to stream/download The Outsider!
Poetry events and submission calls Feb-April 2022: Want to find places to submit your work? Looking for poetry events IRL and URL? This is a running list of exactly that, curated by Trish Hopkinson of Rock Canyon Poets. If you have an event or announcement related to poetry in Utah, click here to get in touch!
Views, thoughts or opinions shared by guests are their own and do not necessarily reflect those of the board, staff or members of Listeners' Community Radio of Utah, KRCL 90.9fm. Tonight's show was produced and hosted by Lara Jones and Community Co-Host Nick Burns.
###