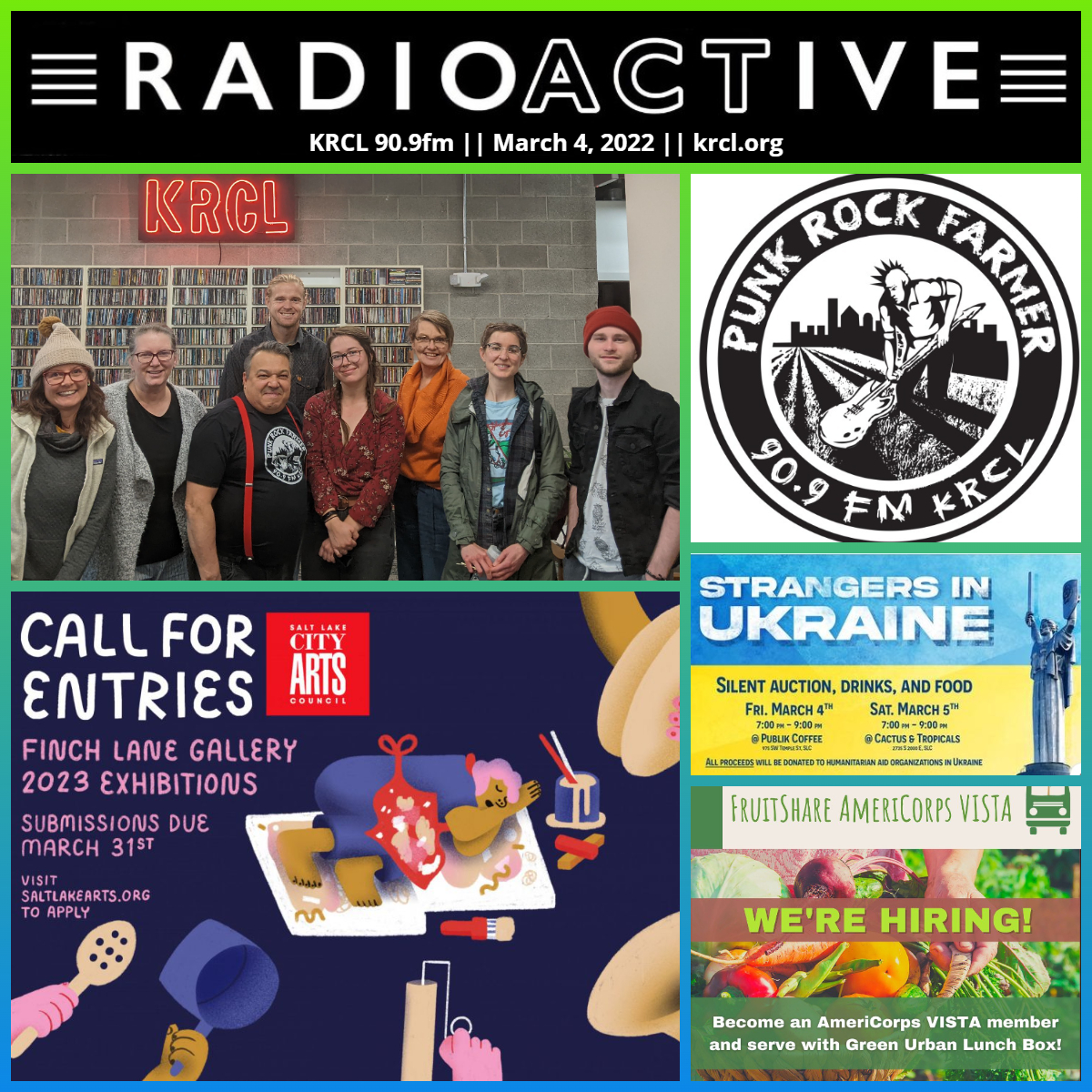 More true tales from the agrihood on a #PunkRockFarmerFriday edition of RadioACTive. Featuring 3 Springs Land and Livestock and Al's #UrbanFarmReport. Red Acre Center reports on legislation affecting the agrihood. Green Urban Lunch Box on this year's Back Farms Program. Call to support Strangers in Ukraine, fundraising benefits for refugees displaced by Russia's invasion. Homegrown music from Sky Olson.
Tonight's show featured the following people, organizations and/or events. Check them out and get plugged into your community!
Homegrown music from Sky Olson, a two-time winner of the weekly John Lennon Songwriting Contest and a finalist in the International Songwriting Competition. After amassing more than 140,000 streams on Spotify, Sky now sets his sights on performing his songs live with the Sky Olson Trio.
Claire Taylor, visual arts coordinator for the Salt Lake City Arts Council, with a call to artists for submissions. Finch Lane Gallery Call for Entries: 2023 Exhibitions. Deadline for submissions is 5:00 p.m. March 31, 2022.
CLICK HERE for the full application guidelines.
CLICK HERE for the application guidelines in large print.
CLICK HERE to be taken directly to the application.
Eli McCann, a Salt Lake City attorney and co-creator of Strangerville, a live storytelling series and podcast. He developed a love for Ukraine and its people while serving a two-year LDS mission from 2003-2005. Check out his fundraisers for relief efforts, Strangers in Ukraine, 7:00 p.m. tonight at Publik Coffee Roasters and 7:00 p.m. tomorrow night at Cactus & Tropicals. To donate, click here.
Strangers in Ukraine: "ALL PROCEEDS will go to Razom and Lifting Hands International via Equality Utah, a not-for-profit organization based in Utah. Strangers in Ukraine sought out organizations on the ground in Ukraine and at its borders right now providing emergency medical supplies and food for people who have stayed in the country and for refugees trying to cross the border. Razom is in Ukraine now, providing medical supplies, food, and amplifying the voices of people who have stayed in the country. Lifting Hands International is doing the same for those at and crossing the border as refugees."
#ThePeoplesBusiness, a legislative update for the agrihood, with Symbria Patterson of Red Acre Center
. The Cedar City-based nonprofit advocates for a stronger local food economy & opportunities for the general public to understand food production.
Katie Nelson of The Green Urban Lunch Box
, a local nonprofit that empowers people to engage in local production using resources available in our community. Listen to find out how you can join
GULB's Jess Collete for their
Back-Farms Program
, which connects volunteer Garden Apprentices with senior citizens to build, cultivate, and maintain organic gardens in their backyards.
Aldine's #UrbanFarmReport, featuring McKinley Smoot of 3 Springs Land & Livestock in Peoa, UT. 3 Springs practices regenerative agriculture to improve soil health through holistic management of livestock and active monitoring of our land.
3 Springs is spreading manure, seeds and the good word of regenerative ranching. If you want to see life on the ranch, check them out on Instagram.
Views, thoughts or opinions shared by guests are their own and do not necessarily reflect those of the board, staff or members of Listeners' Community Radio of Utah, KRCL 90.9fm. Tonight's show was produced and hosted by Lara Jones and Aldine, KRCL's Punk Rock Farmer.
###