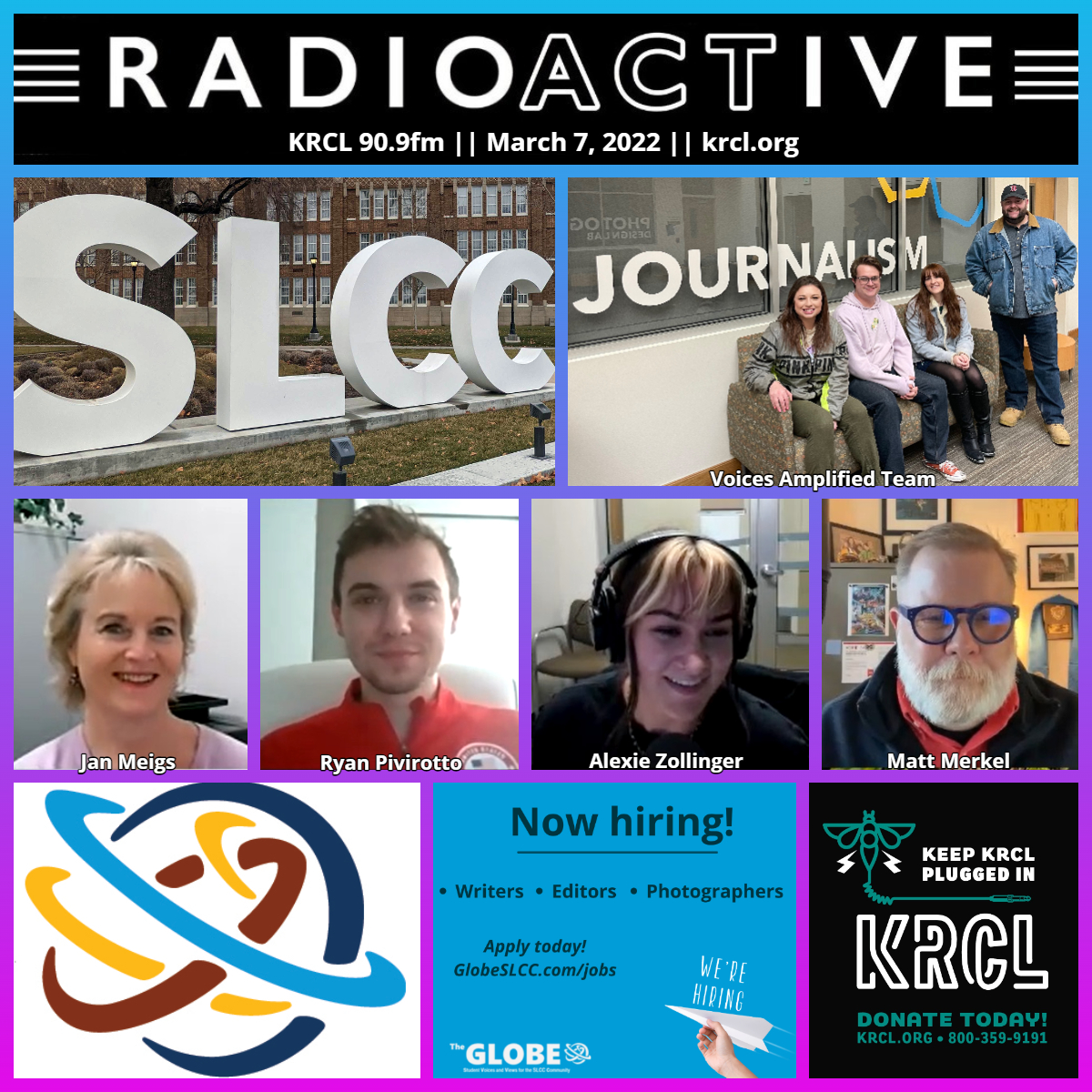 #VoicesAmplified is back with another RadioACTive takeover, featuring the rising journalists of Salt Lake Community College and Amplify Utah. Tonight, the student life of an Olympic athlete with Ryan Pivirotto, U.S. Olympic speed skater and SLCC alum, and Jan Meigs of Salt Lake Community College's recruitment office. Student journalist Alexie Zollinger and Professor Matt Merkel on mental health in the classroom. Plus, #popculturenuggets from the #VoicesAmplified team, from Spring Break to Gandhi and the MLB lockout.
Tonight's show featured the following people, organizations and/or events. Check them out and get plugged into your community!
Rising journalists once again took over RadioACTive for a Voices Amplified edition of the show. It's a collaboration between Salt Lake Community College, Amplify Utah and KRCL. Diversity, stories that matter, the things you care about — amplified. Listen to them every Monday night at 6 p.m. through spring semester at SLCC.
SIGN-UP: To find out how you can get in on this class next time, contact Marcie Young Cancio, assistant professor at Salt Lake Community College and Amplify Utah executive director. Her email is marcie.youngcancio@slcc.edu.
Host Amy Cremer started the show in an Olympic-sized fashion, featuring Ryan Pivirotto of the U.S. Olympic speed skating team and Jan Meigs from SLCC's recruitment office.
In 2018, Salt Lake Community College partnered with U.S. Speedskating (USS) to help develop upcoming Olympic athletes, the partnership includes tuition waivers for all USS athletes for up to 9 semesters while attending SLCC. Ryan Pivorotto is an alumnus of SLCC and competed in both the 2018 and 2022 Winter Games.

READ: SLCC shines at Beijing Winter Olympics, by Alexie Zollinger, The Globe (February 22, 2022)
Mental health has been a constant concern during the winter months, more so with the added isolation of COVID. Cremer dived deeper with student journalist Alexie Zollinger, whose recent story in The Globe identified Seasonal Affective Disorder (SAD) and ways SLCC's counselors suggest alleviating symptoms. Plus, Professor Matt Merkel shared new practices he uses in the classroom, or Zoom-room, to help students navigate the stress of learning in pandemic conditions.
#PopCultureNuggets. Spring Break is here and the Voices Amplified Team shared their plans to make the most of it:
Digital Producer Jonny Tollestrup drew attention to new rules passed by the Utah House and Senate that limit press access to lawmakers. He voiced his concerns about how limitations on the press serve no one and make our democracy weaker. Oh, and he is spending spring break in St. George — pretty much as far away from those chambers as one can get and still be in Utah.

Lead Producer Sean Stetson is taking his chances in the city of sin, Las Vegas. He also talked about the upcoming delay to the Major League Baseball (MLB) season after players and owners failed to reach a new collective bargaining agreement. This is the first time since 1995 that regular-season games will be lost due to a labor dispute.

Host Amy Cremer doesn't have much planned for Spring Break, but she does plan on picking up a few extra shifts to earn some extra spending money and maybe take some time to get some good reading in. Just added to her reading list: Gandhi: An Autobiography - The Story of My Experiments With Truth.
Tonight's RadioActive was a production of Listeners' Community Radio of Utah, Salt Lake Community College and Amplify Utah. Tonight's team included:
Lead Producer: Sean Stetson
Assoc. Producer: Ariel Widerburg
Host: Amelia Cremer of SLCC The Globe/Amplify Utah
Booker: Valene Peratrovich
Digital Producer: Jonny Tollestrup
Adviser: Marcie Young Cancio, assistant professor at SLCC and Amplify Utah executive director
Editor: Lara Jones, RadioACTive executive producer
Views, thoughts or opinions shared by guests are their own and do not necessarily reflect those of the board, staff or members of Listeners' Community Radio of Utah, KRCL 90.9fm.
###