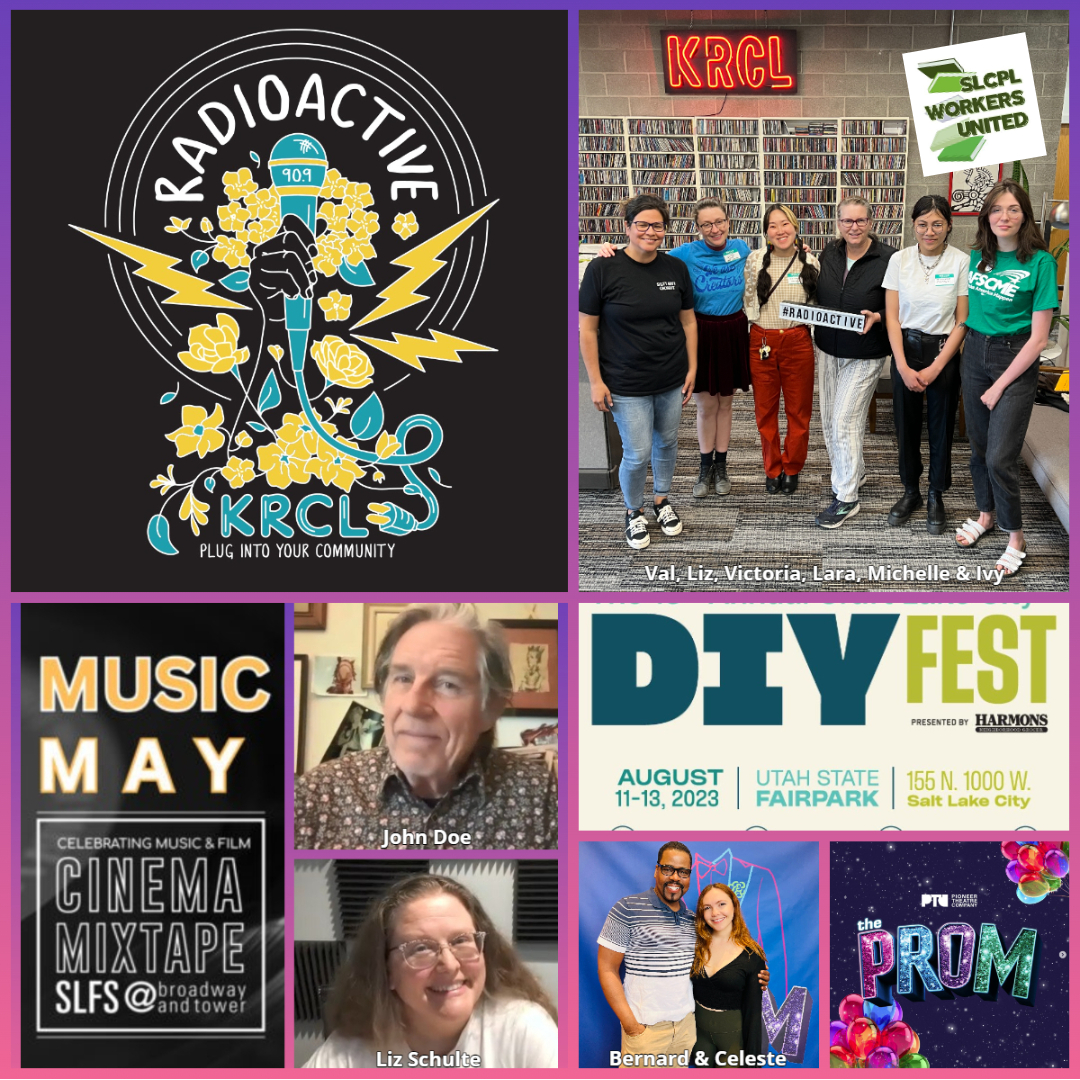 The City Library's workers want to unionize. Craft Lake City meet your maker meets AAPI Month and National Small Business Week. The Prom bows at PTC. And John Doe of X on the lineup he curated for Music May at Salt Lake Film Society.
Tonight's show features the following people, organizations and/or events. Check them out and get plugged into your community!
The City Library's workers want to unionize. RadioACTive passes the mic to Ivy Smith and Michelle Cao to learn more. Give them a follow on Insta (@slcpl_workersunited) or Twitter (@slcplwu).
AAPI Heritage Month Maker Spotlight with Craft Lake City, featuring local tattoo artist Victoria Minji Lee (@minjiyang_tattooer), owner of @everybodytattoostudio, and Liz Amato, Craft Lake City Artisan & Programs Manager.
Aug. 11-13: The 15th Annual Craft Lake City DIY Fest at the Utah State Fairpark, 155 N. 1000 W., SLC. "Utah's largest local-centric art, music, science and technology festival. We are celebrating our 15th Anniversary with our biggest fest yet with over 350 local artisans, vintage vendors, foodies, youth entrepreneurs, performers, & STEM exhibitors over three days the second weekend of August at the Utah State Fairpark! Ticket sales launch Thursday, May 11th at 10 AM."
Written by the team behind ELF the Musical, The Prom bows next week at Pioneer Theater Company. It's a timely message of love and acceptance – just in time for prom season. RadioACTive spoke with cast members Celeste Rose (Emma) and Bernard Dotson (Principal Hawkins).
May 12-27: THE PROM! @ Pioneer Theatre Company from May 12—27. Tickets available at PioneerTheatre.org. From the creative team who charmed us with Elf the Musical, a group of down-on-their-luck Broadway stars shake up a small Indiana town as they rally behind a teen who just wants to attend prom with her girlfriend.
Rude Awakening host Liz Schulte recently spoke with John Doe of X on the lineup he curated for Music May at Salt Lake Film Society. A founding member of the legendary punk rock band X, Doe chose each film for a particular reason. Take a listen as Liz and John talk about the films, the music, and Doe's television and film career. Check out Music May @SLFS lineup:
MAY 5: CHULAS FRONTERAS
MAY 6: X: THE UNHEARD MUSIC
MAY 12: I'M NOT THERE
MAY 13: BIRD (1988)
MAY 19: BLACK ORPHEUS
MAY 20: SEARCHING FOR SUGARMAN
MAY 26: THE GIRL CAN'T HELP IT
MAY 27: THE HARDER THEY COME
Views, thoughts or opinions guests share are their own and do not necessarily reflect those of the board, staff or members of Listeners' Community Radio of Utah, 90.9fm KRCL. Tonight's RadioACTive team included: