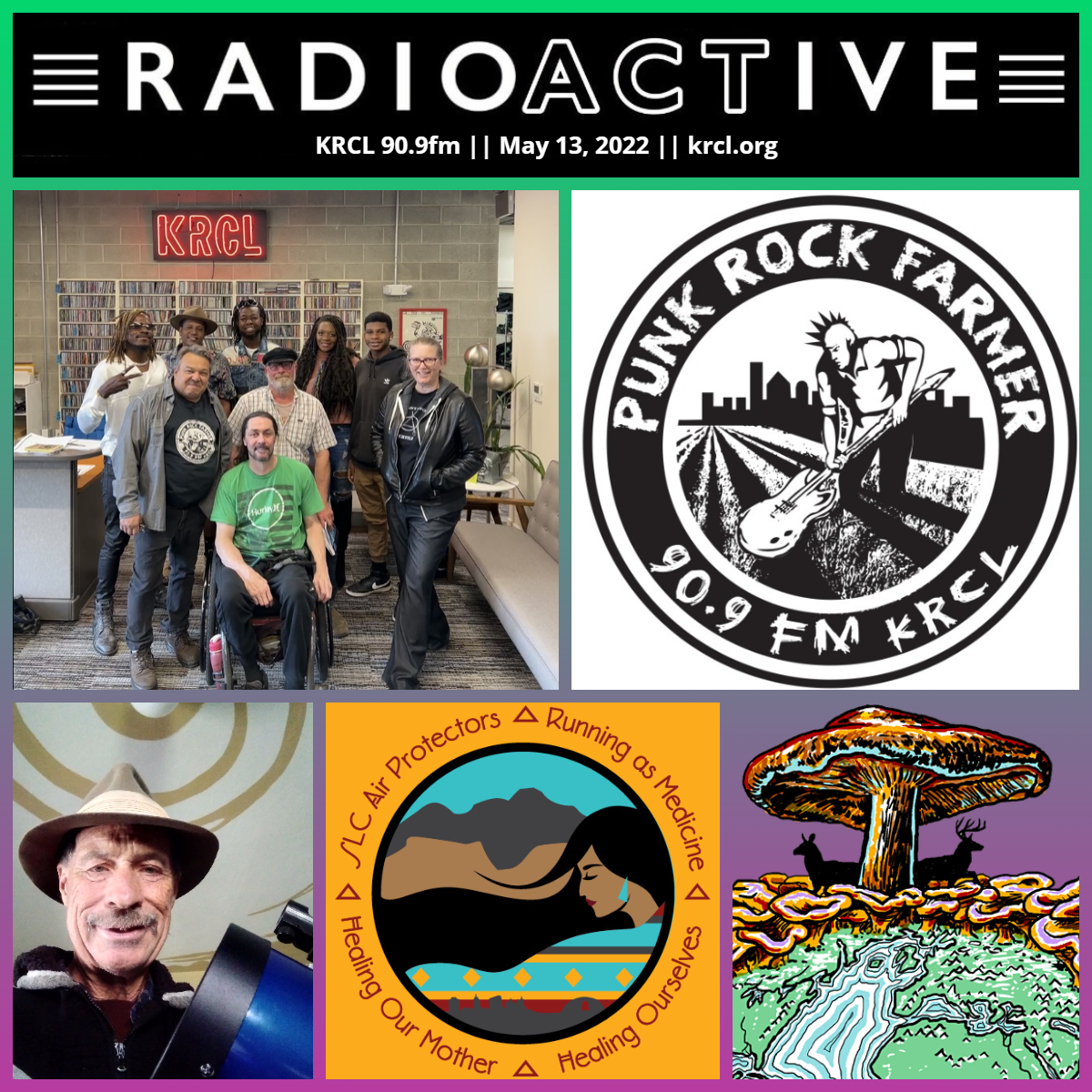 #PunkRockFarmerFriday brings you true tales of the agrihood with Rose Park homesteader Jonathan K. Plus, Skywatcher Leo T, Utah Fungi Festival, Running As Prayer Medicine Run, and fresh, homegrown music from Master Kennedy and The Energy.
Tonight's show featured the following people, organizations, and/or events. Check them out and get plugged into your community!
Fresh, homegrown music from Master Kennedy & The Energy. Tonight MK shared three cuts — Yes We Are, Forever Forever and First Time — from his new reggae album. To download your own copy, click here. Then look for him doing a solo gig at Juneteenth in SLC, followed by gigs with the band at The Hog Wallow Pub and Liquid Joe's in July.
#ManyCulturesOneSky with SkyWatcher Leo T, a RadioACTive volunteer-contributor who shares his love for the night sky, cultural tales of the constellations, and more during #PunkRockFarmerFridays. Tonight's episode includes an update on this weekend's lunar eclipse, an X Class solar flare with reverse polarity, the Juno Orbiter and Jupiters "string of pearls," the sound of a black hole, and cosmic tales from the Gilbert Islands (now part of the Republic of Kiribati) in the west-central Pacific Ocean.
Jme Bonfiglio of Wholesun Wellness - Medicinal Mushrooms & Herbal Balms, which hosts the 1st annual Utah Fungi Festival this weekend.
May 13: Utah Fungi Festival opening night screening of Psychedelia, the History and Science of Mystical Experience, 7:00 p.m. at Mountain West Hard Cider, 425 N. 400 W., SLC. "Join researchers, mycologists, and activists to learn about the world of psychedelic medicine in an intimate panel discussion and screening. Must be 21 years or older to attend." For tickets, click here.

May 14: Utah Fungi Festival 2022, 10a-7p at Mountain America Expo Center, Sandy. "Join us for a full day of mushroom identification, cultivation, medicinal benefits, psilocybin, mycoremediation, and more. All ages welcome! Get all the details and buy tickets at www.utahfungifest.com."

May 15: Utah Fungi Fest Forays, various locations. Hosted by the Mushroom Society of Utah at locations from Ogden to Provo, Cottonwood Heights, SLC and Payson. Click here to learn more about this family-friendly day of mushroom foraging. Weather can change quickly so bring layers. Areas may be muddy.
Victoria Meza, a runner in the 3rds annual Running As Medicine Prayer Run.
Aldine's Urban Farm Report, featuring Jonathan K, a long-time homesteader in the Rose Park neighborhood of SLC.
Guests' views, thoughts, or opinions are their own and do not necessarily reflect those of the board, staff, or members of Listeners' Community Radio of Utah, KRCL 90.9fm. Tonight's show was produced and hosted by Lara Jones and Aldine, KRCL's Punk Rock Farmer.
###