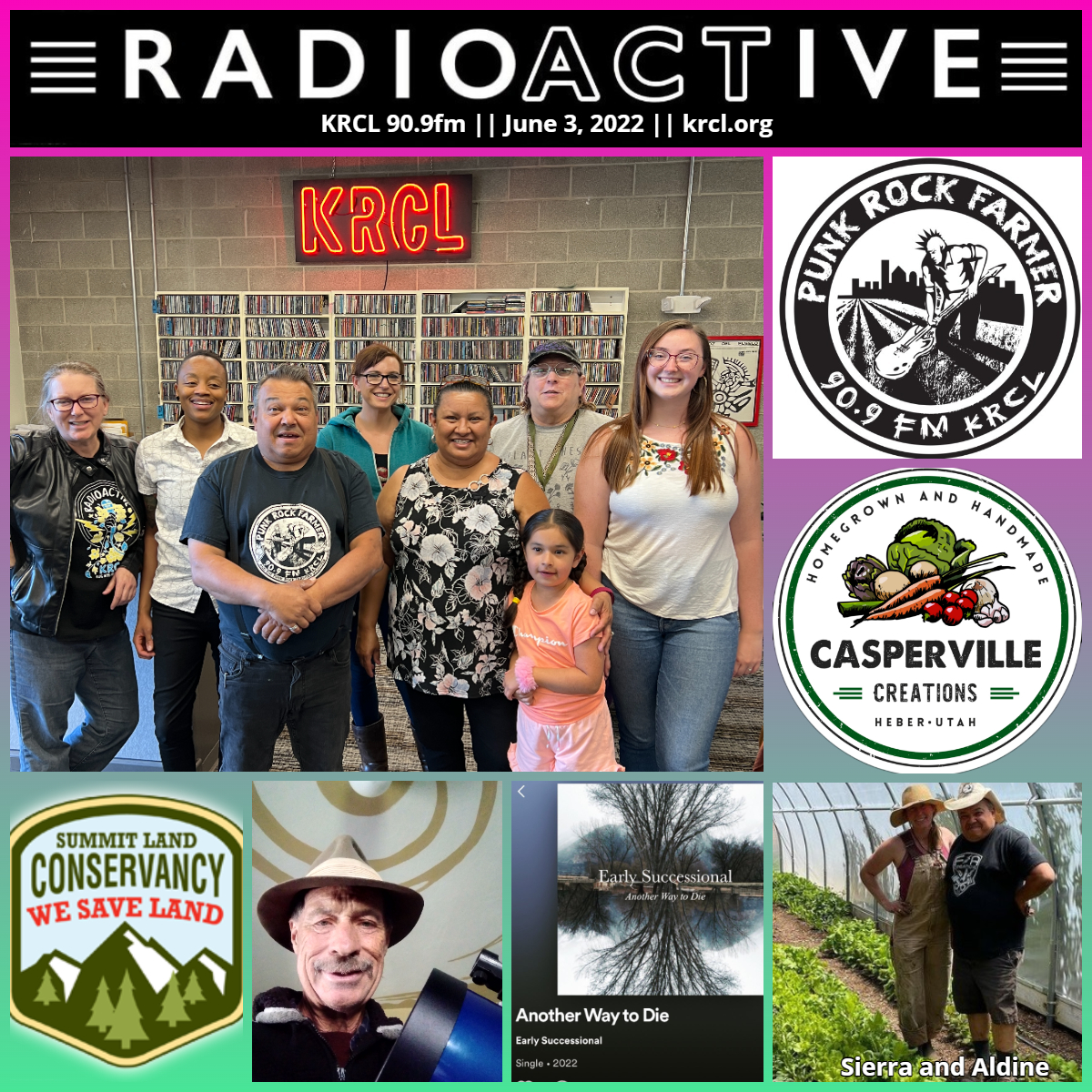 True Tales from the Agrihood with Aldine, KRCL's Punk Rock Farmer, featuring the 9th West Farmers Market, Casperville Creations and the debut of #whatsfresh with a farmer. Plus, Hops Hunters Hikes, SkyWatcher Leo T, and homegrown music from Early Successional.
Tonight's show featured the following people, organizations, and/or events. Check them out and get plugged into your community!
Homegrown music from Early Successional. To download or stream their new single, Another Way to Die, click here. Look for the full EP to drop June 24.
#ManyCulturesOneSky with SkyWatcher Leo T, a RadioACTive volunteer-contributor who shares his love for the night sky, cultural tales of the constellations, and more during #PunkRockFarmerFridays. Tonight's episode: the new meteor shower, the stars you find while looking for the streaks across the sky such as Antares, Vega and Capella, and the crescent moon popping up over the islands in the west, and more.
Mel Schertz and Maxine Lucero, manager the 9th West Farmers Market. Also known as The People's Market, check it out every Sunday from 10a-2p near the International Peace Gardens. Easy to locate, on 900 West, along the north drive of Jordan Park, 1060 S. 900 W., SLC.
Summit Land Conservancy's Tessa Scheuer, who is leading the Hops Hunters Hikes this summer. Want to join them to check on wild hops? Click here.
Debut of #whatsfresh, a spotlight on growers at farmers' markets in Utah. Tonight: Tyler Montague of Keep It Real Vegetables, a regenerative urban farming project in SLC. They grow produce by hand in several urban gardens, using strictly organic methods, and you can find Keep It Real at the Downtown SLC Farmers Market at Pioneer Park every Saturday this summer.
Aldine's Urban Farm Report, featuring Sierra Prothers of Casperville Creations in Heber City. Nestled along the Provo River about 45 minutes outside of SLC, these farmers work hard to create a sustainable, bio-diverse homestead that "our community has enjoyed sharing with us. Our homestead continues to evolve and we encourage you to learn with us."
VISIT: Casperville Creations invites visitors, but you can also catch up with them every Saturday from 10a-2p at the Midway Farmers Market, 196 West Main St., Midway.
FOLLOW: @caspervillecreations on Facebook and Instagram
Guests' views, thoughts, or opinions are their own and do not necessarily reflect those of the board, staff, or members of Listeners' Community Radio of Utah, KRCL 90.9fm. Tonight's show was produced and hosted by Lara Jones and Aldine, KRCL's Punk Rock Farmer.
###