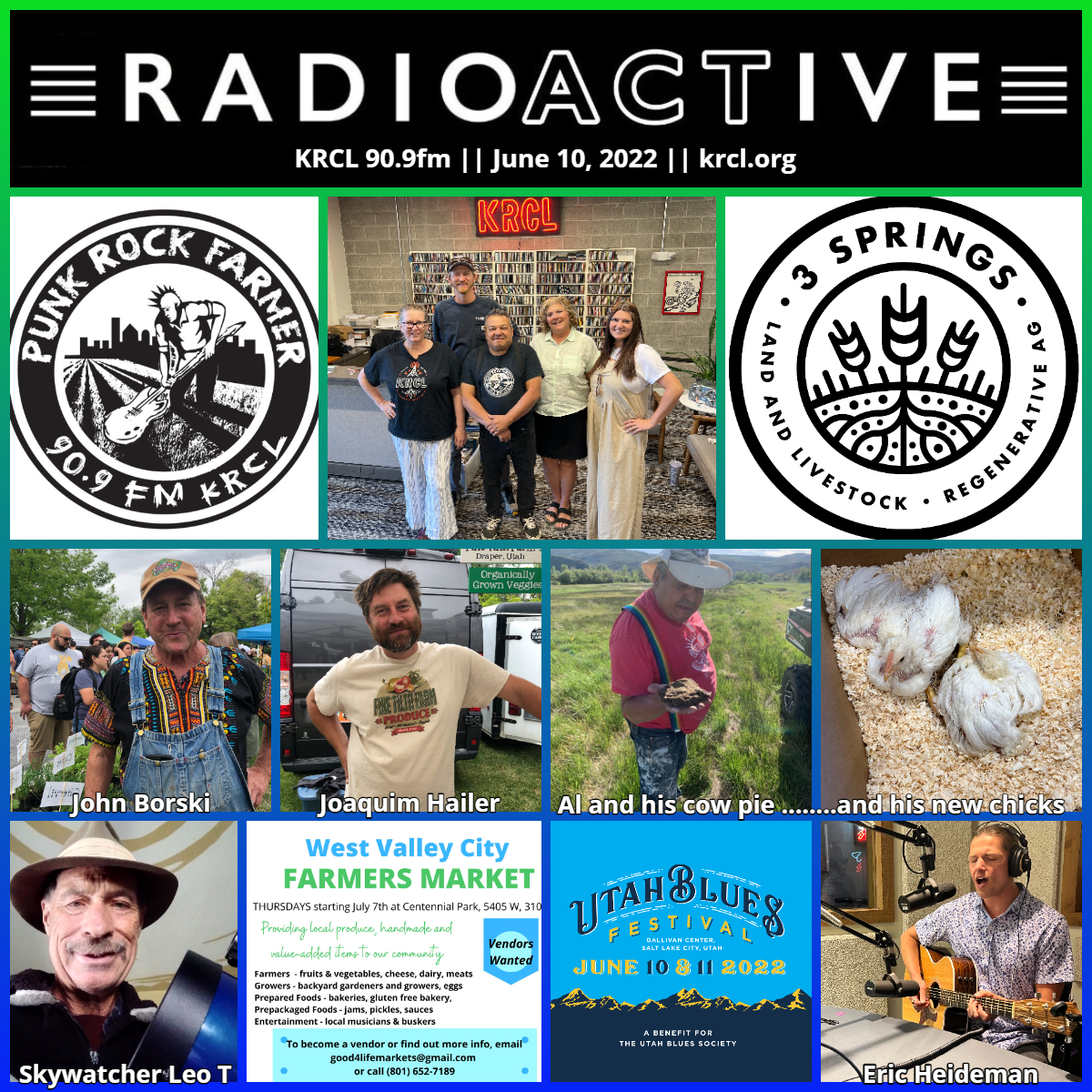 Aldine, KRCL's Punk Rock Farmer, and Lara bring you more true tales of the agrihood, featuring 3 Springs Land and Livestock during Al's Urban Farm Report. Plus, #whatsfresh, Daybreak and West Valley Farmers Markets, Skywatcher Leo T, and homegrown music from Eric Heideman, a featured act at this weekend's Utah Blues Festival.
Tonight's show featured the following people, organizations, and/or events. Check them out and get plugged into your community!
Fresh, homegrown music from Eric Heideman, a blues guitar singer-songwriter from SLC. He's working on a new album, but you can see him and his quartet at noon tomorrow at the Utah Blues Festival.
#ManyCulturesOneSky with SkyWatcher Leo T, a RadioACTive volunteer-contributor who shares his love for the night sky, cultural tales of the constellations, and more during #PunkRockFarmerFridays. Tonight's episode: check out a neat double-double star near blue-white Vega, crossing the night sky after dusk from the East to west. Large arrays around the world pick up signals from outer space — nearly 3 billion light-years from Earth. The story of Virgo, the goddess of agriculture, and how to find it in the night sky. FOLLOW: SkyWatcher Leo T.
What's fresh? Tonight, Fine Tilth Farm and Borski Farms share what's in stock at their stands tomorrow at the Downtown SLC Farmers Market. The market runs 8a-2p at Pioneer Park, 350 W. 300 S., SLC.
Looking for a new farmers market? RadioACTive spoke with Denise Christiansen and Natalie Rollinson of Good4Life Markets, which produces farmers' markets in Herriman and West Valley City.
Herriman Farmers Market, 5355 W. Main St. at J. Lynn Crane Park, Herriman, Monday nights, 5:00-9:00 p.m., through the Herriman Howl in October.
West Valley City Market, Thursday nights from 5:00-9:00 p.m. starting July 7 at Centennial Park, 5405 W. 3100 S., WVC.
Aldine's Urban Farm Report, featuring Mitch Dumke of 3 Springs Land & Livestock in Peoa, UT. 3 Springs is committed to working with nature to produce healthy soil, healthy meat and a healthy community. To order their pasture-raised poultry, click here. Beef coming soon!
June 18: Extending Your Grazing in a Drought - Summit County Community Workshop, 9:00-11:30 a.m. at Half Moon Farm and 3 Springs Ranch, 4300 Wooden Shoe Lane, Peoa. "Land or livestock owners, join us to learn and share soil health principles with UDAF, NRCS, Kamas Conservation District and 3 Springs L&L. Bring a friend and we'll bring the bagels, donuts, treats and drinks provided by Park City Community Foundation. Reach out by phone, text or email with any questions. 801.971.0091 or howdy@3springsutah.com." FREE. Click here to register.
Guests' views, thoughts, or opinions are their own and do not necessarily reflect those of the board, staff, or members of Listeners' Community Radio of Utah, KRCL 90.9fm. Tonight's show was produced and hosted by Lara Jones and Aldine, KRCL's Punk Rock Farmer.
###