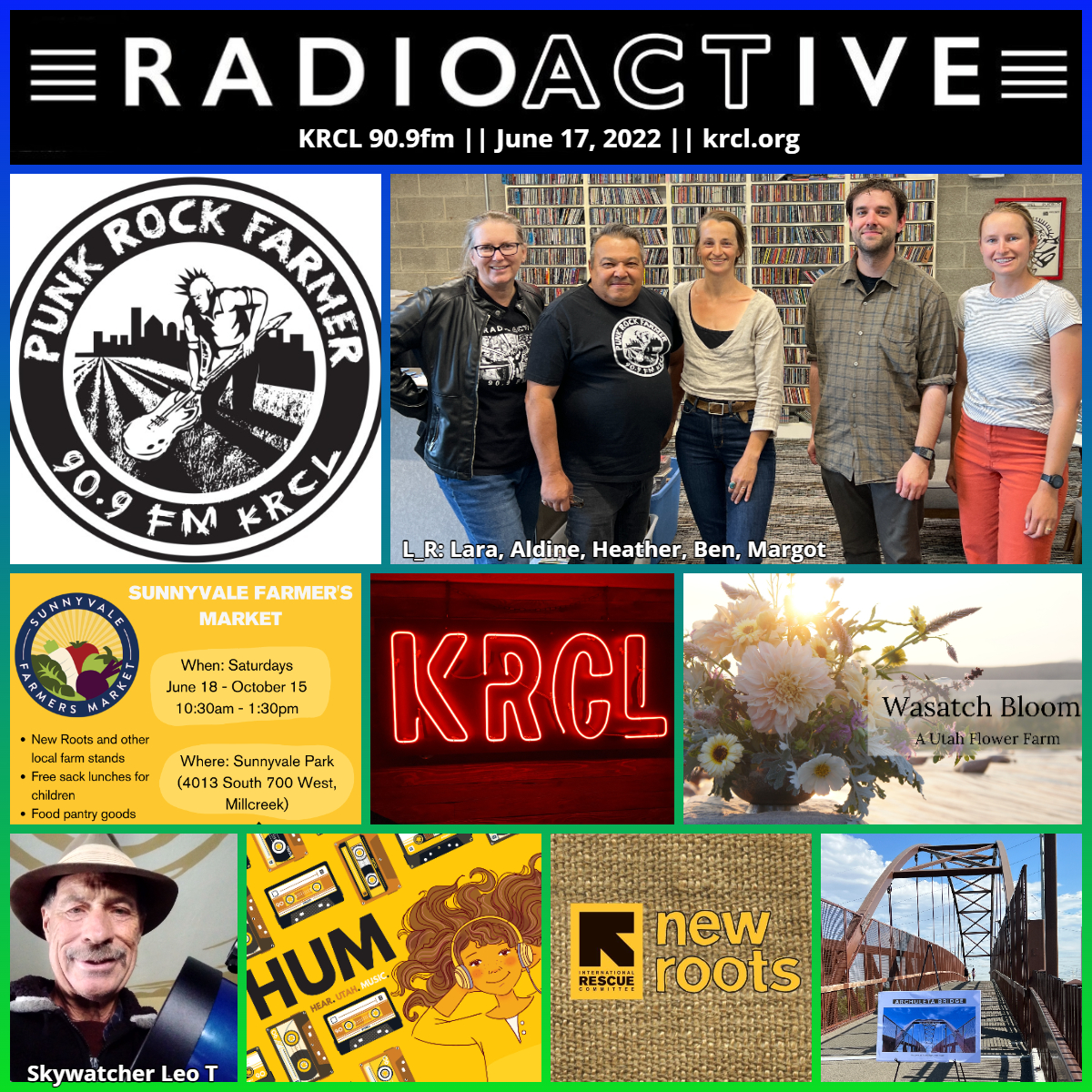 Aldine, KRCL's Punk Rock Farmer, and Lara bring you more true tales of the agrihood, featuring New Roots in Salt Lake City and Wasatch Blooms. Plus, SkyWatcher Leo T on the summer solstice, Archuleta Bridge, #WhatsFresh at the farmers market, and homegrown music from SLCPL's summer concert series and HUM catalog.
Tonight's show featured the following people, organizations, and/or events. Check them out and get plugged into your community!
Fresh, homegrown music with Ben Swisher of HUM, the Hear Utah Music digital catalog of The City Library. Tonight, he shared music by bands featured at the library's Summer Concert Series, including:
#ManyCulturesOneSky with SkyWatcher Leo T, a RadioACTive volunteer-contributor who shares his love for the night sky, cultural tales of the constellations, and more during #PunkRockFarmerFridays. Tonight's episode: 5 planets in conjunction, Voyager 1, Summer Solstice, astrophotography, and more! FOLLOW: SkyWatcher Leo T.
SLC Mayor Erin Mendenhall, University Neighborhood Partners' Jennifer Mayer-Glenn and Rep. Angela Romero from the dedication of a Salt Lake City pedestrian bridge named in honor of westside advocates Archie and Lois Archuleta.
WALK: The previously-unnamed pedestrian bridge was built in 2017 and runs from 200 South to North Temple along the Jordan River. The 1,200-feet-long pedestrian and ADA-accessible bridge spans three active freight rail lines. The completion of the bridge closed a significant gap on the Jordan River Trail and was made possible through City, County and State investments. A sign with the bridge name will soon be affixed to a beam spanning the bridge and Interpretive signage about the Archuletas' legacy will be installed in both English and Spanish.

WATCH: To see today's bridge dedication, click here.
Margot Draeger of New Roots in Salt Lake City, which opens its Sunnyvale Farmers Market tomorrow.
#WHATSFRESH, featuring Kevin Nash of Earth First Eco Farms and Rino of Rino's Italian Fresh. Look for both of them all summer long at the Downtown SLC Farmers Market. Located at Pioneer Park, 350 W. 300 S., SLC, the market runs 8a-2p every Saturday through October 22.
Aldine's Urban Farm Report, featuring true tales of the agrihood. Tonight's special guest: Heather Griffiths of Wasatch Blooms. A leader in the slow flower movement, Griffiths moved her farm from SLC to Logan last year. You can get some of her blooms here: wasatchblooms.com.
Guests' views, thoughts, or opinions are their own and do not necessarily reflect those of the board, staff, or members of Listeners' Community Radio of Utah, KRCL 90.9fm. Tonight's show was produced and hosted by Lara Jones and Aldine, KRCL's Punk Rock Farmer.
###