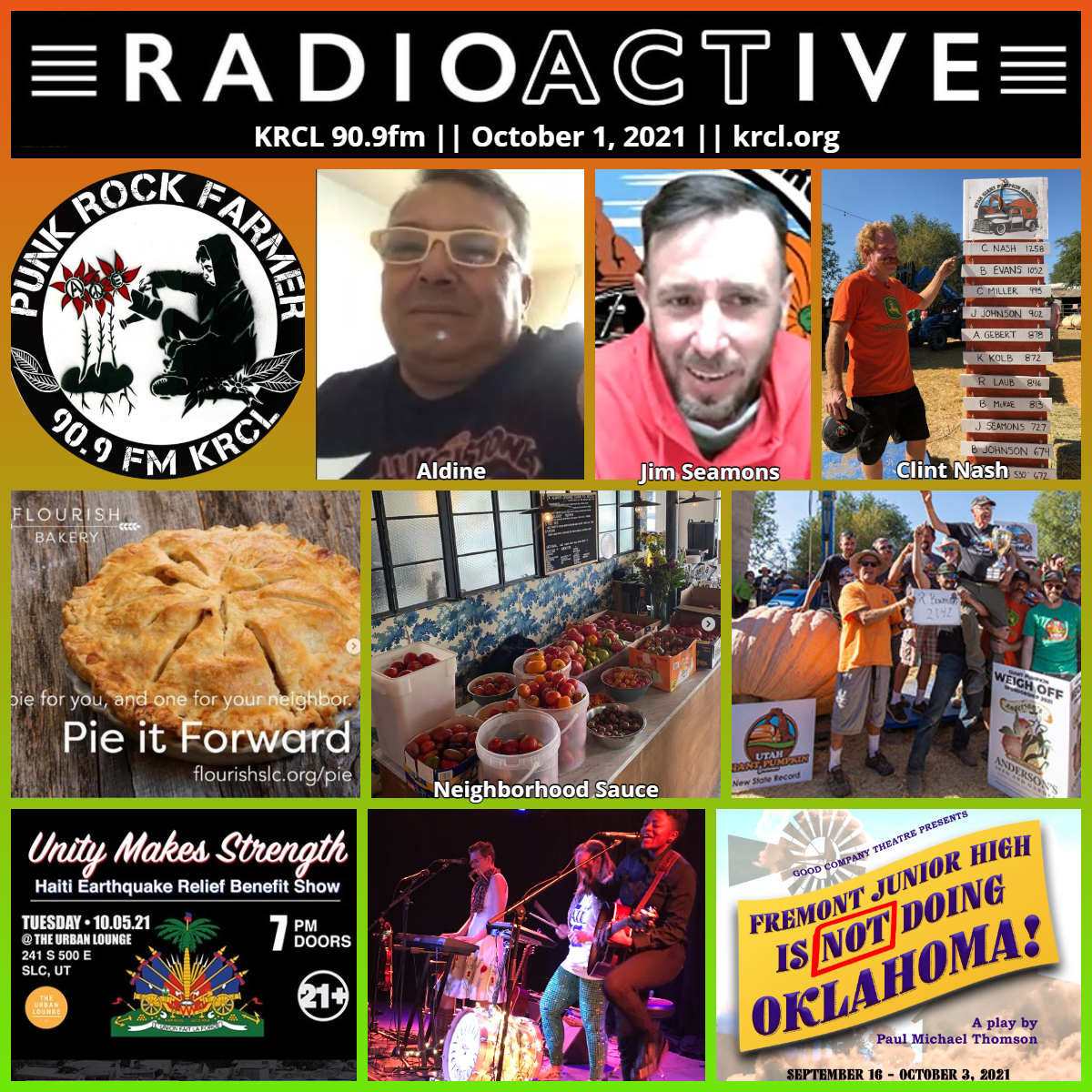 KRCL's #PunkRockFarmer visits the annual Utah Giant Pumpkin Growers contest. Fresh, homegrown music and Unity Makes Strength benefit show from Early Successional. Pizza Nono debuts neighborhood sauce. Pie It Forward with Flourish Bakery. Good Theatre Co. returns in Ogden. #3QuickPicks from SL Co. Parks while the weather still holds. SkyWatcher Leo T.
Tonight's show featured the following people, organizations and/or events. Check them out and get plugged into your community!
Will McMaster, owner of Pizza Nono, shared the pizzeria's 1st annual Neighborhood Sauce program. Stop by starting this weekend to get the neighborhood backyard garden tomato pie, made with patrons' homegrown tomatoes!
Fresh, homegrown music from Early Successional, which recorded three songs to share on the show. "Sabra, Tamarra and Hillary make up folk/queericana trio Early Successional. You've never heard of queericana? Neither had we until we started playing it."
SkyWatcher Leo T, a RadioACTive volunteer contributor who shares his love for the night sky, cultural tales of the constellations and more during #PunkRockFarmerFridays. Check out his Facebook page for sources from each episode, space news and cool pictures.
Alicia Washington, co-director of Good Company Theatre, which will wrap the world premiere run of Fremont Junior High Is NOT Doing Oklahoma! by Paul Michael Thomson this weekend. Tickets still available to shows tonight, Saturday and Sunday. CLICK HERE.
Sarah Vogel of Flourish Bakery, which works with individuals in recovery from substance use disorders as well as those working to reintegrate their lives post-incarceration - and teaches them life skills through the art of baking. The bakery's annual Pie It Forward campaign is underway. To get a jump on your holiday pie order, click here.
Liz Sollis of Salt Lake County Parks and Recreation with #3QuickPicks during this fantastic fall weather. Did you know there are more than 100 parks and trails in the capital county? This week's picks:
#1 Quick Puck/Pick: Salt Lake County Ice Center, Murray
Public skating
Learn to Skate USA classes (youth and adults)
Hockey (leagues and drop-in)
#2 Quick Pick: Old Mill Golf Course, Cottonwood Heights
Located near the mountains
Gorgeous views of the valley
Gem course
Favorite for all levels of golf enthusiasts
#3 Quick Pick: Tanner Park, Salt Lake City
10-acre park near Parley's Canyon
Playground, tennis courts, a pavilion, and an amphitheater
Next to Parley's Historic Nature Park and Parley's Trail—both are great for dog owners
Bonus: Parley's Trail is interconnected to other parks, like Sugar House on the northeast side of the valley
Aldine's #UrbanFarmReport, featuring a visit to the 17th annual Championship Weigh-Off with the Utah Giant Pumpkin Growers, Hee Haw Farms,Pleasant Grove. Al shared field interviews with competitors Clint Nash and Matt McConkie, followed by an update with Clint and UGPG's Jim Seamons.
2021 Winner: Ross Bowman, 86, a retired rocket scientist from Brigham City, smashed the State Record with a 2,142-pound giant pumpkin. To see all the results, click here.
Views, thoughts or opinions shared by guests are their own and do not necessarily reflect those of the board, staff or members of Listeners' Community Radio of Utah, KRCL 90.9fm. Tonight's show was produced and hosted by Lara Jones and Aldine, KRCL's Punk Rock Farmer.
###