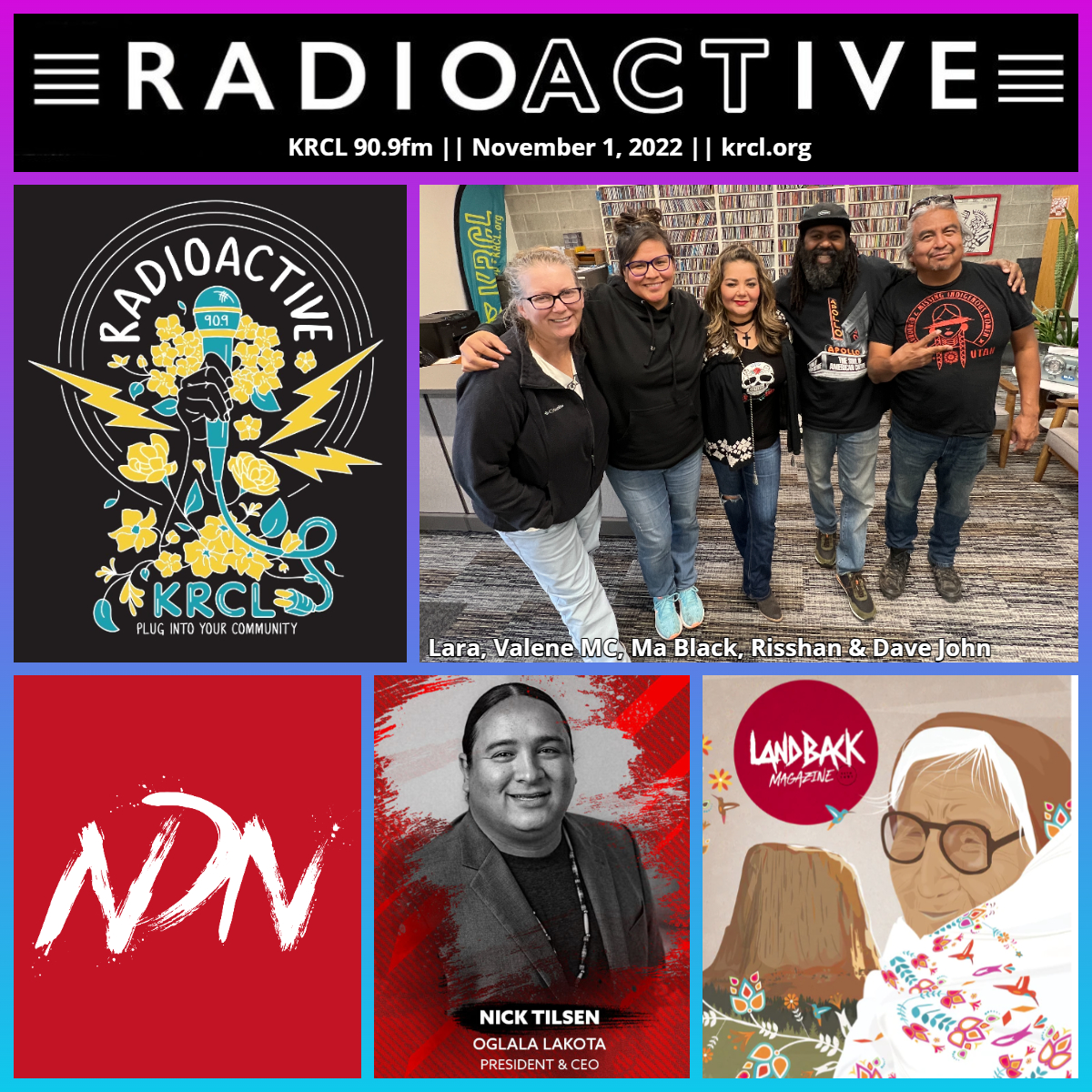 Day of the Dead with KRCL Night Estereo's Ma Black, and the launch of Native American Heritage Month with Living the Circle of Life's Valene MC and Dave John and Nick Tilsen of NDNCollective, a national organization dedicated to building Indigenous power.
Tonight's show featured the following people, organizations and/or events. Check them out and get plugged into your community!
Ma Black, host of KRCL's Night Estéreo, on the traditions and meaning of Dia de los Muertos. To learn more, visit our friends at Artes de México en Utah.
Valene MC and Dave John, hosts of KRCL's Living the Circle of Life, on Native American Heritage Month.
Nick Tilsen, president and CEO of NDNCollective, which recently launched the sales of the limited-edition LANDBACK Magazine, He Sapa: The Heart of Everything That Is. The special magazine "pivots on the cornerstone work of the LANDBACK Campaign to reignite and continue the ongoing struggle to return the He Sapa (Black Hills) to the Oceti Sakowin (Lakota/ Dakota/Nakota) Nation."
Native American Heritage Month events mentioned tonight:
Nov. 4: Rekindling Harmony and Balance: Indigenous Healing From Trauma, 10:30a-5:00p at the SLC Public Library. Conference presenters will provide you with content relevant to serving Native American populations who live in urban areas and Tribal Nations. More details at rawconference2022.eventbrite.com.

Nov. 10: KRCL Music Meets Movies - RUMBLE: The Indians Who Rocked the World, 6:30 p.m. at Brewvies Cinema Pub, 677 S. 200 W., SLC. "A selection from the 2017 Sundance Film Festival, Rumble puts on film the unknown history of how Native American musicians from Link Wray to Charlie Patton helped to shape popular music as we know it today, from folk to hip-hop. Inspired by "Up Where We Belong:Native Musicians In Popular Culture," an exhibit at the Smithsonian Institution, co-directors Catherine Bainbridge and Alfonso Maiorana tell this untold tale through interviews with contemporary artists like Wayne Kramer of the MC5, Tony Bennett, George Clinton and Jackson Browne." 21+ | One screening only | Tickets at 6:30 | Movie at 7:30.

Nov. 11: SLCC Round Dance, 5:00-11:00 p.m. at Salt Lake Community College Lifetime Activity Center at Redwood Road Campus. Join the SLCC AISL club and the Division of Indian Affairs in a dance that brings the community together to celebrate all things in life.

Nov. 13-19: Rock Your Mocs. Post to your social media with #ROCKYOURMOCS.

Dec. 3-4: American Indian Winter Arts Market at the University of Utah Union Ballroom. "The Utah Division of Indian Affairs is happy to announce that we will host the 2022 American Indian Winter Arts Market on Saturday 12/3 and Sunday 12/4 at the University of Utah! Saturday 12/3 - 10 AM to 6 PM and Round Dance at 6 PM. Sunday 12/4 - 12 PM to 6 PM."
Guests' views, thoughts, or opinions are their own and do not necessarily reflect those of the board, staff, or members of Listeners' Community Radio of Utah, KRCL 90.9fm. Tonight's RadioACTive team included:
###