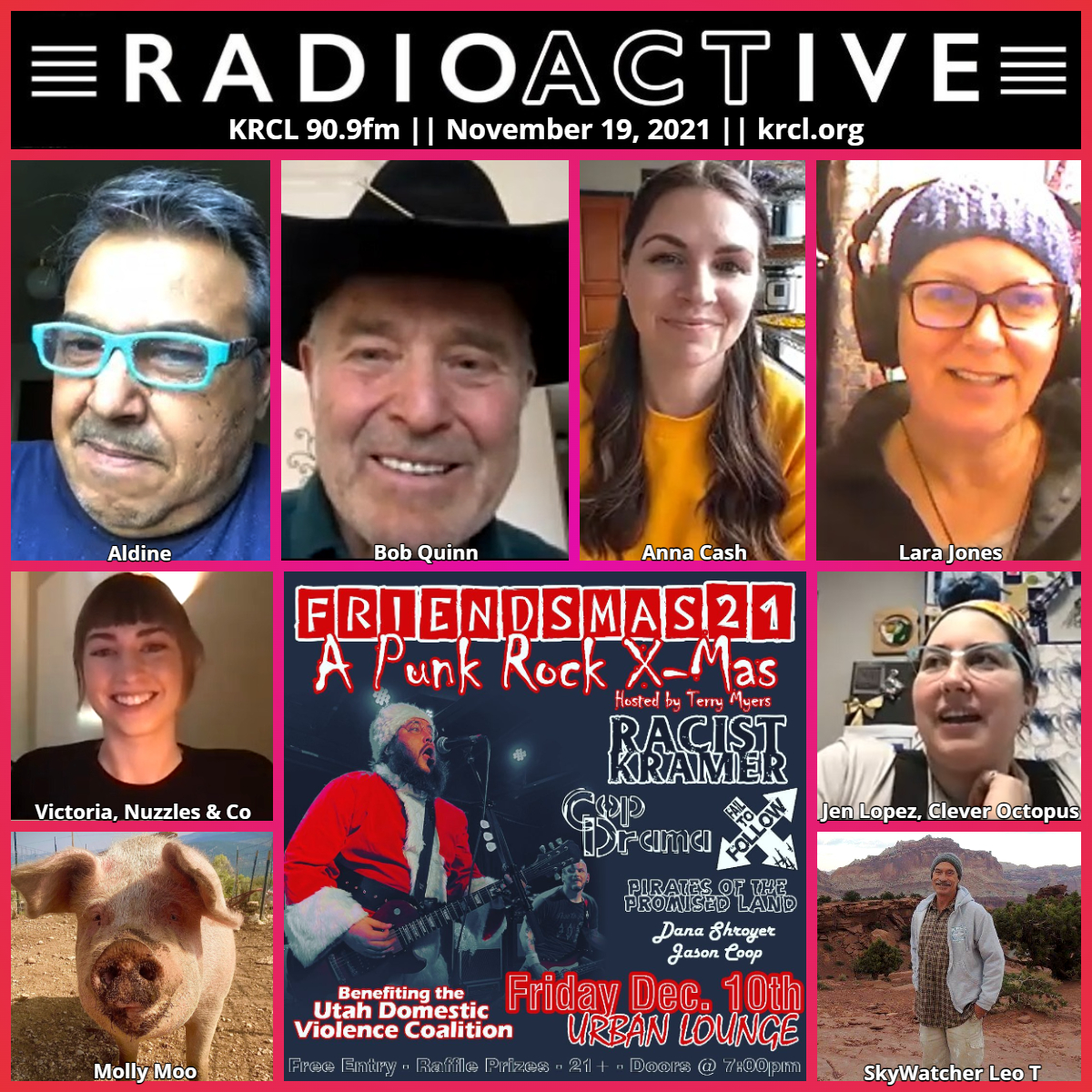 #PunkRockFarmerFriday with Montana organic farmer Bob Quinn and Smart Home Canning's Anna Cash. Skywatcher Leo T's #ManyCulturesOneSky report. KRCL-meets-Clever Octopus to stretch records for Shop Small Biz Saturday. Muzzles and Co. with three pigs, other pets to rehome. And the 10th anniversary of Friendsmas, a Punk Rock Christmas, with Racist Kramer.
Tonight's show featured the following people, organizations and/or events. Check them out and get plugged into your community!
Fresh, homegrown music with Racist Kramer, a four-piece punk band out of SLC. Click here to get their latest album, In Redemption, available on purple vinyl, CD and download.
Dec. 10: Friendsmas21: A Punk Rock X-Mas, 7:00 p.m. at Urban Lounge, 241 S. 500 E, SLC. Event by Racist Kramer: "Ring in the holidays with Racist Kramer! Our annual fundraiser is once again raising money for the Utah Domestic Violence Coalition. Opportunity drawings for thousands of dollars in prizes donated by local businesses."
#ManyCulturesOneSky with SkyWatcher Leo T, featuring a partial lunar eclipse, NASA throwing a DART to try and nudge an asteroid a bit out of its orbit, the Gemini 12 mission in 1966, and more. For sources and other cool space news, visit Leo's FB page — click here.
Victoria Koelkebeck of Nuzzles & Co., a non-profit no-kill organization located in Summit County. They have three pigs in need of a home, as well as lots of cats and dogs. Since 1990, Nuzzles & Co. has found homes for more than 22,000 pets.
Nov. 30: #GivingTuesday for Nuzzles & Co. "The holidays are upon us, and Giving Tuesday is a celebration of Utah's nonprofits. You can donate to support our mission here: http://bit.ly/LUGTnuzzles. We will also have matching grants going on throughout the day, so be sure to follow our Facebook page to see when you can have your gift matched."

Dec. 4: Final Pop-Up Pet Pantry, 12:00-4:00 p.m. at 8055 W. 3500 S., Magna. "Stop by for the last Pop-Up Pet Pantry of 2021! We'll have lots of resources for community cat caretakers, cat food, and dog food for free."
Jen Lopez of Clever Octopus Creative Reuse Center, which is a nonprofit that helps you find discount art supplies through the resale of thrifted arts & crafts materials that would otherwise end up in a landfill.
Nov 27: Shop Small Biz Saturday Stretch-a-Record Workshop at Clever Octopus, 1-5 p.m. at 2250 S. West Temple, SoSLC. RadioACTive's Lara Jones teams up with Jen Lopez of Clever Octopus to stretch and repurpose vinyl records into something new. Use them as bowls or a natural sound amplifier -- no electricity or blue tooth required! While you can sign up for a designated spot in this workshop, you can also drop in and wait your turn. Or just buy a stretched record from Clever Octopus' Reuse Shop. Click here to sign up for the workshop. Proceeds support two kick-ass nonprofits!
Smart Home Canning's Anna Cash, a master food preserver and master gardener in Ogden.
Canning Basics Course, online. Use code BLACKFRIDAY2021 for a discount! Includes resources, recipes, and step-by-step guidance to help you master the canning basics. Course videos include making delicious jams, canning tomatoes, pickling veggies, canning fruit, as well as dehydrating. You can watch the videos as many times as you need until you're able to master the basics.
Aldine's #UrbanFarmReport, featuring Montana organic farmer Bob Quinn, author of Grain by Grain: A Quest to Revive Ancient Wheat, Rural Jobs, and Healthy Food, Bob Quinn and Liz Carlisle (Island Press 2019).
Cook 2 medium squash. Carnival is my favorite squash as it tastes the most like a sweet potato. Cut in half and remove seeds (seeds can be dried and roasted later for additional treats.) Before baking, I rub on a little organic safflower oil and lightly season with salt and pepper.
Put in a covered dish (skin side down) for 1 hour @ 350 degrees or until fully cooked. Makes a little over 5 cups.
Once cool enough to handle, remove the skin, mash and then blend in the following and put in a covered casserole dish (I use organic ingredients as much as possible):
½ to ¾ cup brown sugar (depending on sweetness of squash)
4 tablespoons butter
1½ teaspoons vanilla
¼ teaspoon cinnamon
¼ teaspoon salt
½ cup milk
2 eggs
For streusel topping, combine and mix the following and spread on top of above mixture already in the dish:
¾ cup brown sugar
½ cup flour
1 cup chopped pecans
4 tablespoons butter
Cook casserole at 350 for 30 minutes until topping has browned.
Views, thoughts or opinions shared by guests are their own and do not necessarily reflect those of the board, staff or members of Listeners' Community Radio of Utah, KRCL 90.9fm. Tonight's show was produced and hosted by
Lara Jones
and
Aldine, KRCL's Punk Rock Farmer
.
###