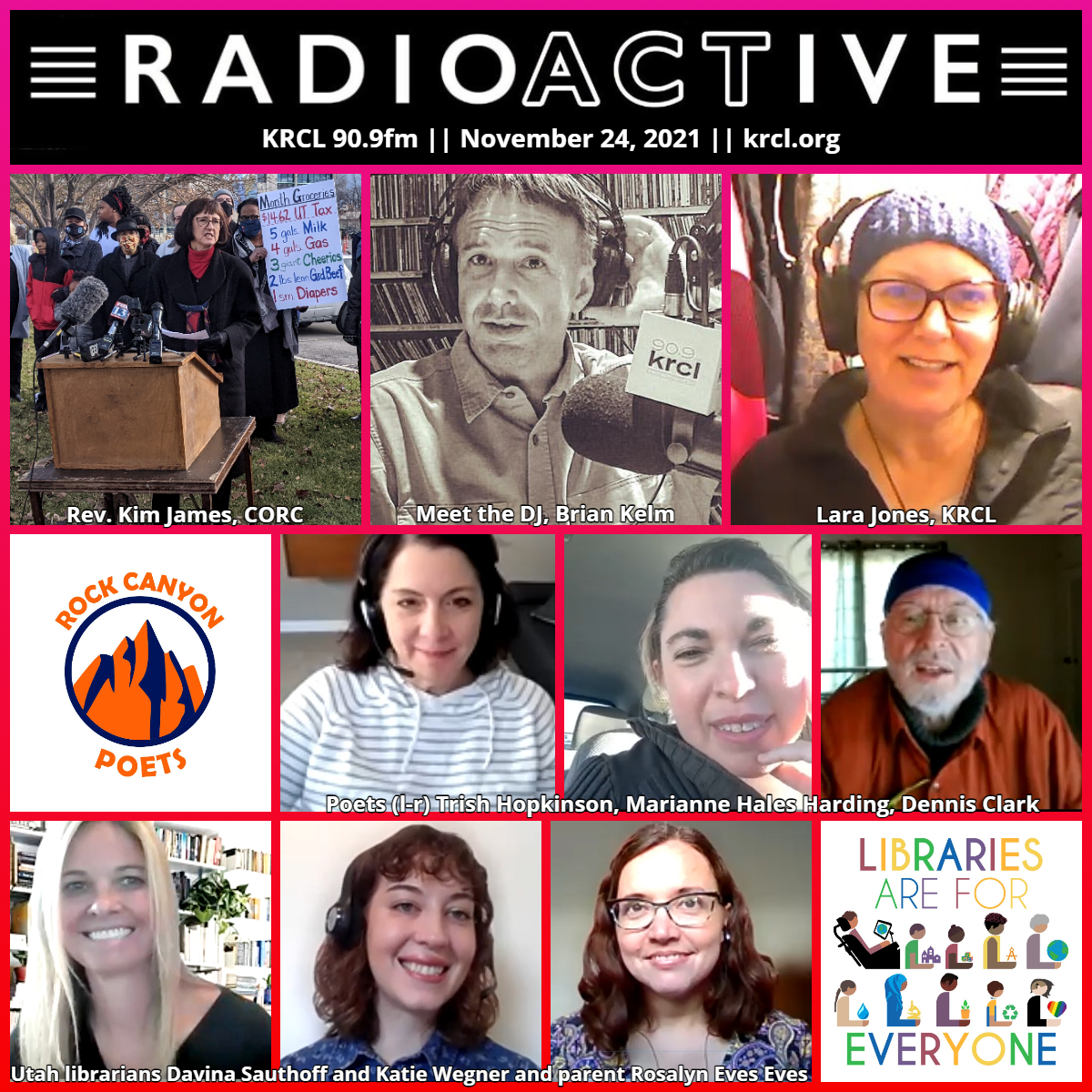 CORC calls on lawmakers to reduce state sales tax on food to zero. #PoetryStillHappens tackles gratitude. Utah librarians raise alarm over latest round of parents, politicians pulling books from school libraries. Meet the DJ -- Brian Kelm of Red White and Blues.
Tonight's show featured the following people, organizations and/or events. Check them out and get plugged into your community!
Glenn Bailey of Crossroads Urban Center with an update on today's Thanksgiving meal drive-thru giveaway with Harmon's at Smiths Ballpark. They had 3,700 turkeys, plus mashed potatoes, stuffing and gravy for anyone in need. Click here to find out how you can help.
Rev. Kim James of Ogden First United Methodist Church, who kicked off the Coalition of Religious Communities' call today for the removal of state sales tax on food. To learn more about the issue, click here.
#PoetryStillHappens, featuring gratitude poetry from Rock Canyon Poets:
Utah librarians are on alert as a group of parents and politicians ask for books to be pulled from school libraries across the country and here in Utah. RadioACTive passed the mic to find out why the situation is same as it ever was. Featuring:
Davina Sauthoff, Executive Director, Utah Educational Library Media Association. For UELMA's statement on the issue, click here.

Katie Wegner, Intellectual Freedom Co-Chair, Utah Library Association (ULA).

Rosalyn Eves, a mother of three children (one in elementary, one in middle school, and one in high school), as well as an English professor at Southern Utah University and a writer of young adult novels, including Beyond the Mapped Stars, a young adult historical set around the 1878 eclipse that went through the American West.
Meet the DJ: Brian Kelm, host of Red, White & Blues every Monday night from 8:00-10:30 p.m. Tune in to find out how Brian went from a MassComm student at the University of Utah to DJ at a little startup community radio station back in 1980. "I started at 10 or 10:30 until I wanted to turn the lights off and shut down the transmitter," he recalls. Take a listen to find out more about this unique KRCL volunteer host, including his time teaching safety classes in Alaska after the Exxon Valdez oil spill, his love of live blues, and his hopes to resurrect a monthly live show as KRCL's new studios come online next to the Union Event Center.
Views, thoughts or opinions shared by guests are their own and do not necessarily reflect those of the board, staff or members of Listeners' Community Radio of Utah, KRCL 90.9fm. Tonight's show was produced and hosted by Lara Jones.
###