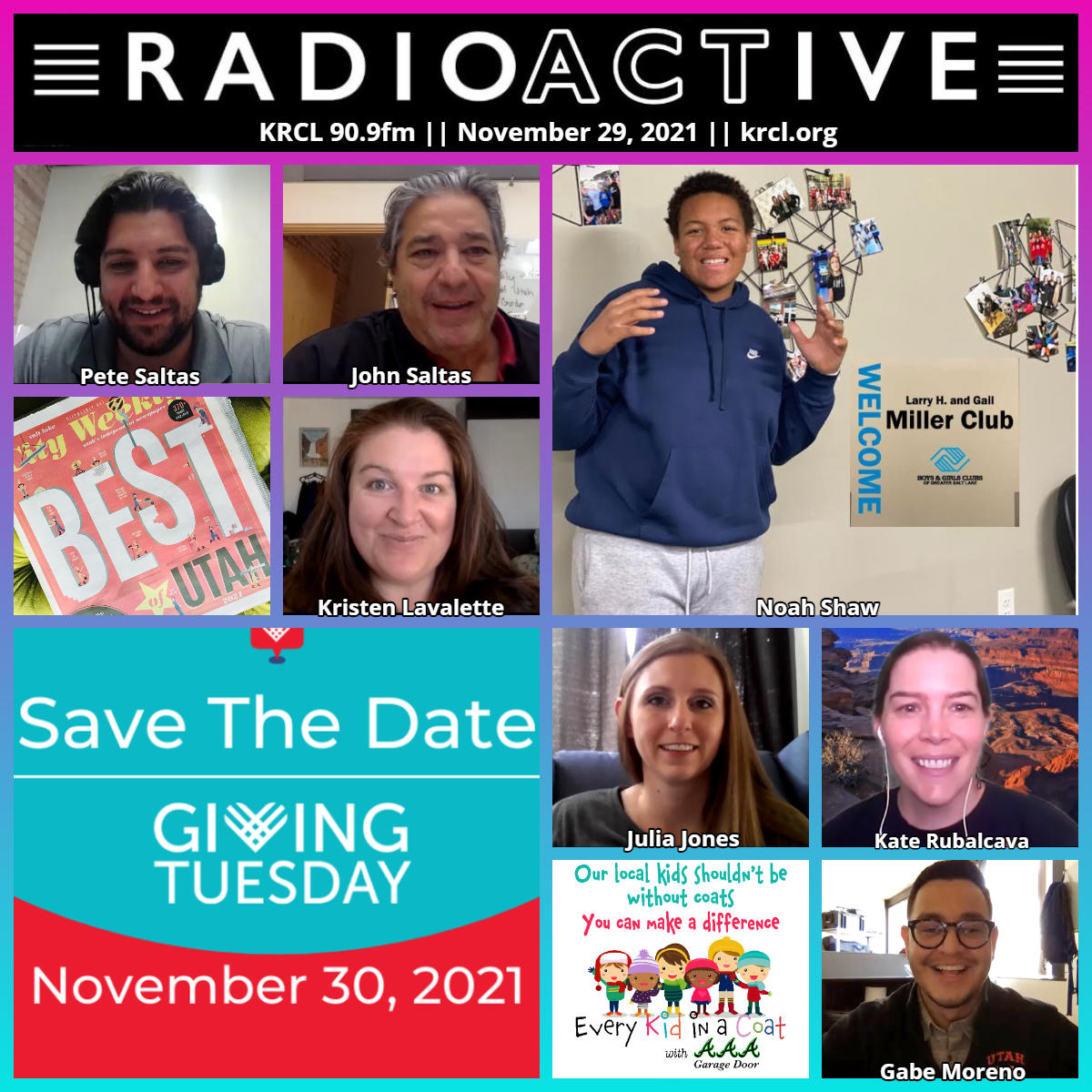 From Cyber Monday to Giving Tuesday, RadioACTive connects your dollars, local businesses and nonprofits, including City Weekly's Best of Utah, Every Kid in a Coat, Local First Utah, and Utah Nonprofits Association. First Person with Noah Shaw. A COVID update from SL County Health Department.
Tonight's show featured the following people, organizations and/or events. Check them out and get plugged into your community!
Julia Jones of Every Kid in a Coat, a grassroots effort to provide coats to as many Utah kids as possible this winter.
SL County Health Department spokesperson Gabe Moreno with an update on the latest COVID variant. To find a vaccination clinic or testing site, click here.
John and Pete Saltas of Salt Lake City Weekly, which hosts its 32nd Annual Best of Utah Party this Thursday night at The Gateway. Click here for ticket info.
Local First Utah's Kristen Lavalette on the value of buying locally. The nonprofit challenges you to shift your spending this holiday season:
"When you spend your hard-earned money with locally owned, independent businesses, it doesn't add to the coffers of a faceless corporation. It's recirculated through our local economy. It pays the wages of local workers. It's spent to procure other goods and services locally. It reinforces our tax base, ensuring that our local governments can provide vital services like roads, parks, emergency response, and public schools."
Kate Rubalcava of the Utah Nonprofits Association, which encourages you to support local nonprofits tomorrow during #GivingTuesday.
GivingTuesday is generally held the Tuesday after Thanksgiving and a counter to the commercialism of the holiday shopping season that also sees Black Friday, Shop Small Biz Saturday, and Cyber Monday.
First Person, featuring Noah Shaw. A student at the Miller Family Boys & Girls Club Afterschool Program and at Hillcrest Junior High, Shaw is serving in the 2021/2022 class of Youth Afterschool Ambassadors — one of just nine students from across the country selected for the honor. He was chosen on the basis of his essay in a competition held earlier this year.
Follow Shaw and the other Youth Ambassadors on the Afterschool Alliance blog, Afterschool Snack. They will also connect with members of Congress and their aides as part of the Afterschool for All Challenge next spring.
* KRCL makes no assurances as to the veracity of outside organizations and their fundraising campaigns. Be sure to do your own research and make sure it's a real charity or community effort before donating, especially online. To learn more about donating to charity, visit usa.gov/donate-to-charity or this FTC website.
Views, thoughts, or opinions shared by guests are their own and do not necessarily reflect those of the board, staff or members of Listeners' Community Radio of Utah, KRCL 90.9fm. Tonight's show was produced and hosted by Lara Jones.
###