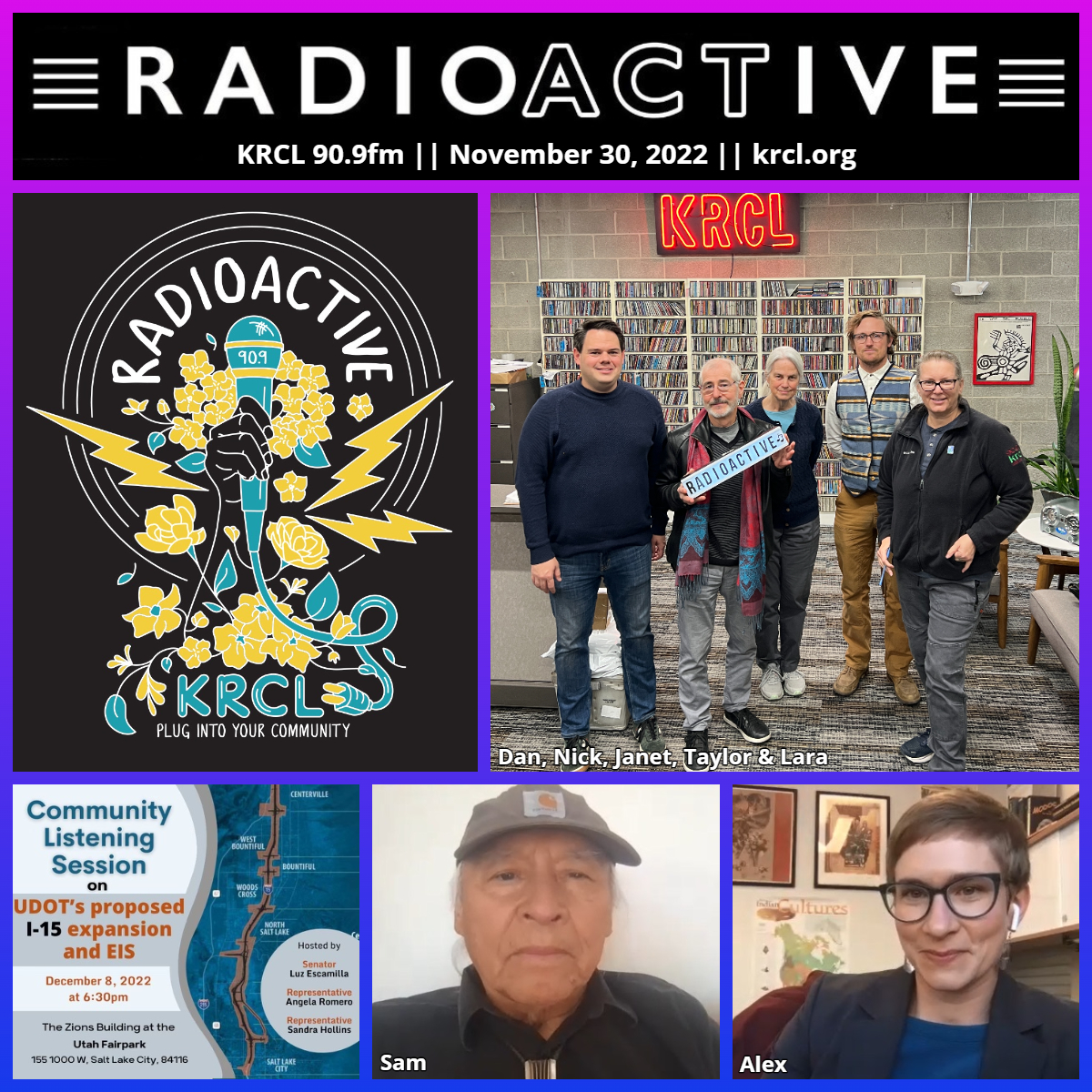 Round 2 of a grassroots view of UDOT's proposed Interstate 15 expansion, featuring a homeowner, Sweet Streets SLC and the Westside Coalition. Plus, the Natural History Museum of Utah launches its Native Voices Initiative to center Indigenous knowledge in its collections.
Tonight's show featured the following people, organizations and/or events. Check them out and get plugged into your community!
Natural History Museum of Utah has received funding for its new Native Voices Initiative, a step in the museum's effort to decolonize its Native collections. RadioACTive spoke with Dr. Alexandra Greenwald, curator of ethnography at NHMU and assistant professor of anthropology at the University of Utah, and photographer Sam Minkler (Diné), who recently traveled to the museum with his nearly 100-year-old aunt, Navajo weaver Rena Lane, and her daughters Mary and Zena Lane, to see the ethnographic collections and share their stories. To learn more about this project, click here.
Round 2 of a grassroots view of UDOT's proposed Interstate 15 expansion from Farmington to SLC, featuring:
Taylor Anderson of Sweet Streets SLC, a nonprofit dedicated to changing land-use and transportation from auto-dependency to people-first. Taylor lives on the east side of SLC and opposes expansion

Janet Fisher, a homeowner on Argyle Court located just west of KRCL and clearly in the path of I-15 expansion

Dan Strong of Westside Coalition, an advocacy and community-building organization comprised of Salt Lake City's westside residents and business owners
The public comment period has been extended to January 13, 2023. Click here to submit comments directly to UDOT now. And KRCL would like to share your thoughts about the I-15 expansion. Send an email or a voicememo to radioactive@krcl.org and we'll share it in a future show.
Dec. 5: Community Perspectives on Housing & Gentrification Open House, 5:30-7:30 p.m. at Sorensen Unity Center, 1383 S. 900 W., SLC. Meet in the Black Box Theater. Hosted by NeighborWorks Salt Lake and City and Metropolitan Planning. Please contact Sara Hoy, sarah@nwsaltlake.org, with concerns about the I-15 expansion.

Dec. 6: NeighborWorks Salt Lake hosts a "Meet the I-15 Project Team and Ask Your Questions" Session, 5:30-7:30 p.m. at Mestizo Coffee House, 631 W. North Temple, SLC. "UDOT is in the middle of a comment period regarding their proposed expansion alternatives that will directly impact the homes, business, and people in the Guadalupe and Jackson Neighborhoods."

Dec. 8: Community Listening Session on UDOT's proposed I-15 expansion and EIS, 6:30 p.m. in the Zions Building at the Utah Fairpark, 155 N. 1000 W., SLC. Hosted by Sen. Luz Escamilla, Rep. Angela Romero and Rep. Sandra Hollins.
Guests' views, thoughts, or opinions are their own and do not necessarily reflect those of the board, staff, or members of Listeners' Community Radio of Utah, KRCL 90.9fm. Tonight's RadioACTive team included:
###